Indulgence is one of the rewards earned with top tier financial status. Everyone's view of what constitutes luxuries deserving of that category is different. One thing runs true through the gamut, however: that the product, service, or experience sought is of impeccable quality.
We at NAVIS have the privilege to enjoy extraordinary luxuries, not just in the yachting realm, but in the broader reference that encompasses every facet of the privileged life. As an early gift to our readers, it is with great joy that we present a selective symphony of indulgent gifts appropriate for presentation to your most important circle this holiday season. Just know that it is also appropriate to put your own name on the gift list as well.
Finely Crafted Drinks
Champagne De Watère Diamond Edition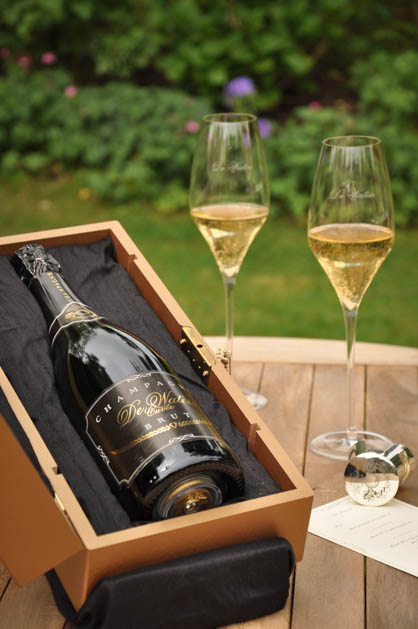 With a family history first documented in England's Doomsday Book dated 1096, the de Watère family proudly released its first vintage in 2011. Made of grapes nurtured in gentle ways, using traditional viticulture methods with ecologically proven results, the first bottles of de Watére Champagne were distributed throughout Europe and the US. The 2011 harvest produced a wine with such outstanding qualities it inspired the 925th anniversary Diamond Edition. Adorned by a one-carat diamond and a one-ounce precious metal medallion with options that make the gift even more personal. Those of you in attendance at September's Monaco Yacht Show enjoyed the privilege of a taste, as did those celebrating at the Monaco Grand Prix in May. As the brand earns its well-deserved reputation, unclaimed bottles will become rare. Secure yours early for a most celebrated holiday toast.
Williams Chase Seville Orange Gin

Soldiers in the Thirty Years' War sampled "Dutch Courage" to combat cold, damp conditions during long tours of duty. Originally deemed medicinal, juniper was added to improve its appeal. Today, from Chase Farm in Herefordshire, England, estate grown potatoes are distilled in copper pots and filtered through Europe's tallest rectification tower to hand fill and seal every bottle produced. Fresh Seville oranges complement the bespoke gin recipe, blending with eight botanicals including bitter almond, juniper, and elderflower, to create this luscious nectar perfect, as one of our respected yachting friends notes, "On a summer's afternoon ... sitting on the bow of the boat. Simply memorable." Ah, the warmth of the sun, inside and out. Now that is the perfect sundowner.
King Alexander III The Dalmore Whisky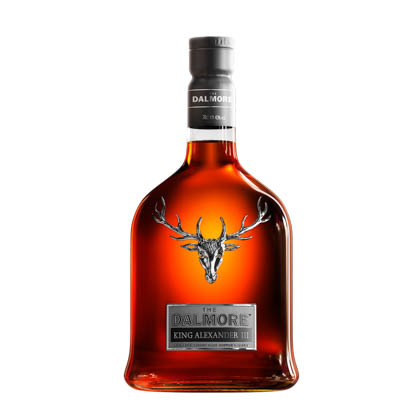 The majestic 12-point royal stag atop each bottle of The Dalmore's King Alexander III honors the bravery, strength, and power of the Mackenzie Clan, responsible for saving King Alexander III from the charge of a remarkable beast wearing an immense set of antlers. Matured today as it was a century ago, the spirit absorbs the wisdom of flavor palettes gained from time spent in casks that once housed bourbon, in addition to five other richly flavored vessels from Madeira and Marsala to Port, Cabernet Sauvignon, and Matusalem sherry. The reward is a richly flavored single malt recalling red berry, citrus, vanilla, sweet cinnamon, and nutmeg, perfectly balanced in a warm, smooth delivery.
Noteworthy Timepieces
Patek Philippe World Time Chronograph Ref. 5930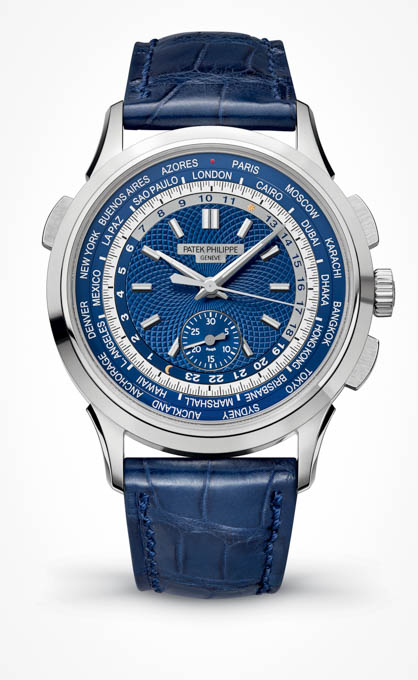 Complications, indeed, are the very reason this Patek Philippe timepiece is coveted, displaying 24 time zones on the dial, in 24 hour or day/night display. The self-winding chronograph movement boasts no second hand, instead relying on a long trotteuse and 30-minute counter. A thin, elegant, beautifully balanced adventure in space management, as Patek Philippe notes, is distinguished from conventional chronographs by the moving city disk bearing place names, each one representing one of the 24 time zones throughout the world. Undergoing months of testing to ensure each watch is dependable, accurate, and meets every quality test Patek Philippe experts apply, every World Time Chronograph is awarded the Patek Philippe Seal to signal its achievement.
Thomas Mercer Observatory Grand Complication Marine Chronometer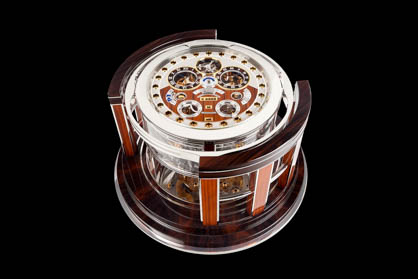 Updated from the 1980S version, this 15-complication Observatory Marine Chronometer is an elegant combination of high quality materials, ingenious design, and flawless craftsmanship in a hallmark piece of equipment that is as useful as it is beautiful. Time is measured by Thomas Mercer's signature detent escapement known for accuracy and reliability delivered through low weight, low friction, and low energy needs. The 24 location world time disc, perpetual calendar, hand polished stainless steel base and columns inlaid with Rosewood, Ziricote, and exotic hardwoods are encased in extra-white crystal and rock crystal marine chronometer's glasses, with double gimbals, counterbalance free and double lock, allowing the mechanism to be viewed from any angle with no distortion. An astounding work of art graced with superb function, this timepiece redefines marine timekeeping for today's yachtsman.
Ulysse Nardin Diver Chronograph Monaco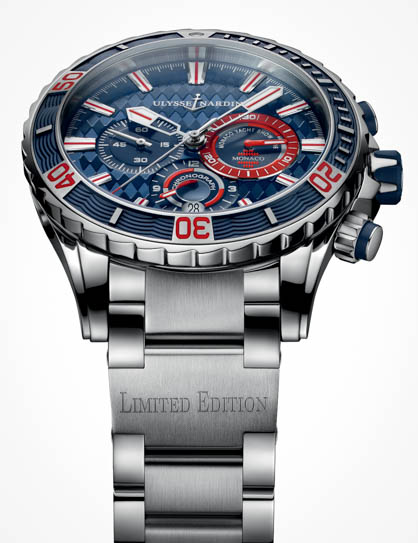 The Ulysse Nardin Diver Chronograph Monaco honors the tradition of the Monaco Yacht Show with a commemorative limited 100-piece edition bearing a minute counter echoing the heraldic pattern of the Principality. The pattern also appears on back of the sapphire crystal case, along with a Monaco Yacht Show 2016 inscription on the blue dial. A self-winding movement with silicium escapement, the chronograph is a dive-worthy 44 mm with complete chronograph timekeeping, unidirectional bezel, 300-meter water resistance, and handsome Ulysse Nardin styling.
Crystal and Glass
Baccarat by Marcel Wanders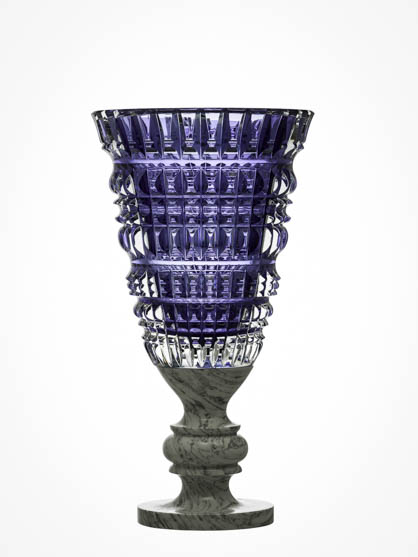 Baccarat crystal needs no introduction, but perhaps Marcel Wanders does. A designer with Dutch roots, Wanders is at once whimsy and tradition, drawing from ancestry that links to Vermeer, Delft porcelain, lace, and macrame. Currently serving as art director for the company he co-founded, MOOOI, his design work shows up in all the right places, including stylish hotels from Bonn to South Beach, and the Villa Moda boutique in Bahrein. Embraced by Baccarat, Wanders has created an antique collection of exquisite beauty, in the elegance of wine glasses, carafes, and monumental limited edition cut vases and marble bases. The "L'Esprit de Bois," a family of deer and stags executed in polished stainless steel and wood surrounded by etched crystal, summarize the grace and beauty of his art. Especially mesmerizing when viewed by candlelight, the work is an inspiration dovetailing creativity, craftsmanship, and the beauty of nature.
Baccarat Owl by Jan Tesar in clear or midnight crystal, numbered edition.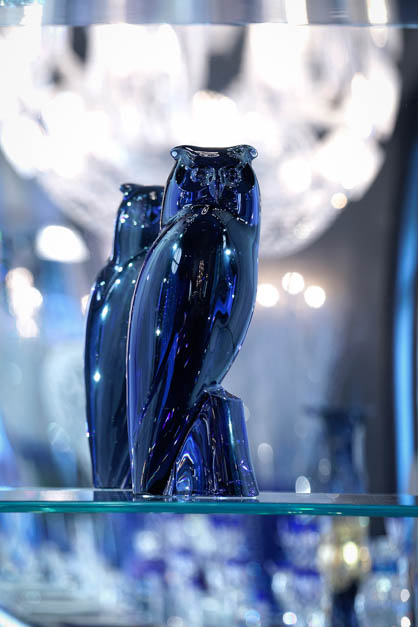 Preciosa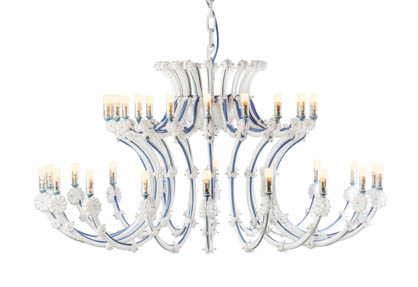 Employing centuries of Bohemian crystal tradition and workmanship, Preciosa creates some of the most divine lighting fixtures imaginable for superyachts. From cluster and solitaire chandeliers, to industrial metals and creative variations, Preciosa applies new surface finishes, innovative fixing solutions, and thorough safety testing that identifies any unintended sounds that might resonate from the glass and metal, no small feat when there are thousands of pieces in a complicated fixture. Specializing in flawless, on-site yacht installations, everyone from Andrew Winch and Meyer Werft, to Tillberg Design and DKT Artworks relies on their expertise to create breathtaking pieces of stunning quality.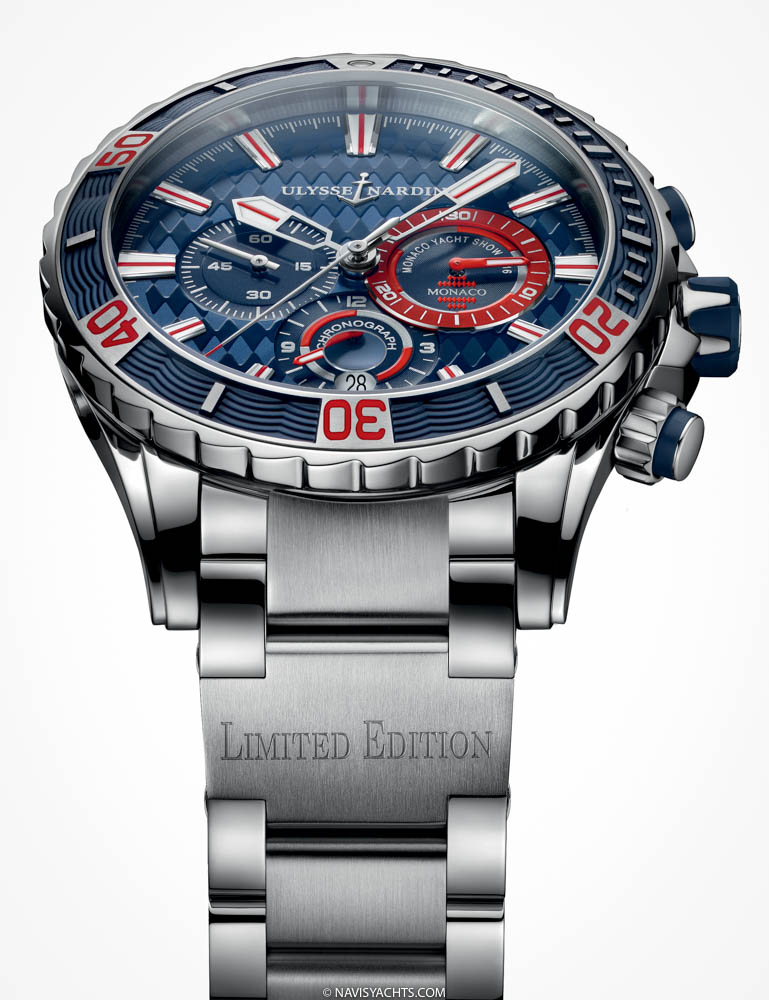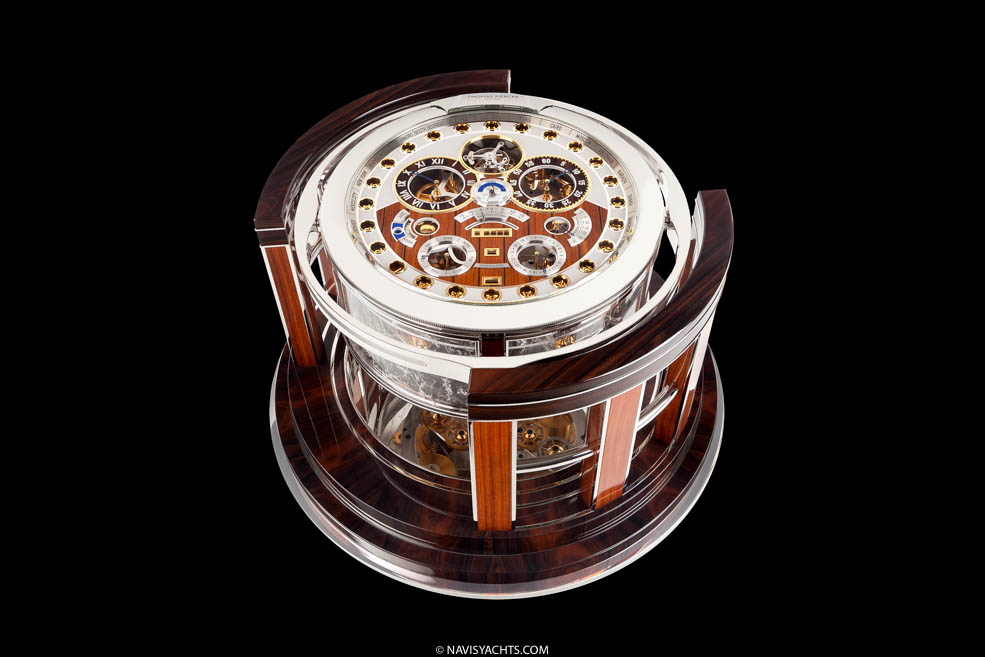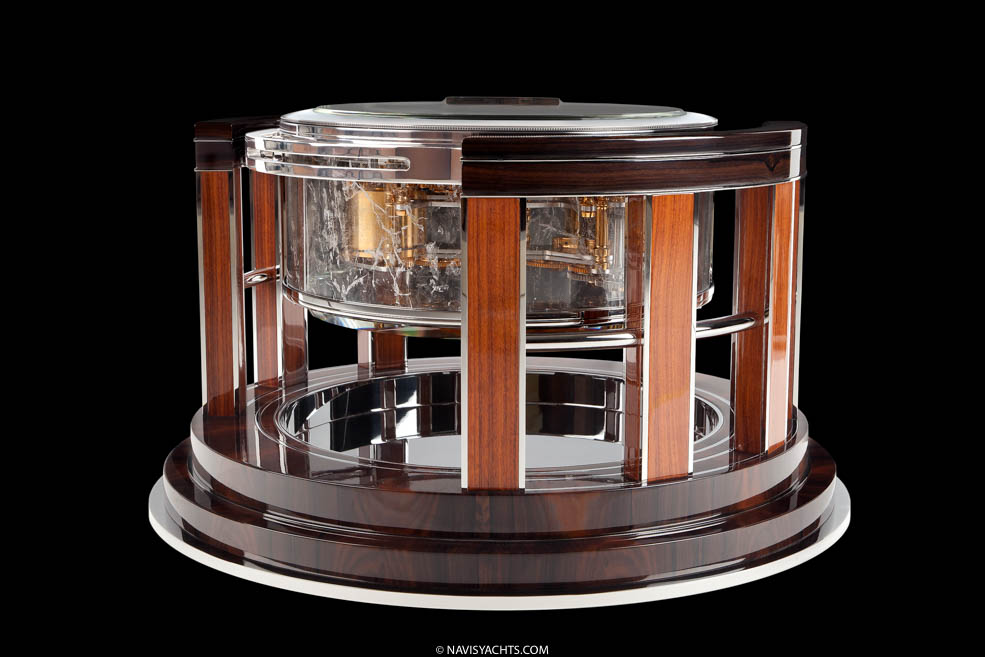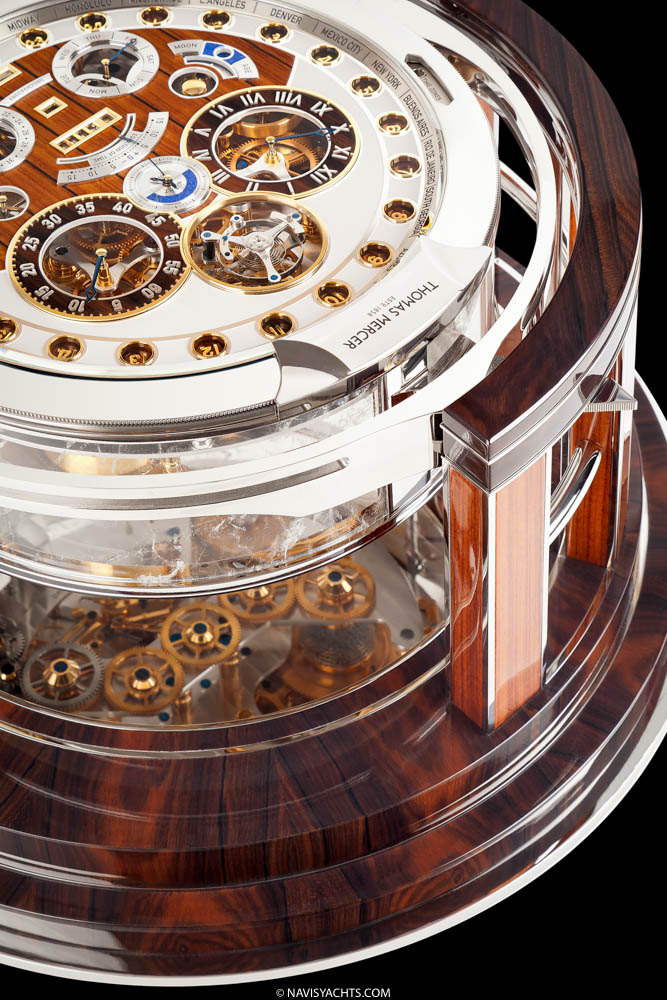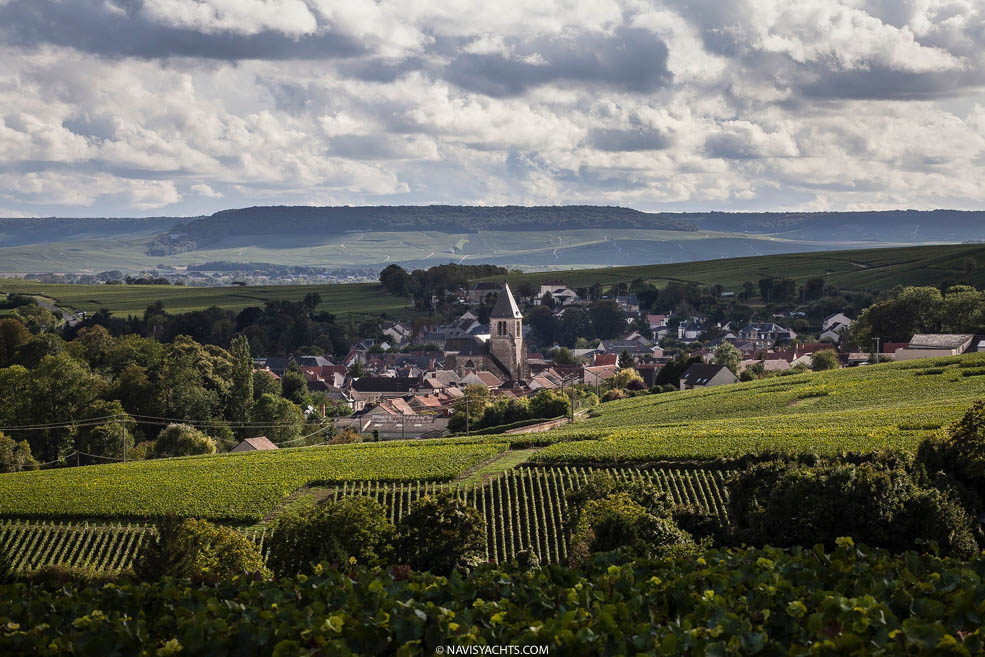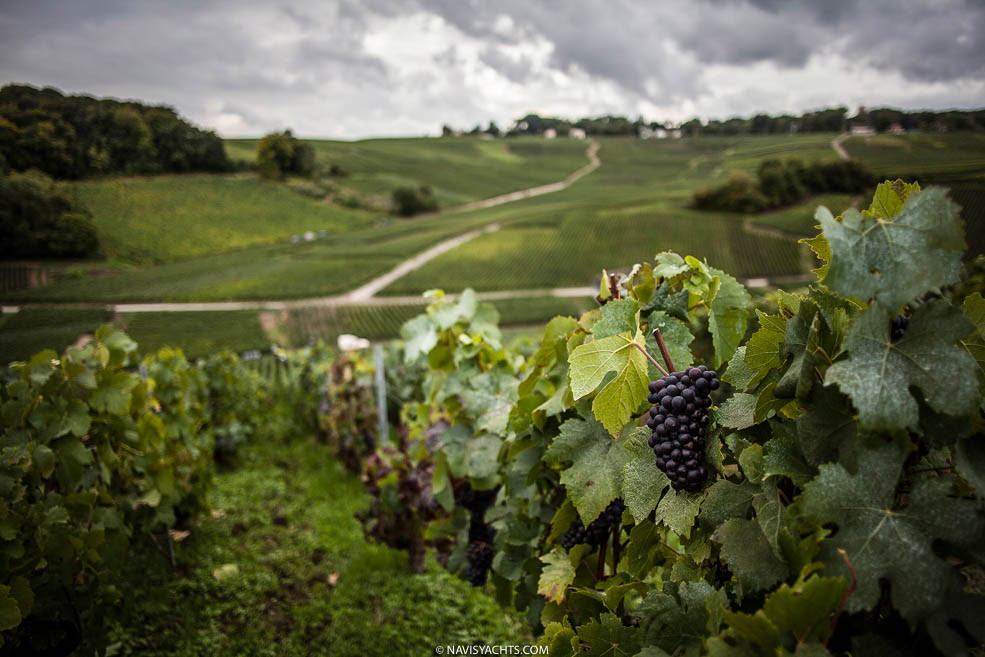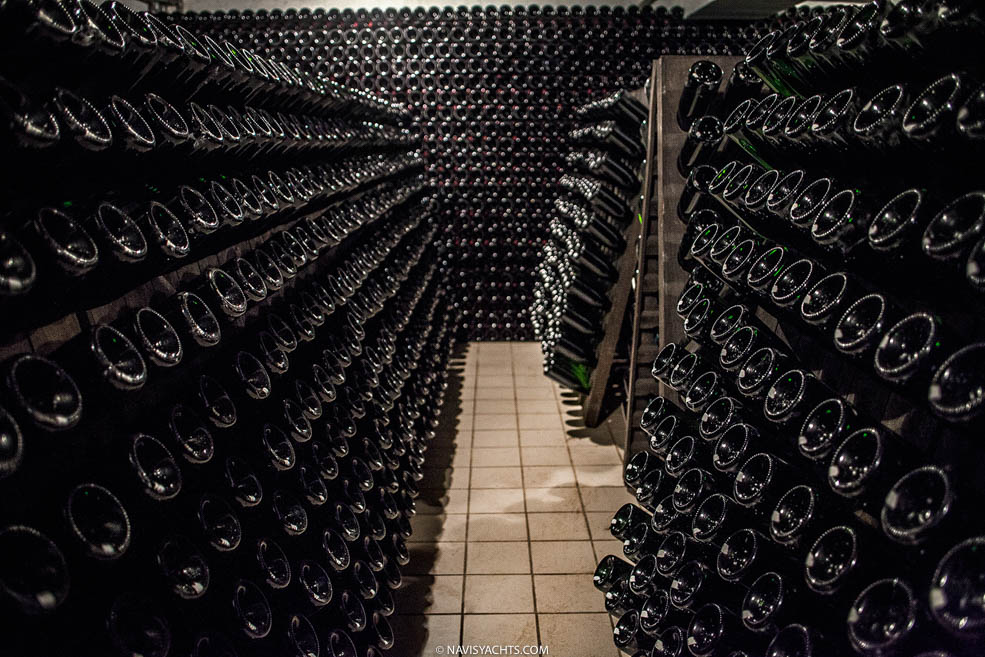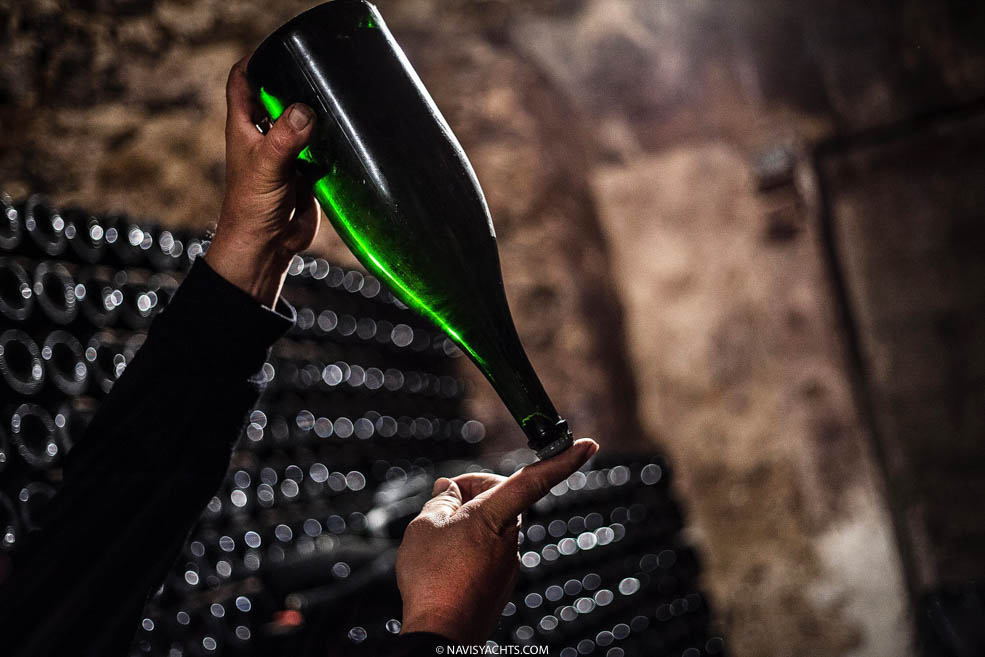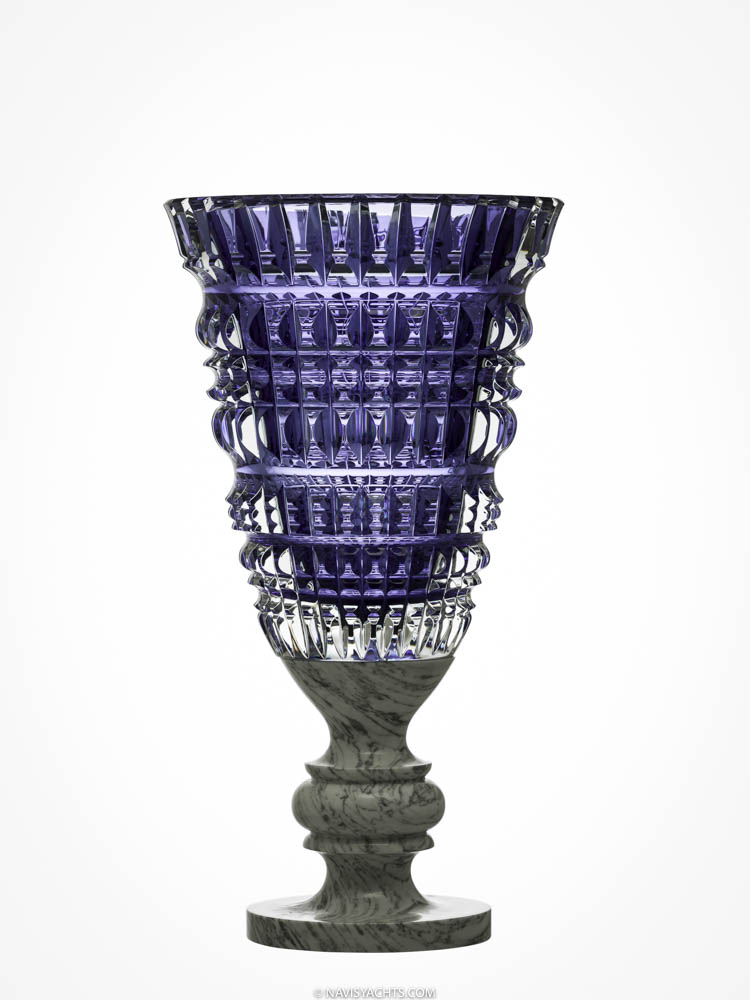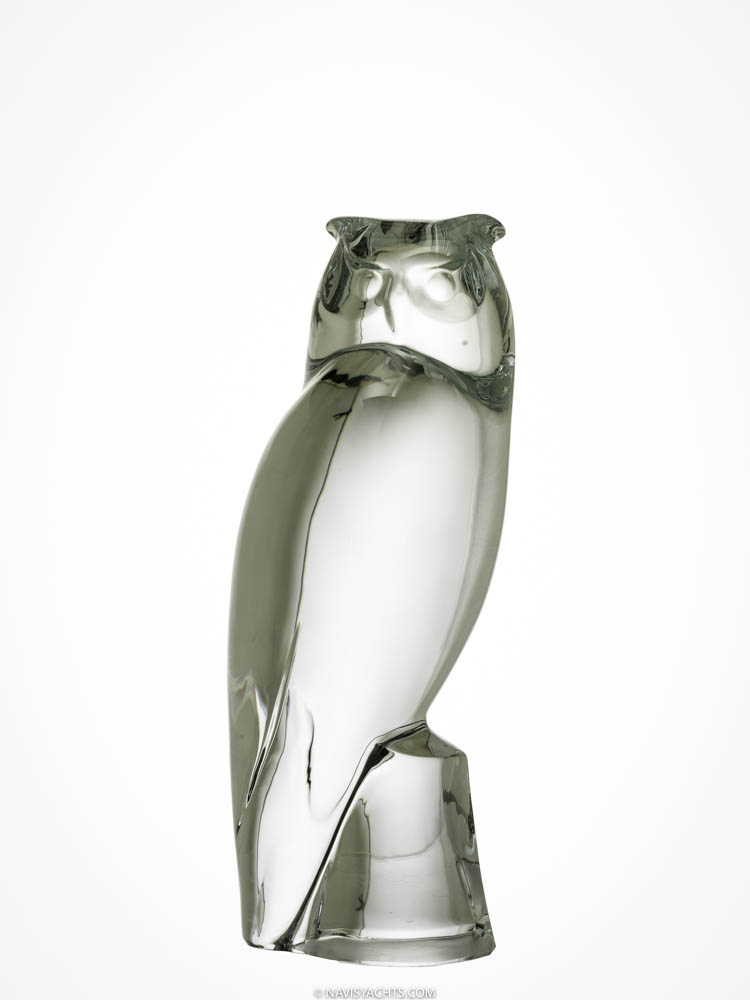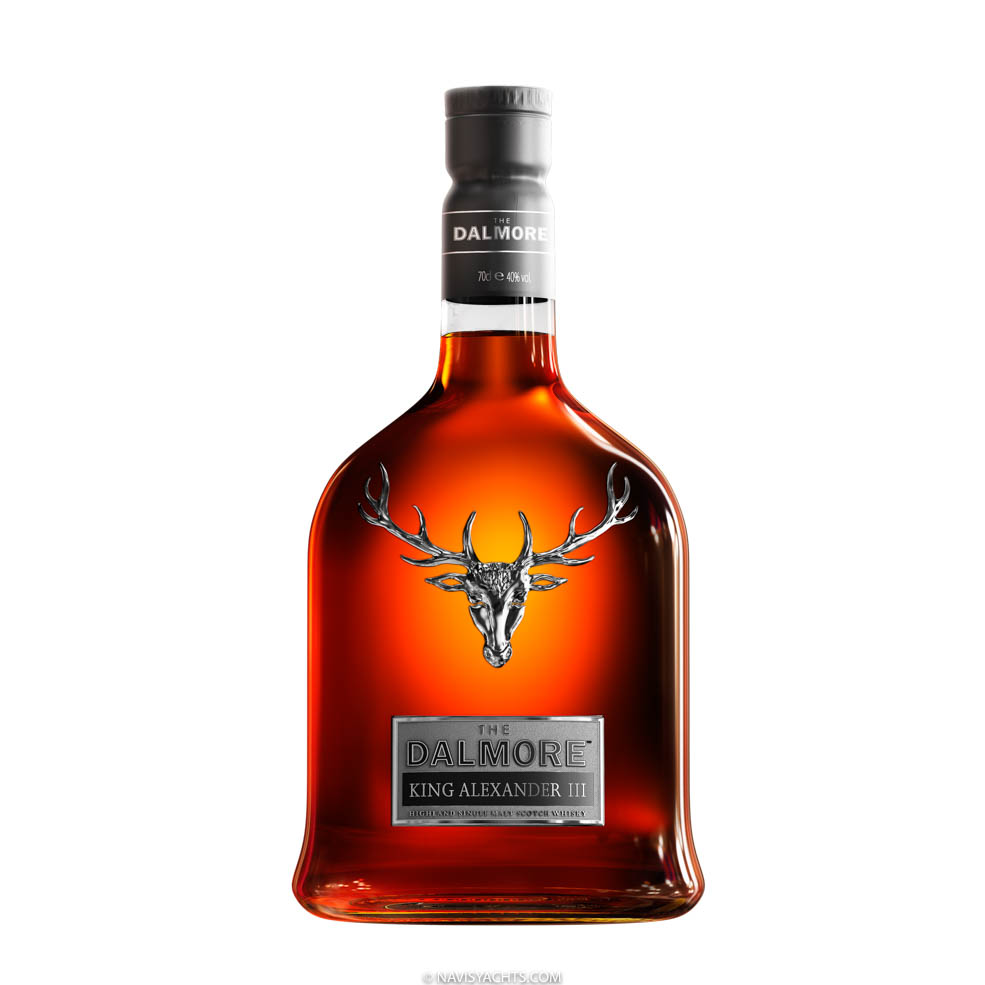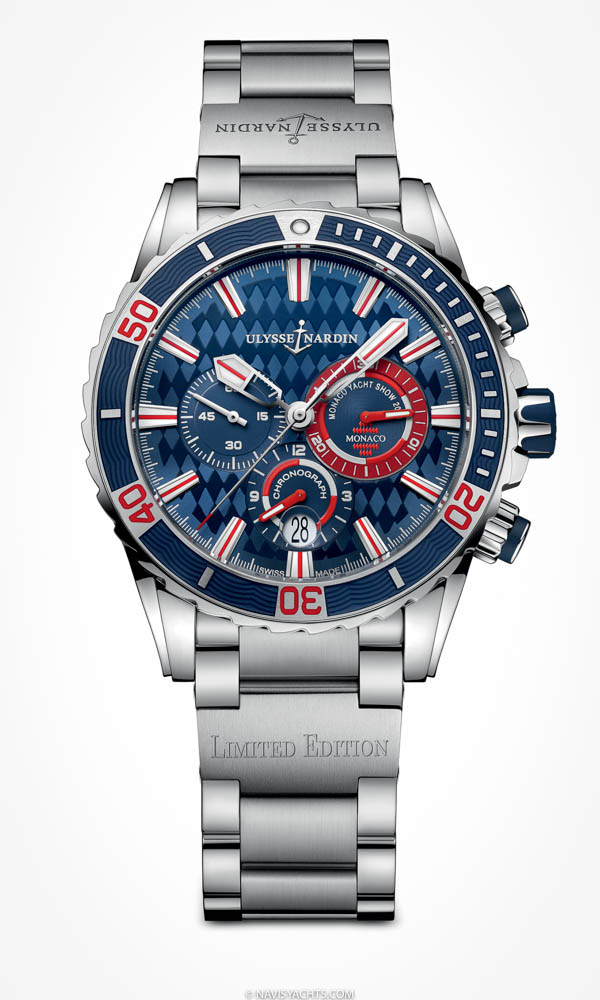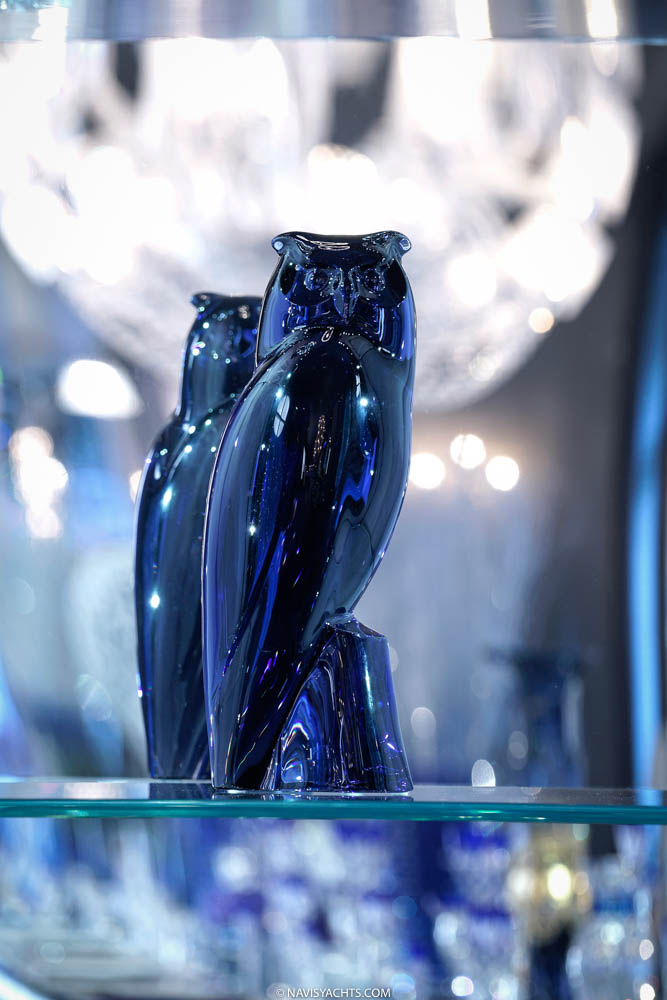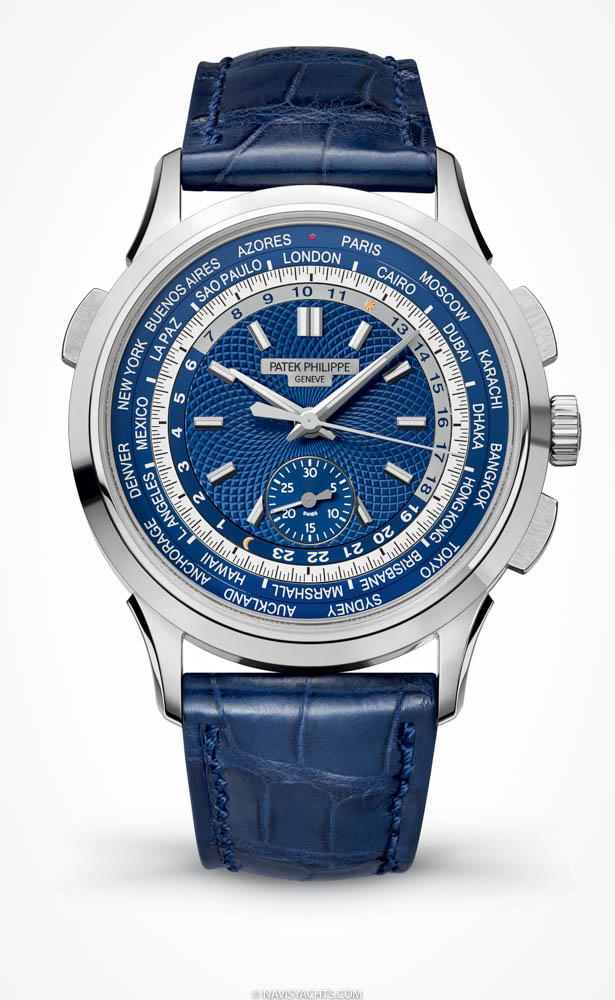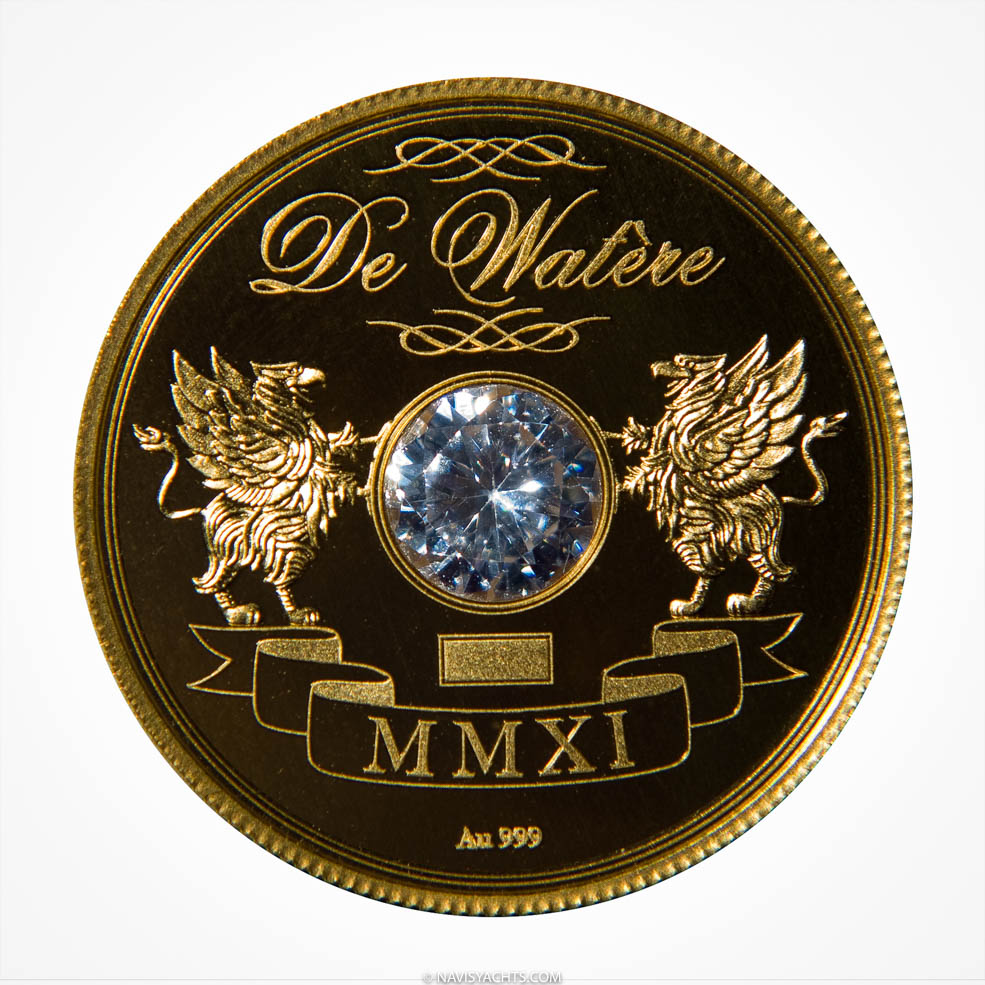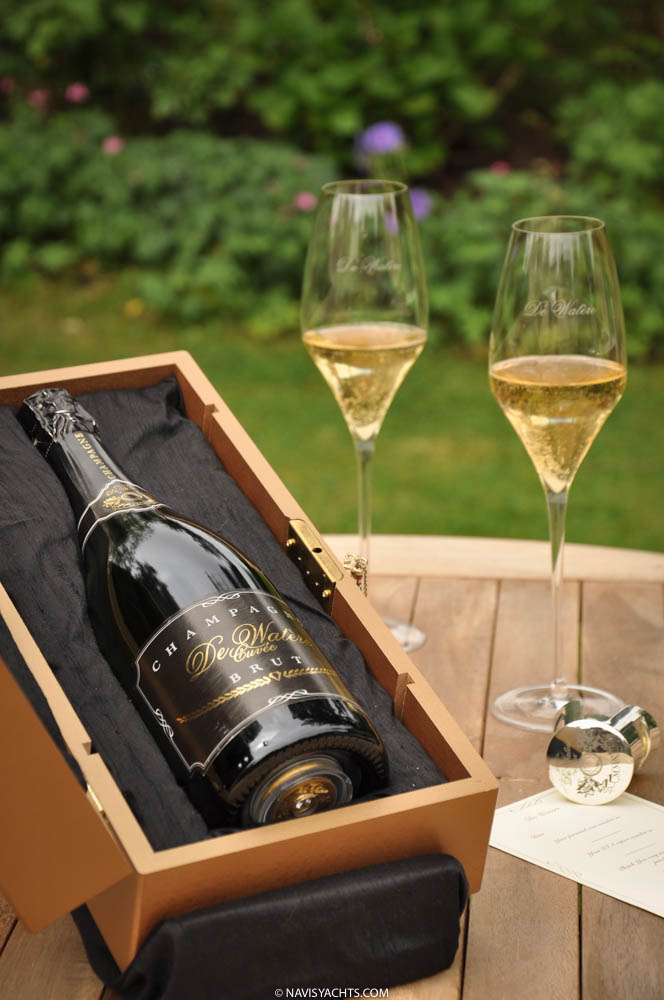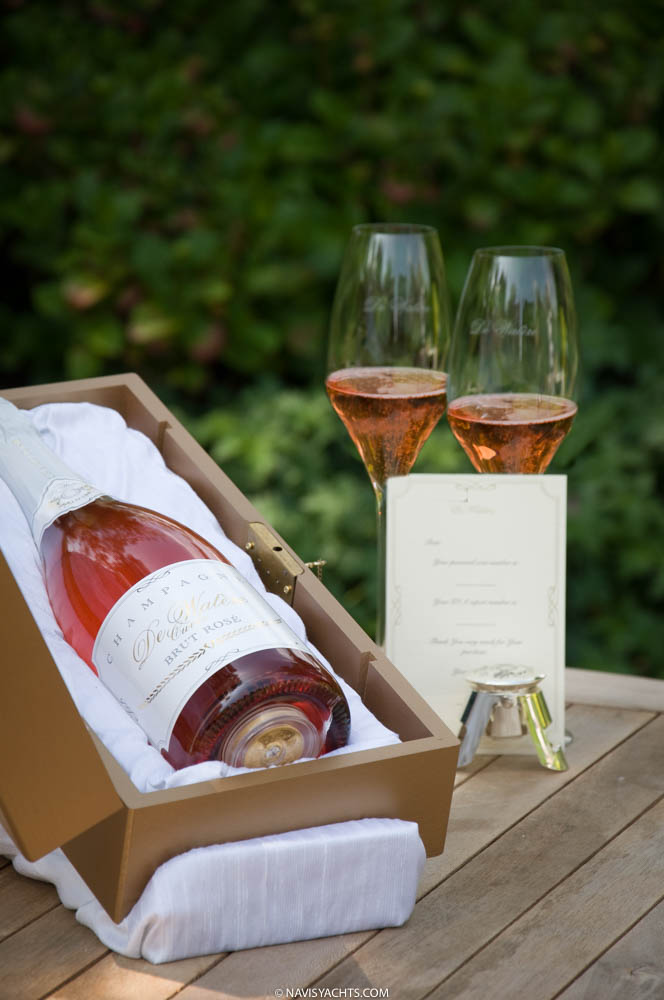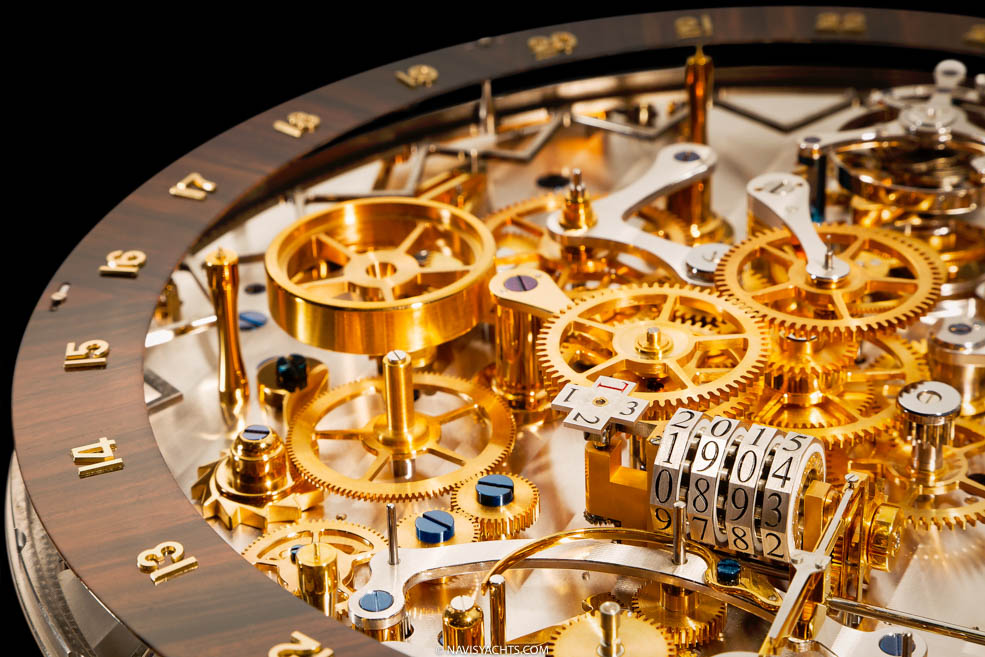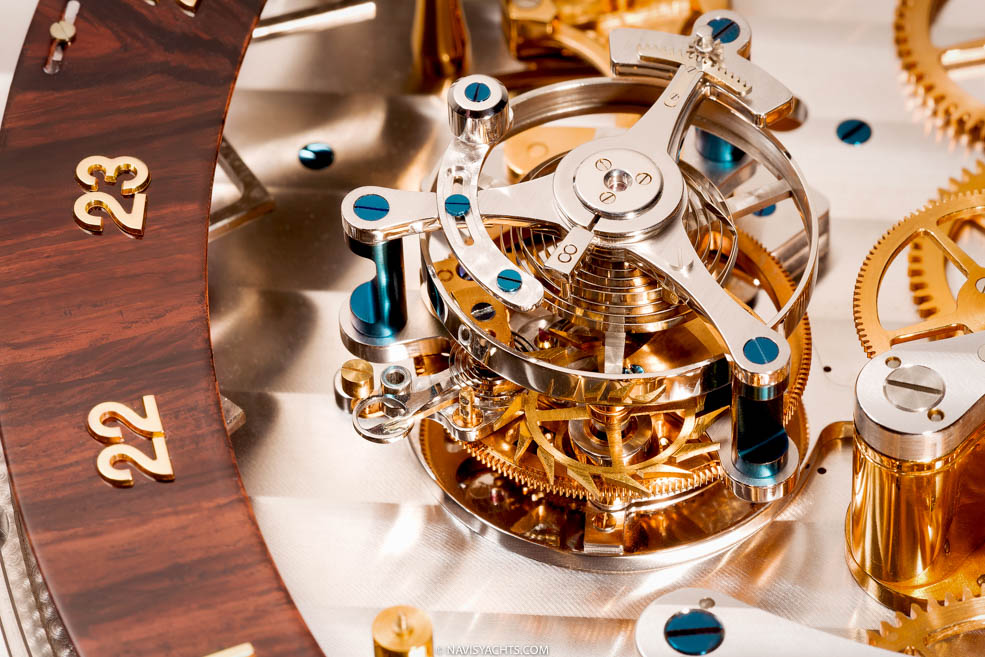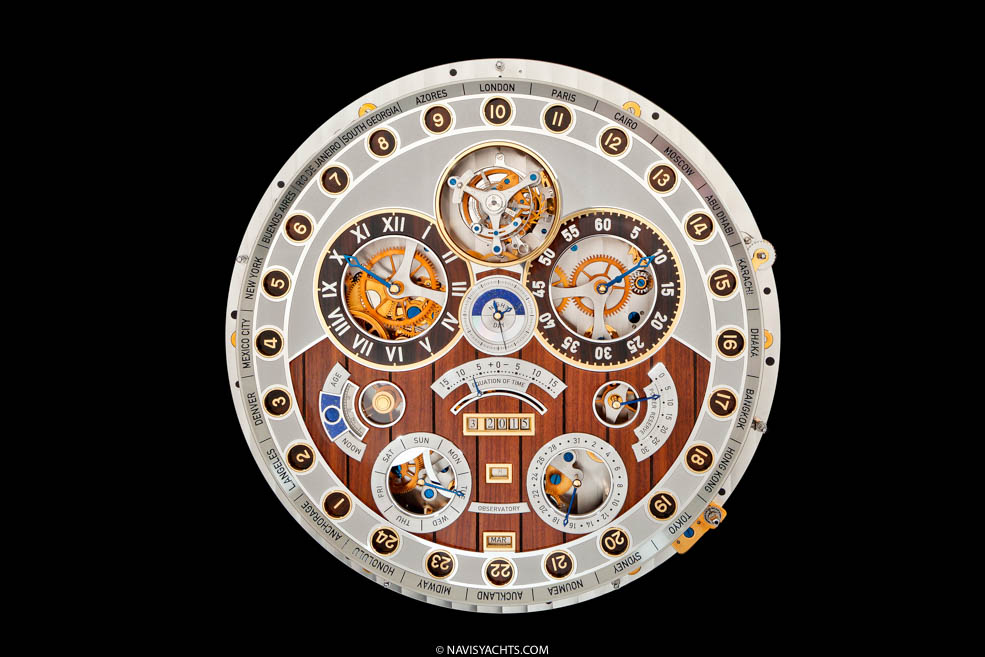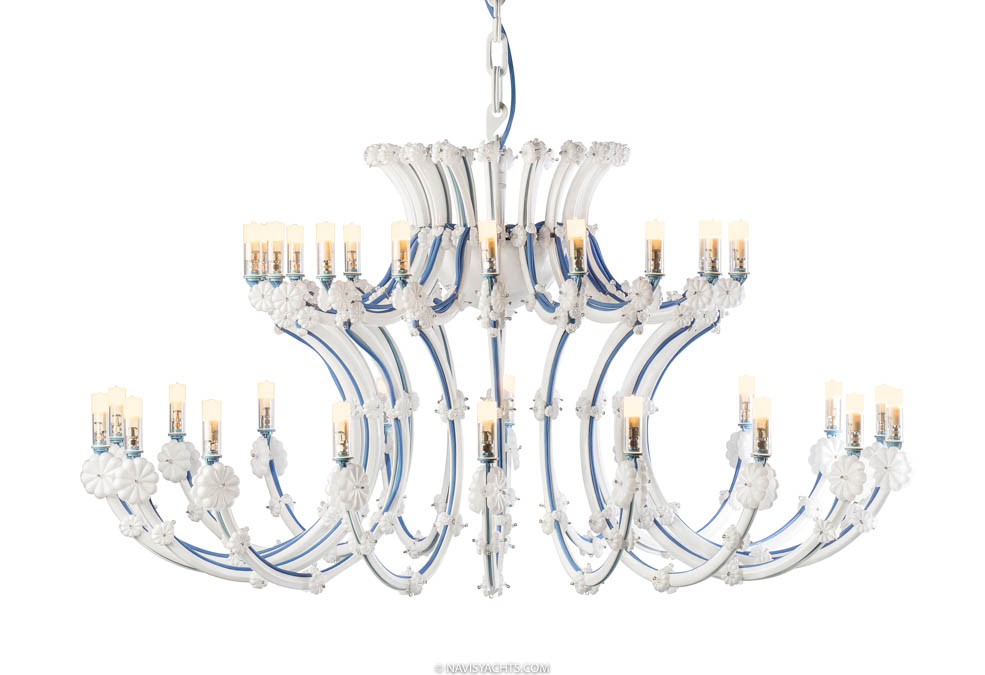 Words: K. L. Turner