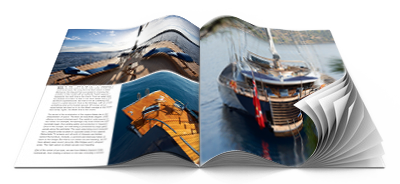 NAVIS is a unique magazine created from the dream of passionate yachtsmen with the goal to build a yachting media network like no other. NAVIS offers a place where owners, superyacht enthusiasts, and other members of the luxury yachting community can see, sense and feel the world of yachting at its highest level.
---
NAVIS Magazine Market
With readers around the world, NAVIS has a global reach to Yacht Owners, the Yacht Charter Community and people related to the luxury yachting life. With over 23.000 readers, our most active markets are North America and the European continent.
Since 2011 NAVIS Luxury Yacht Magazine has established a strong position as one of the most read superyacht magazines in the world. With a base of 23,000 readers per year and 19 issues published, NAVIS is the fastest growing superyacht magazine today.
Thanks to its hybrid strategy (printed and digital versions), NAVIS Luxury Yacht Magazine reaches nearly every country in the world with enough buying power to consume the products presented in NAVIS pages.
Our demographics show that NAVIS readers come mainly from America and Europe, with strong presence also in the Emirates, China, Japan and Australia.
Americas: 45% of NAVIS readers
Europe: 40% of NAVIS readers
---
NAVIS Media Kit 2015:
NAVIS Media Kit 2015 and complimentary subscriptions are available to clients, advertising agencies and media buyers upon request. Please contact us and a representative will be assigned to you account.
---
NAVIS Green Concept
At NAVIS we pay special attention to our impact in the environment. NAVIS was conceived as a different publication since its inception. As sailors the NAVIS team have a close relation with our mother planet. We started the project with the goal of being a 100% Green company. One of the key decisions was to print only the number of issues ordered by our subscribers, there is no stocks to destroy or issues to give away, we only print what is consumed.
That is why you will not find NAVIS dropped or leave to be trashed or destroy, NAVIS is in the hands of people who love our content, who care about our world and our environment.
---
Navis Luxury Yacht Website Ads:
The Navis web network consists of over 8 portals including the Magazine website, Facebook, Twitter, Google+, YouTube, LinkedIn, Pinterest, Stubleupon accounts and others, reaching all together over 30.000 contacts per month.
Navis offers a variety of marketing possibilities through its web network, from ads, advertorials and special dedicated sections in the website, to a whole news distribution network through our social media strategy.