The Sporting Life Onboard Oceanco's Anastasia
Sharing a romantic moniker with Russian royalty, Oceanco's Motor Yacht Anastasia is, without question, an authentic grand duchess of the seas. Ruling over the marine sporting life in luxury and comfort, Anastasia's 75.5 m/247.7 ft form pursues an active life at play with all the ocean has to share.
Launched in 2008, Anastasia's forward-looking features and exceptional design by Sam Sorgovanni intend to carry into the next decade with a timeless profile. Fitted with every convenience to please and pamper the sporting guest, the yacht accommodates a group of twelve in an exquisite owner's cabin, two VIP suites and three double cabins, served by 20 crew. Adventures reaching to 4,000 nautical miles at 14 kts offer ample opportunity for exploration at sea, employing all of Anastasia's wonderful amenities with a relaxed, beach-like atmosphere throughout.
The emphasis on sport is perfectly complemented by the sweeping, interdeck lines of Anastasia's hull and superstructure, seamlessly dovetailing amidships for a dramatic, mesmerizing plan. A departure from the more traditional wedding cake designs, Anastasia's profile is poised for action, presenting an equally exciting interior layout. Dedicating an abundance of space to water toy storage and boasting a range of spaces inviting socially-focused activity, Anastasia is designed to enjoy and connect in comfortable, casual surroundings that hint of the beach in every detail.
Built to accommodate a family of watersports enthusiasts, Anastasia's lower deck is the competitor's haven, housing six competition jet skis on racks, four two-seat WaveRunners, two kayaks, a selection of sailboards, and three tenders. In the lazarette, diving suits and breathers for 15 guests hung on slide-out racks, a Nitrox fill station, and Apollo underwater scooters. The breathing sets, equipped with state-of-the-art communications, add an extra degree of safety to any underwater journey. Fishing gear and towable toys are also organized in the lazarette.
The tenders include a pair of 9.5 m/31 ft Vikal custom launch twins, one open, and one enclosed limousine model. Both are designed with open bows for beaching and internal hydraulic legs that extend from the hulls for storage. The open tender is designed to retrieve jet skis, and the limousine, to transport guests in comfort in all conditions.
The third tender, stored in the bow, is specialized to provide all the power, speed, and maneuverability required to lead a successful day of watersports activities for wakeboarding and skiing. The tenders are outfitted with Steyr diesel engines, navigation equipment, and communications devices, as well as beacons to keep the crew on board Anastasia apprised of status and aware of exact location for each tender.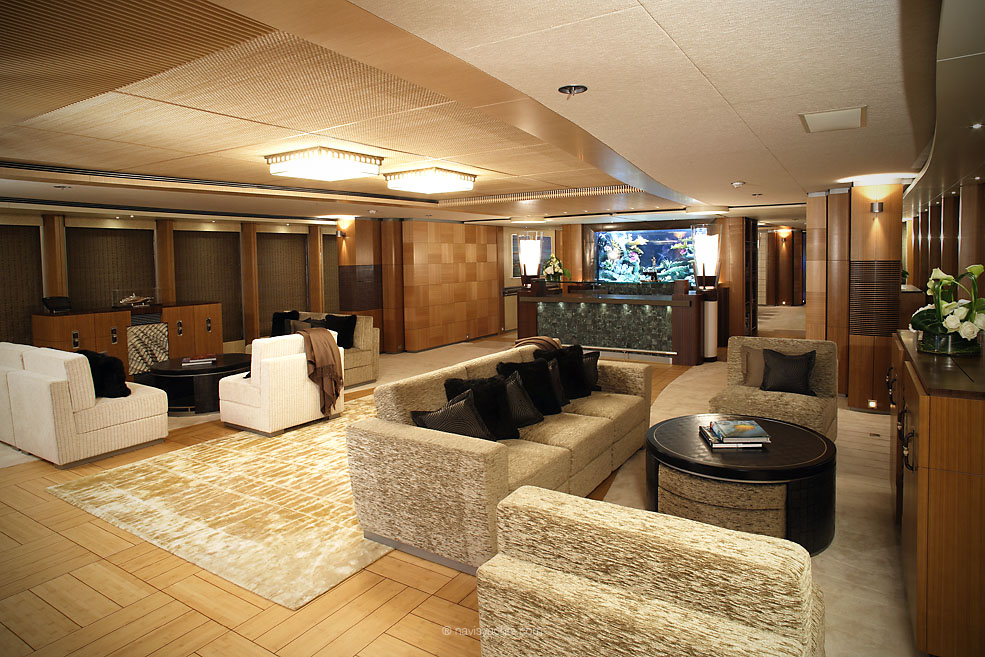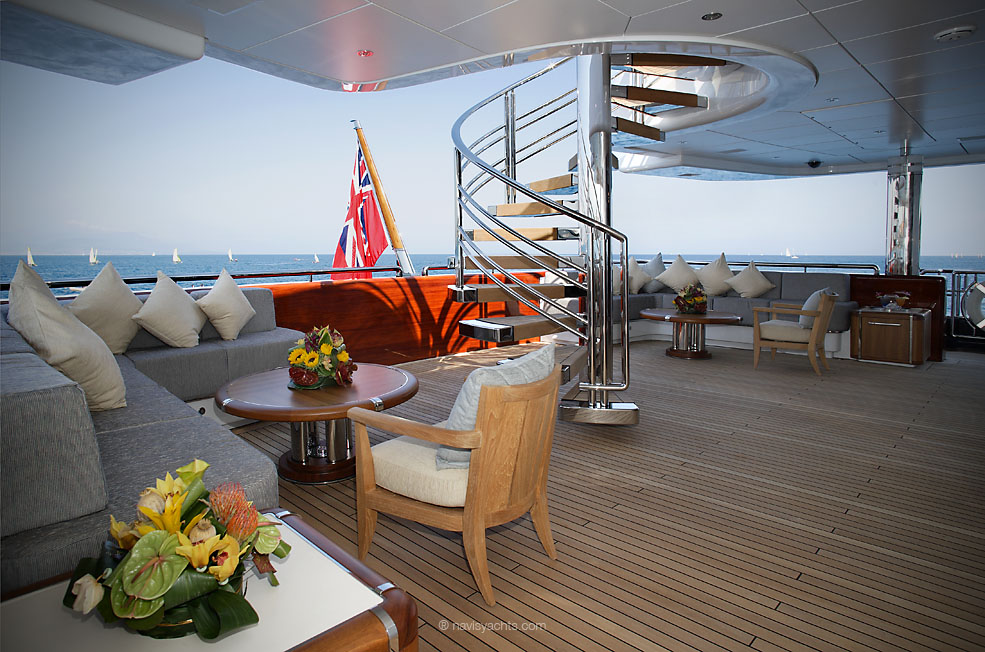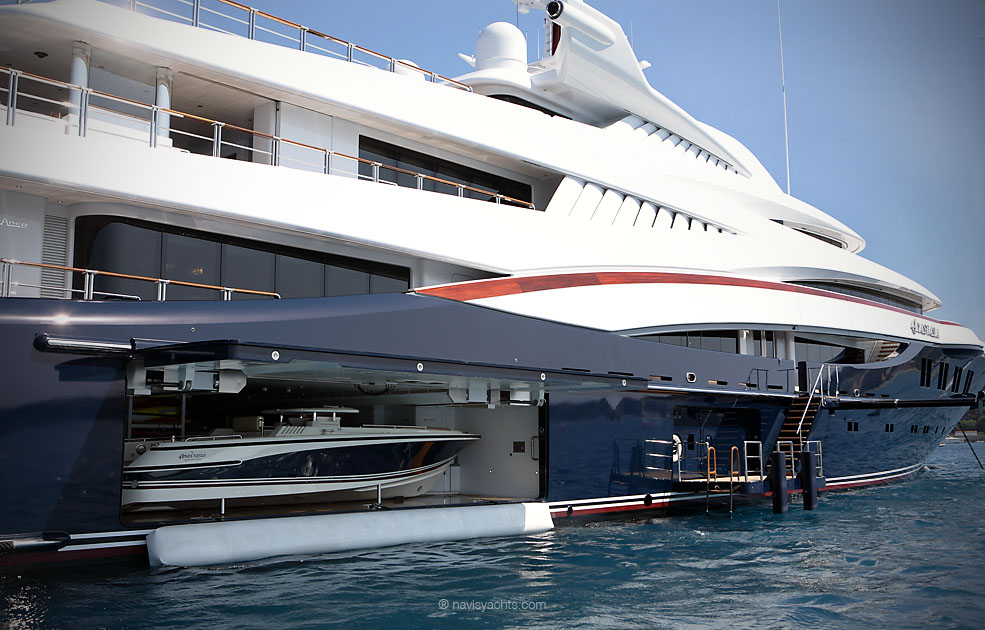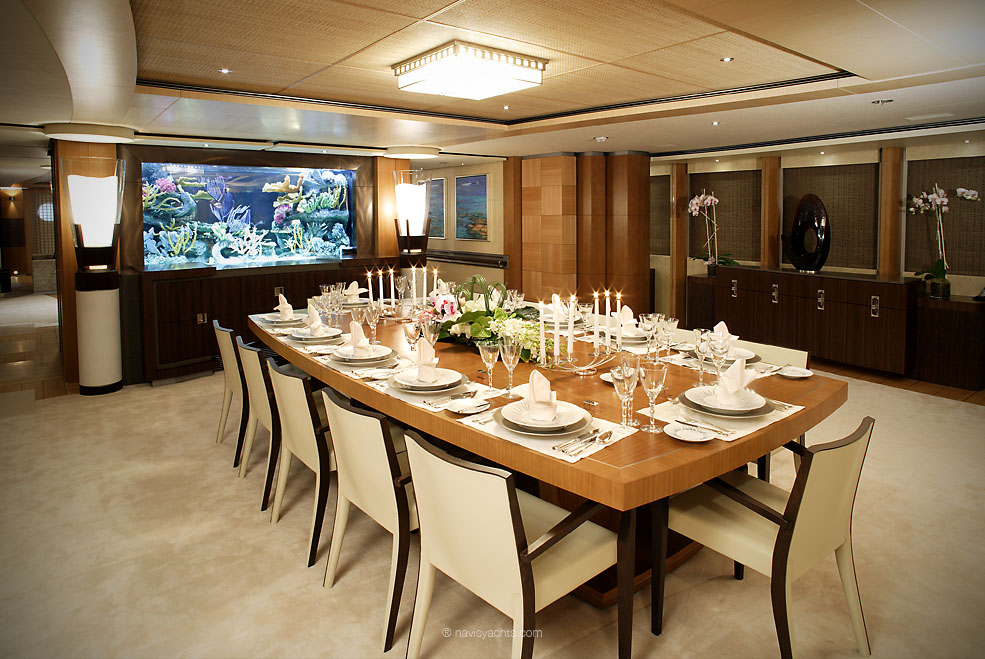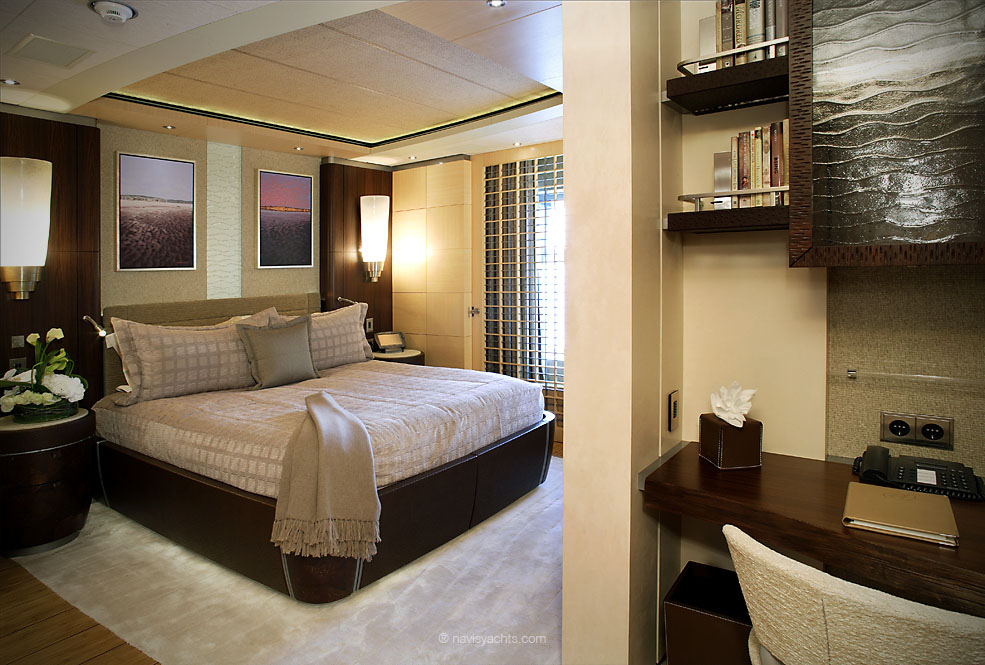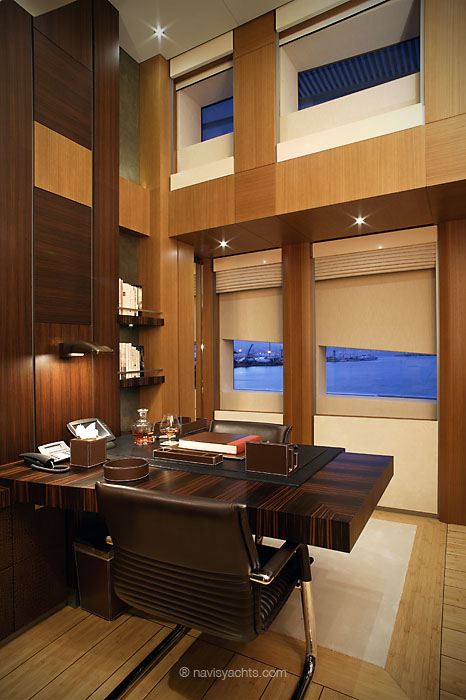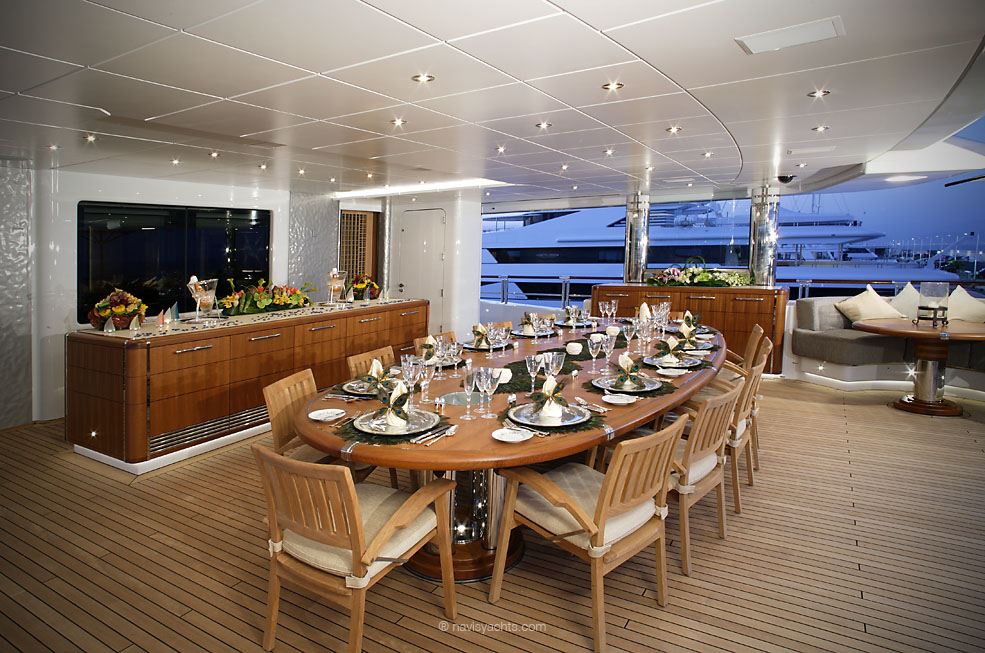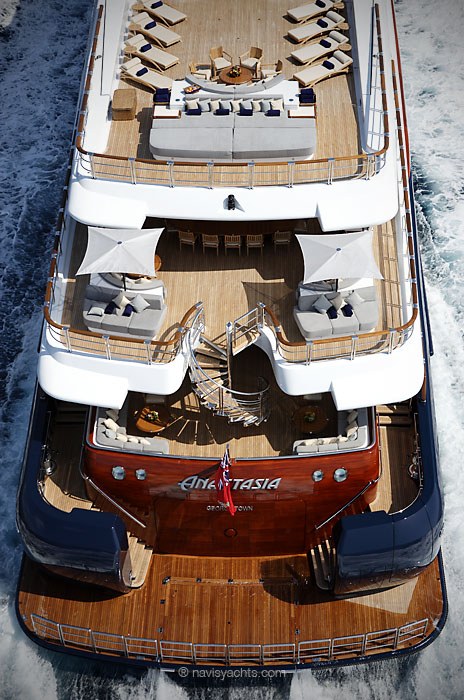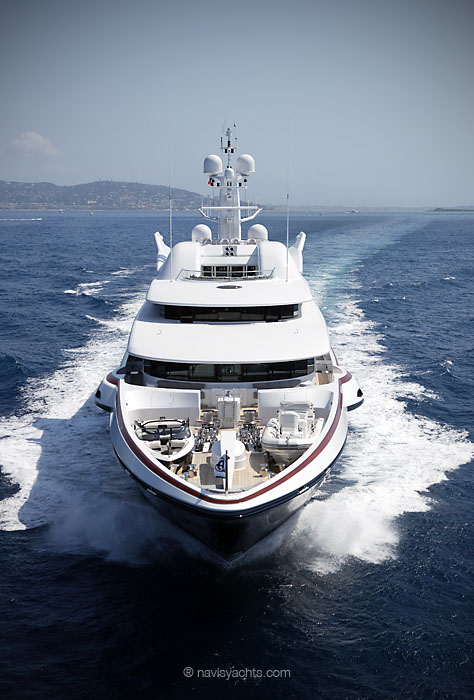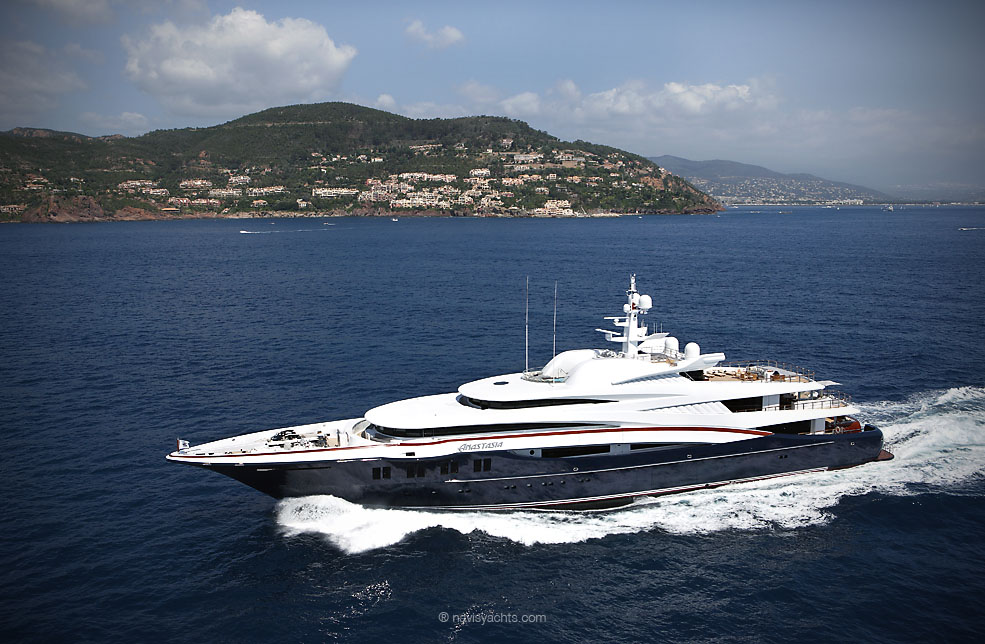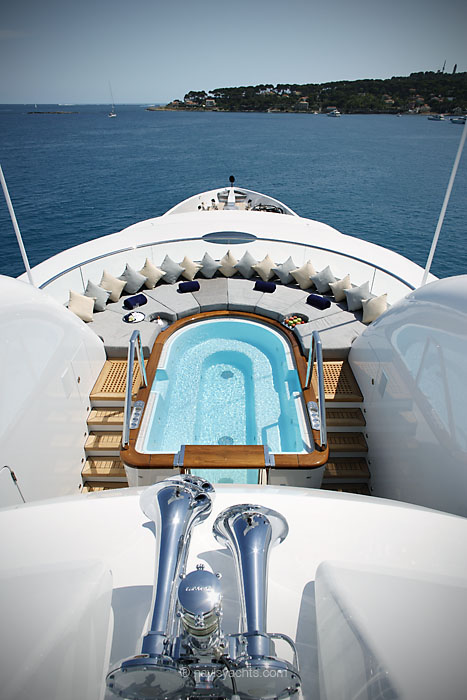 Photos: Oceanco Media | Words: K. L. Turner