Traveling the World with Arianna
Arianna was designed so the owner and his guests could travel the world in style and comfort. To reach this goal, Delta Design Group had to include a powerful engine and plenty of space for fuel and water.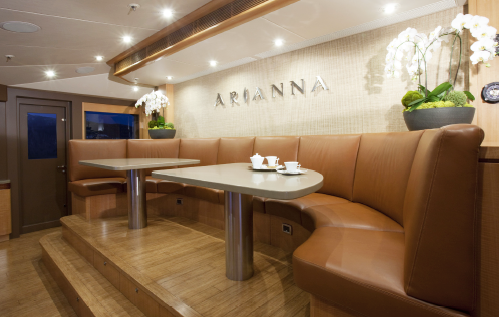 The designers chose two use two Caterpillar 3512B engines. These diesel engines churn out a impressive 1,650 HP with a combined 3,300 HP. The twin screw propulsion system lets Arianna reach a maximum speed of 16 knots and a cruising speed of 14.5. That's perfect when the owner wants to reach his destination in a timely manner but still wants to enjoy the luxury of his yacht and the beauty of the ocean.
With a fuel capacity of 21,902 gallons (82,900 liters) and a water capacity of 3,000 gallons (11,356 liters), the captain doesn't need to stop Arianna often for supplies. This large capacity sets the whole world before Arianna. Instead of planning short trips based on where they can find supplies easily, the owner can take his guests to a wider range of destinations. It's the perfect way to explore popular tourist spots or seek out lesser-known areas for private enjoyment.
Arianna's Tropical Aesthetic
Arianna has an unmistakable tropical aesthetic that exudes luxury and relaxation. Much of this aesthetic comes from the carefully chosen woods that add beauty throughout the yachts interior and exterior.
Most of Arianna's uses a natural anigre wood species. Choosing an exotic wood isn't enough for such a luxurious yacht, though. Delta Design Group's decorators took a huge step beyond that approach by making sure that each piece of wood had something special to add to the yacht's aesthetic. The cabinetry, for instance, is covered in figured anigre, as are the outboard soffits. The door trim and baseboards, however, are made of a quartered anigre. By using the wood in this way, various design elements have a common-yet-different feel that adds detail to each room while simultaneously unifying the boat's aesthetic.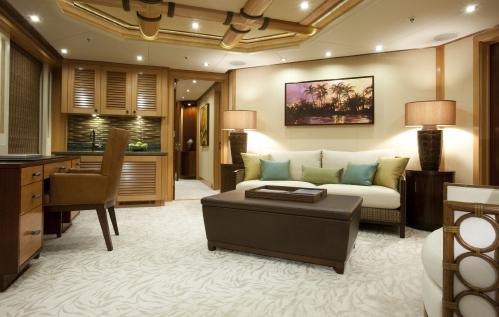 The designers used this approach to create a look that makes Arianna a tropical paradise no matter where in the world the owner chooses to travel. A wide spectrum of hues adds interesting color to the interior and exterior. Hawaiian Koa stands out as one of the most beautiful woods on Arianna. It has a wild grain texture that creates its own random designs without looking messy. Working with such intricate woods must have required an exceptional eye for detail and artistry. Luckily, Delta Design Group has experts ready to meet that challenge in a playful way that makes Arianna fun to look at as well as a pleasure to ride.
Aboard Arianna
Arianna has seven staterooms offering enough space for up to 12 guests. It also has space for up to 12 crew members. Although its large size and plentiful guest cabins make Arianna seem like a floating hotel, it was primarily designed to meet the owner's privacy needs while allowing guests to enjoy themselves.
The owner has a spacious cabin that brings all of the wonderful woods into a single space. The contrasting darks and lights amplify natural light that pours in from the large windows. The owner's room, of course, has its own bathroom, which would only be complete its own luxurious features.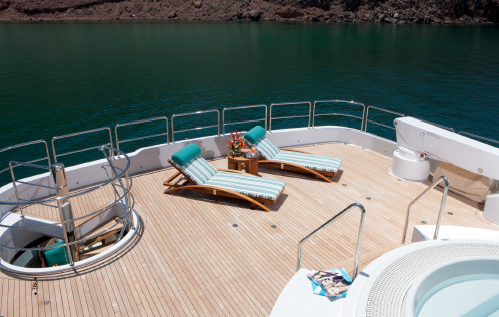 The owner also has access to an office that he can use to get work done while he's away from the office. Plentiful deskspace and a top-of-the-line computer let him work efficiently so he can prolong voyages while still keeping an eye on business matters back at home.
Just because Arianna was designed to meet the needs of the owner doesn't mean that guests don't travel in luxury. Their cabins, while exceptionally smaller than the owner's suite, have lavish beds and beautify wood elements.
Arianna also offers plenty of communal areas for the guests to enjoy. A small workout facility has machines that will help guests get some exercise while enjoying time away from the typical world. Arianna also has several rooms that make it easy and enjoyable for guests to gather for conversations or parties. A long outdoor dining table makes the perfect location for alfresco meals. The dining area leads easily to the hot tub, where guests can let bubbles massage away their stress. They can also choose to bask on the adjoined sundeck.
Delta Design Group has outdone its previous efforts. Arianna is the kind of motor yacht that even the world's most experienced seamen will give a second glance. From a distance, it evokes jealousy in observers. Up close, though, its beauty pacifies and relaxes, making it one of the best vacation yachts in the world.
Specifications
LOA: 164' 0" / 50 meters
LWL: 147' 7" / 45 meters
Beam: 34' 1" / 10.4 meters
Draft: 9' 7" / 2.9 meters
Displacement: 552 long tons (half load)
Engines: 2x CAT 3512B
Generators: 2x CAT C6.6 125kW
Max Speed: 16 knots
Cruise Speed: 14.5 knots
Fuel Capacity: 21,900 US gallons
Fresh Water Capacity: 3,000 US gallons
Bow Thruster: Quantum QT 150
Material: Composite
Classification: LR100 A1 SSC Yacht
G6 Mono MCH
Naval Architecture: Delta Design Group
Exterior styling: Delta Design Group