Description
Sunseeker San remo 45. Awarded the 2014 Best Sportcruiser
When searching for your own private sanctuary, a place where to escape leaving all preoccupations behind, this new Sunseeker model, the San Remo is ideal for you! To enjoy a family weekend, a get away with friends, or even to spend a day by yourself enjoying the calm and the luxury. Being officially crowned as leading in its category as the "Best Sportscruiser over 45ft category" in the Motor Boat Awards 2014 this now available Sunseeker for sale its worthy all around it. Every inch of it is thought especially for one's benefit taking into consideration space, brightness and comfort, but still perfectly combined with a distinguished styling. Let the experts take care of the details and just enjoy the present in this harmonically designed boat.

The Sunseeker, San Remo from the outside:
The 80's are back! Nowadays, where vintage is the new sensation, Sunseeker relived the San Remo model by resignifying it. Still capturing the essence of what made us fall in love with it in the past, it's trendy and sophisticated lining, but kicking it up a notch with its modern design and assets, making it excel from the ordinary. Its sleek exterior distinguish itself with a perfect cut conceding it a breathtaking first impression. The new San Remo has everything you need to relax, kick off your shoes and enjoy a day in the sun. All sun lovers will find irresistible its two large sunpads and its teak-laid bathing platform. As well, to increase your pleasure, in the cockpit you will find a full wet-bar with hot and cold water and cool-box so you can enjoy a soothing time with family or friends gathered around its beautiful table, made of the finest teak, making sure that you have everything you need within the reach of your hand. In addition, the hardtop counts with a soft roof which folds up allowing you to enjoy the warmth of the sun or create a more fresh atmosphere by spreading it. To the fore you will find four forward-facing seats to enjoy the ride as calm and comfortable as possible and still being able to gaze at the spectacular view. And for the final touch, in consonance with the impeccable style of Sunseeker where no detail is left unseen, the cockpit is finished with an immaculate teak sole, steps and platform. The deck doesn't escape this meticulous arrangement either due to its moulded non-slip deck finish and all its fittings which are made in stainless steel.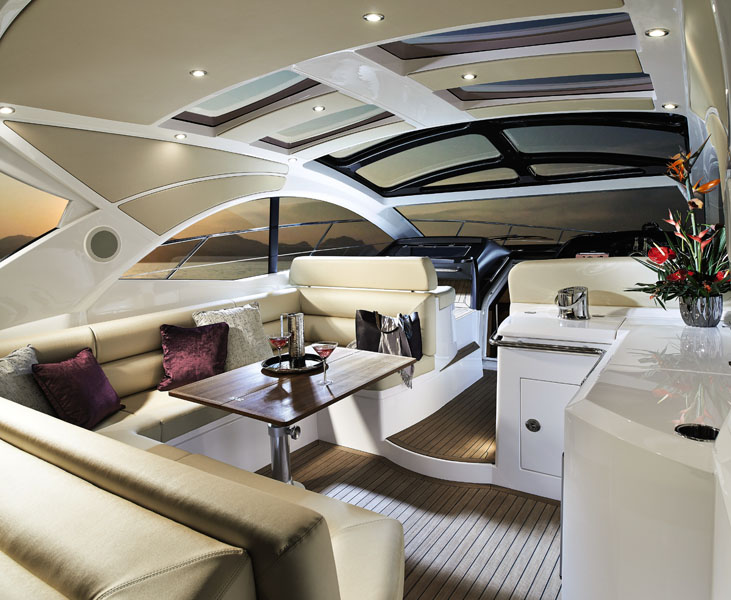 In the helm control you will find the most technological assets for your tranquility, such as radar, autopilot, VHF radio, full analogue engine instrumentation, speed and depth sounder display, combined with the finest and more resisting materials such as leather, walnut fascia and stainless steel.
Being officially crowned as leading in its category as the "Best Sportscruiser over 45ft category" in the Motor Boat Awards 2014.
The Sunseeker, San Remo from the inside:
Keeping in line with its beginnings the interior styling and designs are still at the core of Sunseeker's tactic to stand out from the ordinary. This renewed San Remo model is characterized by its luxury and sophistication, and most important, for its feeling of space and natural lightning that illuminates its interior conferring it a sense of warmth.
The saloon is a welcoming, spacious room enlighten by panoramic windows allowing floods of natural light to get in and simultaneously creating a cozy atmosphere. Fully equipped, you'll be able to host a nice meal with friends or even a more private dinner thanks to the large folding dinette. For further entertainment you may as well enjoy peacefully of a movie with the same quality of the movie theatres due to the latest technological appliances, such as a flat screen television of 32'', DVD and Blu ray, and a radio 2:1 sound system. But it doesn't stop here, you can also held a lively gathering or just have a good time by listening to some music thanks to the radio and iPod plug with speakers that even reach the cockpit. In addition, for your own commodity the galley is situated right next to the saloon. It is set to fulfill the host's every need and prepared, in case of long trips, for any situation. You will find an electric refrigerator, microwave, an electric twin hob, hot and cold water and six place crockery and cutlery set. There is also an opening porthole with mosquito screen ideal for ventilation purposes.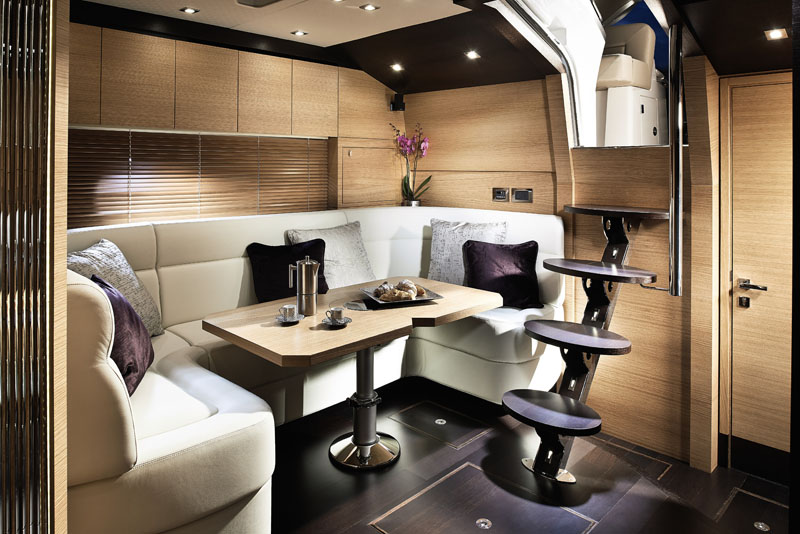 The new hull design optimizes the accommodation enabling up to four guests to enjoy a lovely stay in the comfortable cabins below deck. These ones consist in a master en-suite stateroom and a twin cabin, also en-suite! Both, following the exquisite and remarkable taste that characterizes Sunseeker, are exceptionally styled and furnished paying attention to the most minimum aspect and offering the best polished terminations.
The main room is flawlessly designed taking into consideration everything is needed to make your overnight stay extremely pleasant. For starters, it is spacious and there are two large side windows that illuminate the room giving it a natural glance while still taking advantage of the view. This also opens up the room, giving it a sense of enlargement. You will find a comfortable settee and all the technological equipment needed so you don't have to worry about a thing, for example a flat screen television, DVD, CD, radio with stereo speakers are just some of the devices that you will encounter. The twin cabin is also fully equipped so that your guests can feel at home. However this exceptional room comes with a little trick since the two berths can slide together creating a double bed. Needless to say that both cabins are furnished with the best materials and finest fabrics combining a homely feeling with the sense of luxury and royalty; a perfect combination!
As a plus, both en-suite toilets are highly prepared. Even the most trivial details, such as taps and accessories, tooth brash glass holder, soap dish and towel ring, are taken care off so nothing is lacking. But in a more general panorama these two bathrooms are praiseworthy due to its comfort and delicacy. Both count with a shower, in case of the master aft room en-suite toilet its a shower compartment, with hot and cold water, for which everyone knows the importance of this, not so insignificant detail, out in the sea; be able to take a bath just as if you where at home.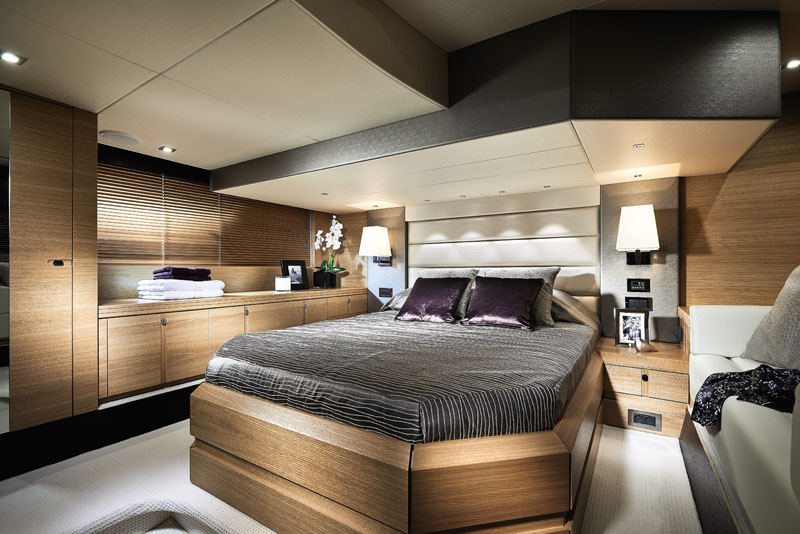 Performances and technical specifications:
There is a reason why this exemplar motor yacht won the Motor Boat Awards 2014. Even though the styling and design are key components that contribute to the uniqueness of the San Remo model, this wouldn't be a true Sunseeker without excelling in the technical area. This 52 foot yacht, with a beam of 4.30 meters, will blow your mind. Its uniqueness lies on its outstanding performance thanks to a Twin Volvo Penta IPS 600 engine allowing it to reach a maximum speed of 30 knots and a cruising speed up to 26 knots. But what really signalizes this gemstone is its exceptional maneuverability and extremely agile handling thanks to its IPS pod drives. Besides, it counts with a 1.320 liters (349 US gal) fuel tank and a 322 liters (85 US gal.) fresh water capacity.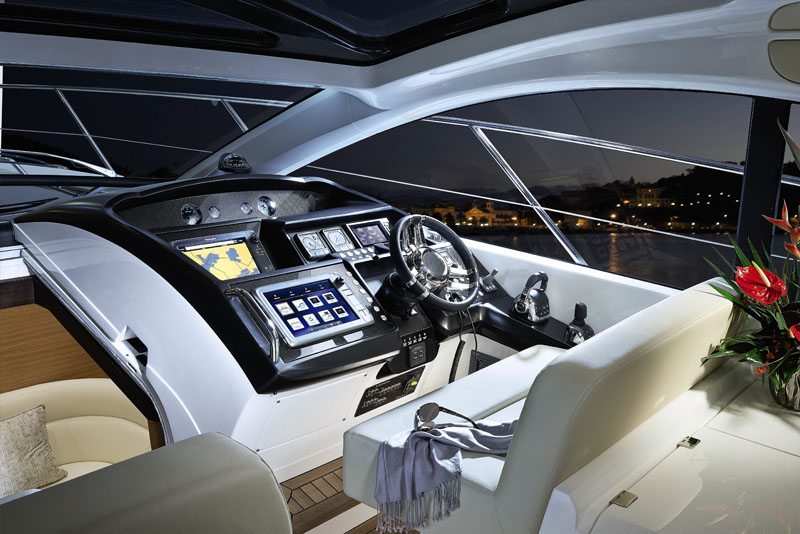 Price of Sunseeker San Remo 45
If you are wishing to be the owner of this sportscruiser, it's your opportunity as it is already available to purchase. The price of Sunseeker San Remo 45 goes from 900 000.00 $ to 1 100 000.00 $, depending on features, appliances and luxury details you add to it. Anyway, this awarded yacht will never let you down and it's for sure that it's worth every rewarding inch of it. If anything, taste it and measure in pleasure. You won't doubt about it.
The Sunseeker, San Remo is one of a kind. This luxury motor yacht embodies a true way of living at sea. This true Sunseeker has everything its needed for you to delight yourself and guests with an adventurous ride; ideal for day trips or longer charters. Its versatility, comfort and refinement will stun you!