Description
The Sunseeker crew has excelled itself once again; when we thought it wasn't possible they manage to launch a more spacious model in the Manhattan collection: the Manhattan 73, the grandest of this flybridge range. This three-level, 73 foot length vessel, with its new hull design, will astonish you. Its volume increased not only by length but also because of a broad beam of 5.73 meters that's carried lower in the hull allowing even wider rooms and cabins so you and your guests can enjoy of a perfect day at sea. Besides, performance and maneuverability are still at the top of the Sunseeker team priorities.
Sunseeker Manhattan 73 from the inside:
In order to capture attention and really make those extra 10 feet valuable, the Manhattan 73 is characterized by its ingenious use of space, optimizing the most the different areas. Sunseeker increased the offer by making room for three double staterooms, a twin-single room and an aft crew cabin. Moreover, to fulfill greater expectations, there is the option for every cabin to have its own en suite; each room shines with the classy refinement characteristic of any Sunseeker.
The under level - Cabins:
The three main cabins consist of a double berth with an en suite toilet. Still, these are not simply berths pile up one another, each room has its unique style and there are in no way a reflection of each other. They all share the same top quality amenities and are fully prepared for offering anything you could ask for. The three rooms come with two bedside reading lights, air conditioning and all the latest technological appliances, such as a 32" flat screen television, radio, CD and DVD player. But, don't you think that the numerous amount of rooms take space from them, they all are sizable cabins with plenty of storage place distributed within drawers, lockers, wardrobe and some extra storage beneath the bed. Another of their main features is its extreme luminosity, especially of the aft master stateroom and the VIP forward room, thanks to the large panoramic windows that enclose these eye-catching rooms letting floods of natural light in. Still, the starboard guest cabin counts with an opening porthole that comes with mosquito screen and curtains and wide windows so neither room lacks luminosity or a great view; ideal for taking advantage of a joyful stay at sea.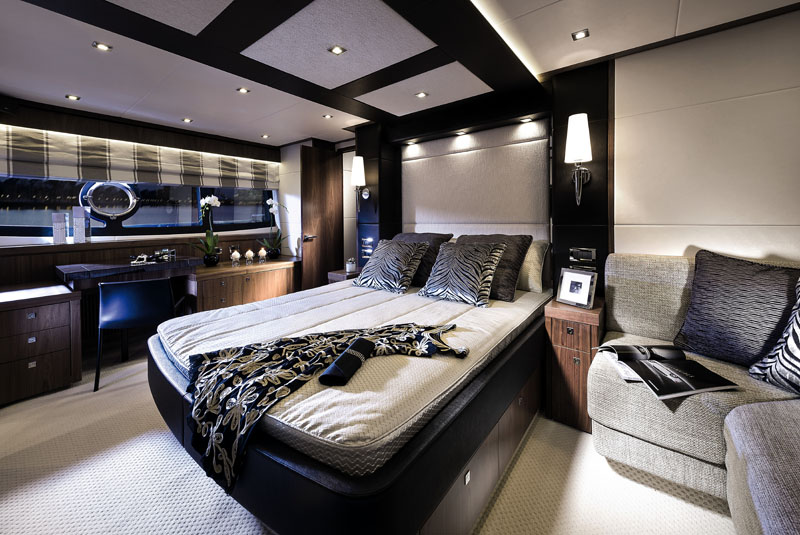 The aft master stateroom is worth taking a minute to take a better look at it. Its two panoramic windows expand this room giving it a penthouse-style and frame it with the sublime spectacle of sea. Bright light gets in, giving it a natural gleam, but don't worry about it getting too hot thanks to the air conditioner. This full beam midships master suite has extra space and is fully furnished for your maximum comfort. It comes with a fixed settee; a dressing table with mirror and stool; a walk-in wardrobe, ideal for long trips with big suitcases; and all the technological appliances for a complete entertainment.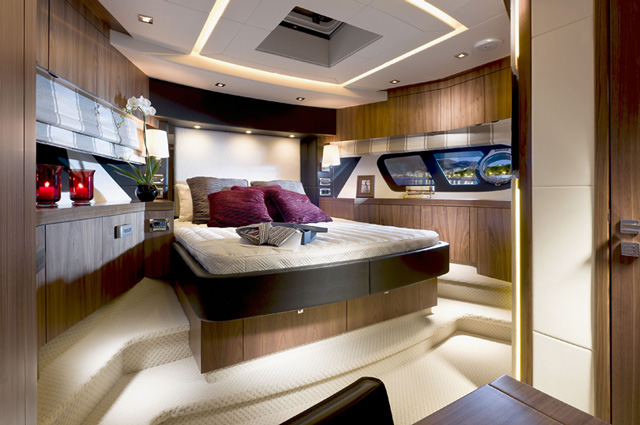 The en suite shower rooms come as well prepared as the rooms that they belong to. The three of them have an electric toilet, washbasins, taps and soap dispenser, mirrored vanity unit, separate shower compartment, an extractor fan and opening portholes with mosquito screen and blind so ventilation is not a problem. Practicality defines each of these spaces which are thought to the detail. The importance of accessory holders and of well-drained floors in the shower compartments, which prevents the rest of the room from flooding, are crucial details that don't escape the Sunseeker team.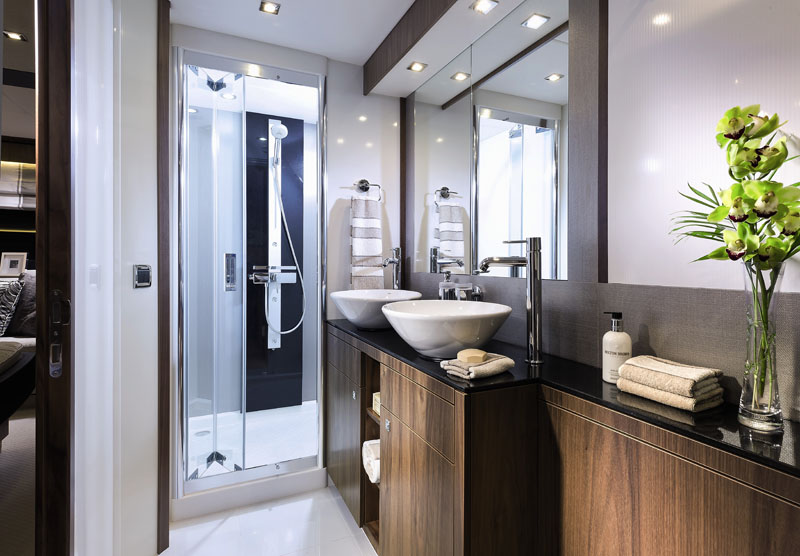 There are still two rooms left to speak about: the port guest cabin and the crew cabin. The port guest cabin has two single berths and its ideal for children. It also comes with air conditioning and all the technical gadgets needed. On the other hand, it's important to point out that the crew cabin has its entrance door from the rear cockpit, which gives the owner and its guests certain privacy. The washer dryer is located in here as well, giving it a double use of the space if wanted. This room also comes with the option of two single berths or a double one.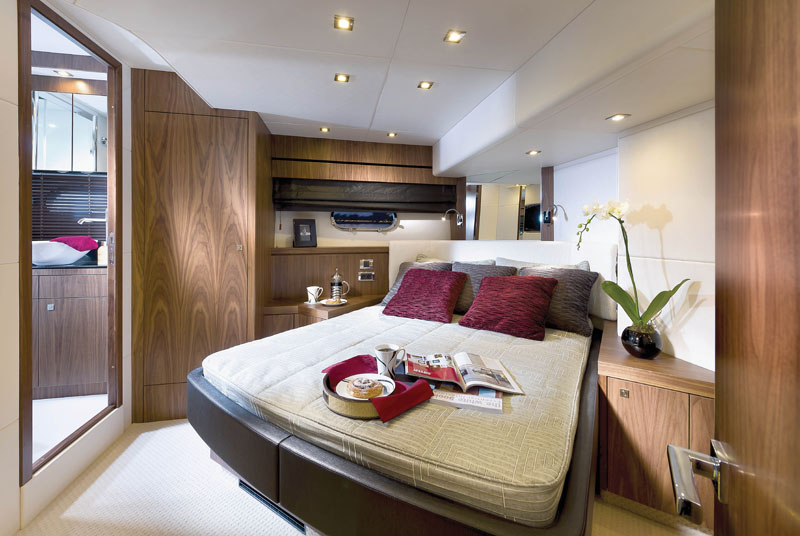 The upper deck:
Saloon and galley – an entertainment space:
Going up to the main level, the saloon is an extensive entertainment area where space, décor and diversion come together in perfect alliance. The big windows transform it in a vivid, spacious room that you won't want to leave. The mixture of traditional, top quality materials give a modern look to the inside combining it with a cozy feeling. This area offers the maximum amusement possible: you will find a flat screen television of 40"; radio, CD, DVD and cinema surround system so you can feel at your own theatre. There is also a delightful coffee table and scatter cushions that surround it ideal to spend an enchanting, private time with friends and family. Remember though, that by being a Sunseeker one can customize the interior according to you personal taste, deciding on woods, fabrics, furnishings and finishes.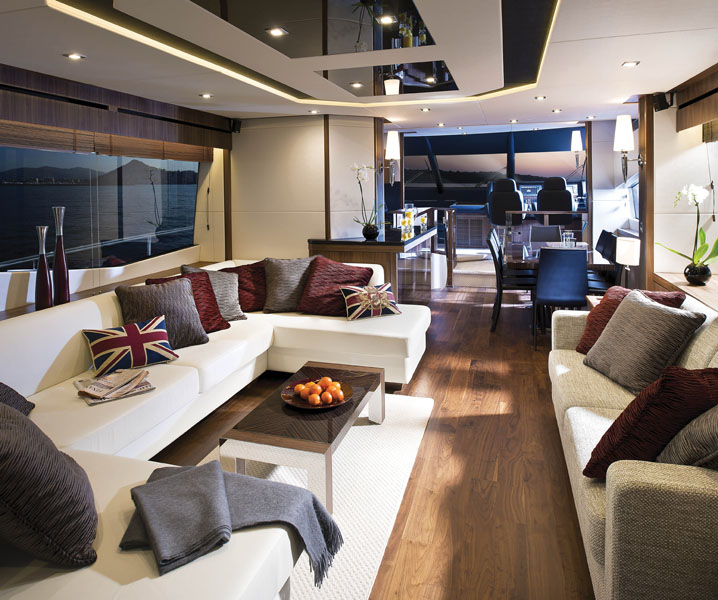 In the adjacent room you will find the dining area which consists of a formal solid-timber dining for eight fellow diners. This delicate table with its eight black leather chairs gives the ambient a soaring sense of elegance, rising up the bar in the style department.
Just across the dining area it's located a partially enclosed galley fully equipped, including even a dishwasher and a first aid kit. Everything is strategically placed to optimize the space and to augment the storage room so it is as functional and convenient as possible.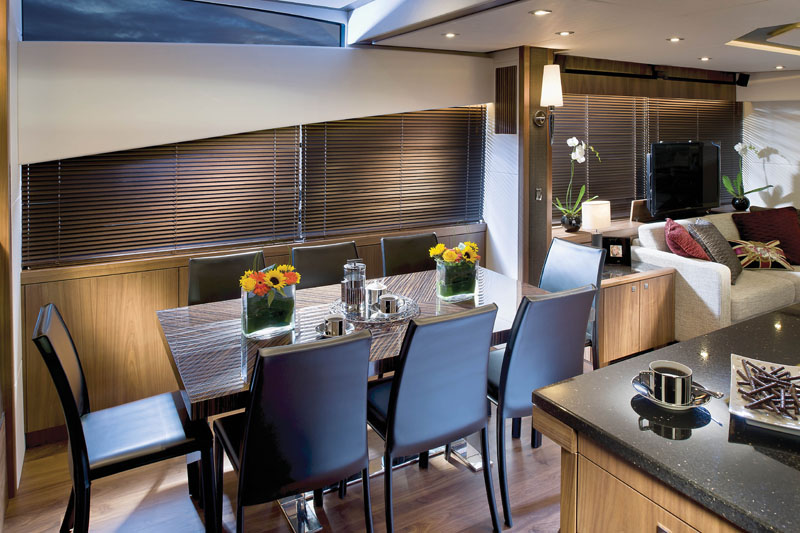 This sweeping area follows an open-plan approach and extends all the way into the cockpit due to the wide sliding glass doors, allowing a clear view from the main helm station till the other extreme of the room.

Main helm console:
This space was perfectly designed and thought to make the trip effortless but still enjoyable. Among other instrumentation and technical appliances you will find: hydraulic power steering, a chart plotter with GPS, autopilot system, analogue and engine instrumentation, electronic speed and depth sounder, a rudder indicator, VHF radio with DSC, compass, switch panels and much more. It's also meaningful to take into consideration other details taken into account, such as the application of cigar lighter, glass holders, the console made with walnut type fascia and the leather rimmed chrome steering wheel which gives this technical space a sophisticated look. Besides, there is a side opening door that connects you directly to the side deck so you or your crew have an easy access in case anything is needed.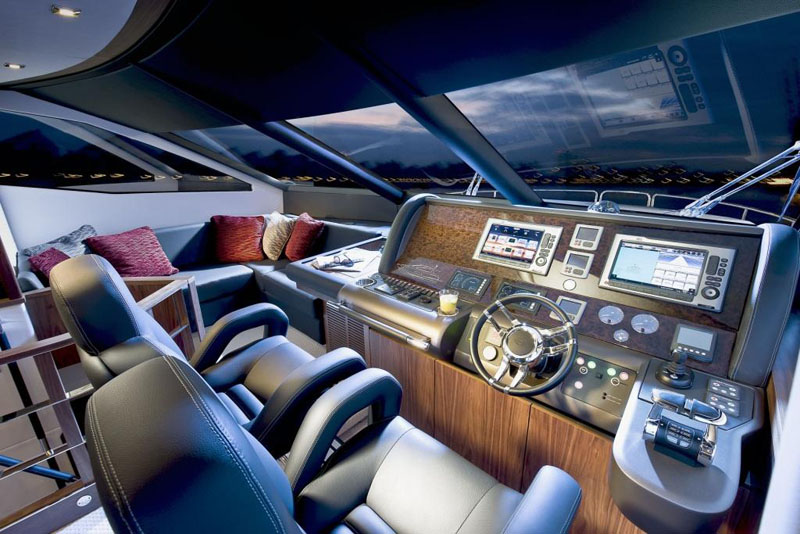 THE MANHATTAN 73 FROM THE OUTSIDE:
The outside of this unique vessel also is divided in two levels: the main deck and a massive flybridge. Both of these levels offer extensive, restful spaces so the major comfort is achieved and you can relax, calmly, as you like.
Main deck:
In the primary level there are two main spaces to mingle and enjoy. On one side there is the foredeck: a wide open space where you will find three large, comfortable sun loungers with adjustable backrests and a long settee so you can enjoy peacefully the sun.
At the other end of the yacht is a chic aft deck with deluxe seating and a table which can convert into a "daybed". Besides, on this side of the boat there is a hydraulic platform that also serves as a bathing platform where you will find a stainless steel swimming ladder to plunge into the water and a practical hot and cold swimming shower.
The deck is impeccable finished with all fittings, details and materials made in stainless steel and fully equipped with all the requirements.
Flybridge:
Going up the stairs in the aft deck you can reach the vast flybridge on top. This area is intentioned for you to be able to fully relax, enjoy the sea breeze, the sun and simply get lost in the calm of the sea and a soothing ride. It provides seating for up to 17 passengers, including three extra sun loungers. To make leisure time even more ease the Sunseeker team managed to avoid you a trip downstairs, for instance, you will find a petite folding table, ideal for meals or simple snacks, and a wetbar with hot and cold water and an ice maker.
Even more, this third level comes with its own helm station with a private access hatch and stairs to cockpit; but the most likely case scenario is that it won't be needed since it has everything so you can control the yacht from up here. In this secondary station there is a hydraulic steering, duplicate engine controls, instrumentation and autopilot controls of the main helm station, a second VHF station, compass, rudder indicator, trim tab control, radio and CD remote control, and more so you still can be part of the party while handling your vessel.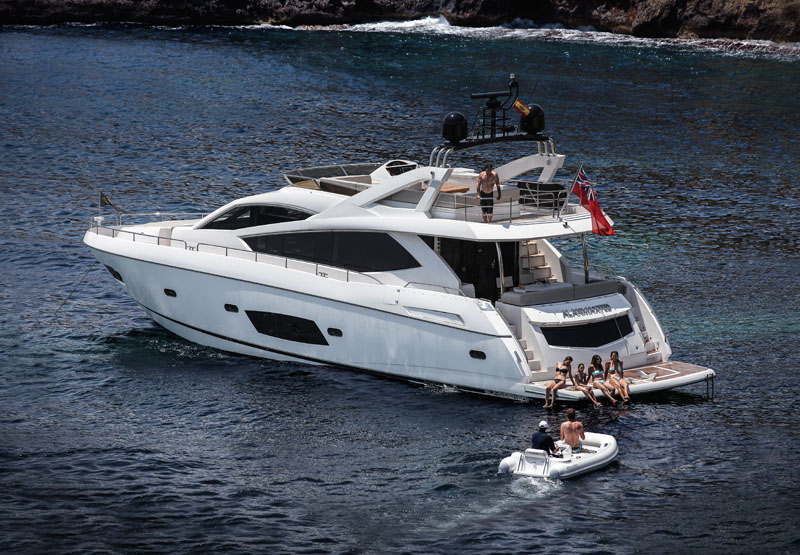 TECHNICAL SPECIFICATIONS:
There's another crucial element which makes Sunseeker's reputation valid: its engineering and performance. The size of this Manhattan doesn't impede it to give its maximum when talking about speed and maneuvering. She is expected to perform at a maximum speed of 34 knots and a cruising one of 25 knots. As its fellow model, the Manhattan 63, both run on the basis of conventional shafts, twin fixed-pitch propellers, and MAN diesel powerplants. Nevertheless, Sunseeker always has something else up its sleeve in order to maintain innovation as one of its fundamental pillars. In this particular case, innovation gets brought in by the JMS joystick system and the optional gyro stabilizer. The joystick enables the captain to maneuver this vessel in an easy-going manner making navigation of such a large craft in tight spaces or around the dock a much easier job. Now, regarding the optional feature of a gyro stabilizer, this really sets the tone for the Manhattan 73; it's an option to take seriously into consideration. This extra piece of equipment really enhances the value of the boat by offering genuine zero-speed stabilization and can reduce roll by as much as 60 percent.
Concerning the engineering department, this is as complete as it can be. The engine room, in terms of space and accommodation, is perfectly distributed having practicality and access on the top of the scale. In here you will find, among others, twin generator systems, a silent underwater exhaust system, a desalination plant, and a separate fuel filter and water one. In matter of capacity the Manhattan 73 counts with a fuel capacity of 5.000 litres and a fresh water capacity of 1.200 litres. As you can see, critics don't have space when talking in hardware terms, everything is taken care of.
Innovation gets brought in by the JMS joystick system and the optional gyro stabilizer
Price of Sunseeker Manhattan 73
If the grandest member of the manhattan collection is going to be your choice to yacht, then catch up with this. The price of Sunseeker Manhattan 73 starts at the convenient amount of 2 100 000.00 $ if we compare it with the price of its younger brother, Manhattan 63, which starts only 100 000.00 $ beneath it. At this point, Manhattan 73 really worths it if you can get to it. Its price can raise up to 2 500 000.00 $ approximately, depending on the personal features you choose to make the insides feel like home.
The Manhattan 73 is fully loaded and maintains the prestige and sophistication of the whole line, as well as the Sunseeker's high standing. This model summarizes everything a modern motoryacht must be: versatile, fast and comfortable; perfect to enjoy of the day outside, in the flybridge or deck, or to relax indoors. Performance and aesthetic were cleverly premeditated in the search of maximum optimization, but there's still room left for personal opinions and interference so you can customize it as you wish.