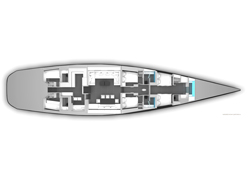 This 30.48 m long yacht, combines the most refined italian design with the modern simplicity and minimalism. Its "plain" futurist shape makes it faster and eye-catching, counting with a propulsion of 400 HP and a bowthruster of 35 HP. The construction materials include carbon, balsa and vinylester composite.
Navigation is possible by two rudders, which are accompanied by cushy sofas where the passengers may enjoy the trip next to the captain. If we go downstaris two single bedrooms prelude a sort of lobby with a little kitchen and an office at both sides. Following the hallway we'll get to the spacious sitting-room that is next to the dining-table. This stupendous area is greatly decorated with a monochrome style feautering sober furniture. This room is highly equipped with LCD screens and surrounded by smoked glass panels making the voyage into a unique experience. Four comfortable double beds are placed on the bow with private toilettes for each of them.
Don't miss the opportunity to travel in this sea master piece.