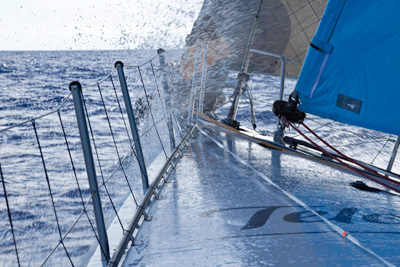 Credit: Diego Fructuoso/Team Telefonica/Volvo Ocean Race "We've been making the most of the weather to repair things that have cropped up over the fourteen days of racing," said the team's media crew member Diego Fructuoso. "Pablo (Arrarte) has been checking all the winches, Ñeti (Antonio Cuervas-Mons) has been checking all of the ropes and he has also been up the mast to see how things are doing there. Pepe (Ribes) has been checking out all of the hydraulics, Iker has been looking over the whole boat and Jordi (Calafat) has been making sure all of the sails are in good shape."
Having sliced another five nm off Telefónica's lead at the 1300 UTC position report, PUMA MCM Amory Ross said the mood on board Mar Mostro was positive.
"These boats can do 400 to 500 miles a day quite easily in good breeze, so in the immediate sense Telefonica's lead is very manageable," he said. "So long as we sail smart, avoid mistakes and force their hand, we feel good about our chances."
After crossing the Equator in third, CAMPER with Emirates Team New Zealand skipper Chris Nicholson promised his team would slowly chip away at the leg leaders -- and at 1300 the gap between them and Telefónica was down to 147 nm. CAMPER were also the second quickest boat in the fleet with an average boat speed of 22 knots over the three hours running up to the latest report.
Navigator Will Oxley said the crew were preparing for the lack of rest that would come when the fleet pick up speed in winds of more than 30 knots.
"We've got another 1,200 miles of heading just east of south," Oxley said. "It's going to get quite cold quite quickly, the breeze is going to increase, and we're going to go from having had plenty of sleep to a more sleep-deprived state again."
Oxley said the way the teams dealt with the new weather system could prove crucial to the overall leg standings.
"Once we're in heavy air running, the boat will be averaging 25 knots," he added. "It's pretty full on and you can easily damage a sail or the boat. If you stop and the other boats are doing 25 knots it's easy to see how you can catch up 75 miles pretty quickly."
Fourth-placed Groupama sailing team also gained miles as the fleet compressed, pulling back nine nm on the front runners. The French team, who were still paying for a tactical mistake made early in the 6,500 nautical miles leg from Alicante, Spain, said they were using the time to experiment with how to get the best from their boat.
Helmsman Charles Caudrelier said: "It felt like once we crossed the Equator, we would get to Cape Town soon. But actually the South Atlantic is very long and we will spend three, four, maybe five days on the same tack with almost the same wind and the same wind angle, just trimming the sails. It's slightly boring but, at the same time, we learn a lot and have time to work on the boat's trimming."