For much of today, the high-speed drag race south will continue on a port tack reach, but in the next 24 hours, as the leading pair approaches the Saint Helena High, navigation and strategy will be focused on barometric pressure. This is the means by which the navigator will know the relation of his boat to the centre of the high.
The risk is to sail too close and get sucked into the windless zone, balanced against shaving the corner and sailing less miles to the finish. The judgement is critical and one false move will be catastrophic.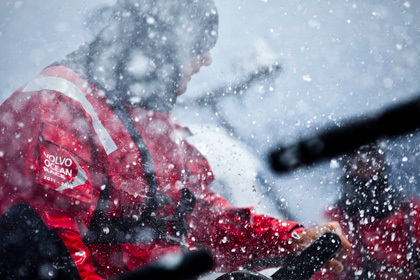 Credit: Amory Ross/PUMA Ocean Racing/Volvo Ocean Race
On the south side of the high is a cold front, which Telefónica and PUMA's Mar Mostro will reach around midday on Wednesday. Wind speeds here could be up to 25 knots, gusting 30, which are perfect for the Volvo Open 70. "The boat just lights up and takes off," says co-skipper of CAMPER (Stu Bannatyne/NZL).
Onboard Telefónica, Neal McDonald reports lots of wind and already a cooler water temperature. "I think [navigator] Cape has found us great spot," he says, referring to the position of the blue boat.
Arriving at the cold front later than the rest of the fleet will be Groupama 4 (Franck Cammas/FRA). The team could potentially need to gybe south to escape the new high building from the west and sail away from the direction of the finish in order to find the westerly breeze. This will mean sailing even more miles for the team who already trail the leaders by 346 nautical miles.