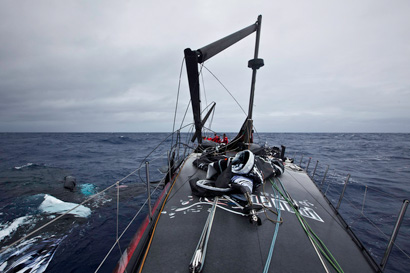 Credit: Amory Ross/PUMA Ocean Racing/Volvo Ocean Race The rig on board PUMA's Mar Mostro failed on Monday, November 21, at around 1500 UTC in the southern Atlantic Ocean, about 2,150 nautical miles from Cape Town, South Africa. All crew were uninjured.
The team recovered all three pieces of the mast and all sails from the water. They are currently headed towards the small island of Tristan da Cunha, less than 700 nautical miles away.
PUMA's mast broke when she was in second position trailing race leader Team Telefónica by just 31nm in the Leg 1 race from Alicante, Spain, to Cape Town. The cause of the dismasting is not known at this stage.
"We had a complete disaster, cruising along, reaching along 23 knots of breeze, jib, staysail and the mast fell over the side. Obviously first things first everybody was in one piece, no body was hurt, no body was even close to being hurt and then some clear heroics from the crew." said PUMA skipper Ken Read. "Casey [Smith] knowing full well that I wouldn't let him jump in the water to cut the main sail free to try to save the main sail just jumped in without asking my permission.
"So the bottom line is our legs over, we're still 2300 miles away from Cape Town. We are under jury rig heading that way, we're assessing all our options and to say that we're disappointed would be the understatement of the century.
"The boat was going great, the team was exactly what I always knew, awesome. This is a huge set back to the programme. Is this the end of the programme. not even a little bit, by no means, but is it realistically quite a set back. Of course it is, so lets just go cliché here, right out of the box, we'll 'live to fight another day' I promise you that. So signing off from Puma's Mar Mostro, it's a sad a day."
VNR Shotlist
00:00-00:10 OPEN SLATE
00:10-00:30 Virtual Eye graphic of the fleet before and after the incident
00:30-00:50 Mar Mostro crew attempt rig salvage
00:50-01:05 Casey Smith diving in to save the mainsail
01:05-01:15 Broken mast on PUMA's Mar Mostro
01:15-01:31 Establishing jury rig
01:31-03:29 Quote – Ken Read, Skipper, PUMA Ocean Racing powered by BERG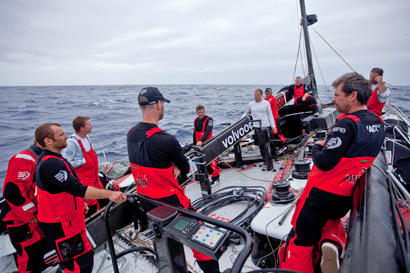 "Approximately 2'oclock in the afternoon GMT. We had a complete disaster, cruising along, reaching along 23 knots of breeze, jib, staysail and the mast fell over the side. Obviously, first things first, everybody was in one piece, nobody was hurt, nobody was even close to being hurt and then some clear heroics from the crew. Casey [Smith] knowing full well that I wouldn't let him jump in the water to cut the main sail free to try to save the main sail just jumped in without asking my permission. Tony [Mutter] has some experience in losing masts in the middle of oceans, so that came into play. All in all, as you'd expect out of this group – incredible act of seaman ship to make sure the boat wasn't damaged and make sure everybody's in one piece. So the bottom line is our leg's over, we're still 2300 miles away from Cape Town. We are under jury rig heading that way, we're accessing all our options and to say that we're disappointed would be the understatement of the century. The boat was going great, the team was exactly what I always knew, awesome. This is a huge set back to the programme. Is this the end of the programme. not even a little bit, by no means, but is it realistically quite a set back. Of course it is, so lets just go cliché here, right out of the box, we'll live to fight another day I promise you that. So signing off from Puma's Mar Mostro, it's a sad a day."
Credit: Amory Ross/PUMA Ocean Racing/Volvo Ocean Race