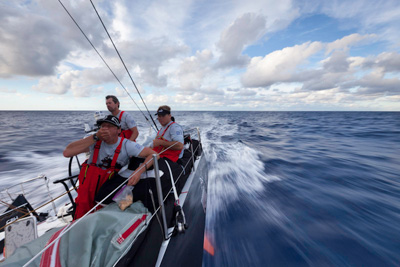 Credit: Amory Ross/PUMA Ocean Racing/Volvo Ocean RaceThe leading pair are enjoying some champagne sailing now that sheets are cracked and they are beam reaching and averaging very good speeds of around 15 knots and, in the next 24 hours, we should see these two extend their lead
At 1000 UTC this morning, PUMA's Mar Mostro held a lead of 13.4 nm over the Spanish boat, while CAMPER had to fight off a troublesome cloud as they exited the Doldrums leaving them with no wind for several hours. Chris Nicholson (AUS) and his men are now 136 nm in deficit and Groupama 4 has 434 nm to catch up, if they can.
The next two to three days will be difficult for the leaders however, and the strategy going forward is far from easy. Due to the time of year, late spring in the southern hemisphere, the Saint Helena High is further south and will give the leading two navigators something of a headache as they decide on their strategy for the second half of this 6,500 nm leg.
The Saint Helena High will be forced to split in two by a low-pressure cell building to the west and the eastern cell of high pressure will re-establish itself right in the path of the fleet.
The leading duo may get away and continue to reach slightly south of this cell, but for CAMPER and Groupama, the news is bad and they may face yet more upwind sailing in order to reach Cape Town.
Forecasters predict that the traditional route south to find the strong westerlies that give the exhilarating sleigh ride through the roaring forties will not be possible on this leg and the timings of decision-making during the next two days will be crucial.