This Vulcan Line produces first world class super yachts which add long range capabilities for ocean voyages together with an exceptional and durable low maintenance exterior. Its interior volume has been increased and can be modified and personalized to client requests. It can be fully integrated with exterior colors, styling and finishes due to Vicem's "total customization" attitude and superior construction techniques which allow finishing in dark colors and metallic painting. Integral tank construction was also introduced with the new Vulcan series; this provides more internal room for accommodations and the ability to carry more fuel for ocean-going trips at lower speed.
Vicem's new Vulcan 46 meters superyacht is the most challenging project of the Turkish Firm. The company is spreading its horizons beyond mahogany construction into high-tech composite construction with three new sleek, fast mega yachts, including a 46m (151 feet), 35m (118 feet) and 32m (105 feet) for its Vulcan Line. "Vicem is entering the superyacht segment with serious ambitions and with no compromise/highest quality building materials and technologies that compare favorably to Northern Europe Shipyards", declared Sebahattin Hafizoglu, Vicem Yachts Founder and Chairman of the Board of Directors.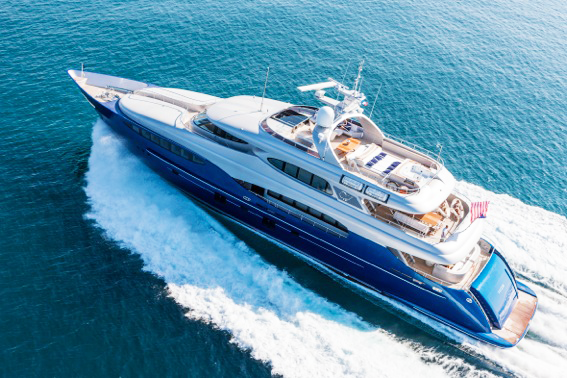 The 46-metre super yacht has involved Dutch naval architect Frank Mulder, for exterior and naval architecture, and Art-Line Studio for interiors. "On a boat this size, with such high expectations of performance, the choice of the 'right' naval architect was an important one. Nobody has as rich an expertise as Frank Mulder does," said Hafizoglu.
The new 46m yacht is lighter and faster than the industry standard, achieving 25 knots as top speed, while maintaining high-efficiency cruising and long range capability of 4,000 Nm @ 12 knots, creating an extremely adaptable vessel. Art-Line designed its interior, bringing a new definition to the word luxury. Vulcan is a 460-ton yacht, powered by twin 3,650 HP MTU engines, which delivers efficient ocean crossing range at reduced speed. Her sun deck plus three decks design offers exceptional elegance for the owner and six comfortable cabins for guests.
The design of the open Atrium is an emblem of Vulcan, and provides 45 feet of continuous natural light, starting from the upper part of the sun-deck to the lower part of the Lower Deck.
The Master Suite of the main deck makes use of every inch of this yachts' 30 foot beam, and includes an office for the CEO and a private gym. A stylish wraparound entry way leads to an arcing full-width head and an appealing Jacuzzi. Far behind is the galley, a relaxing lounge, a dining area for ten and a large upper lounge area.
Vicem's internal team of 400 specialized craftsmen provided the vessel with outstanding construction and craftsmanship. This coupled with the RINA/MCA Long Range classifications make this superyacht a serious contender in the modern superyacht arena.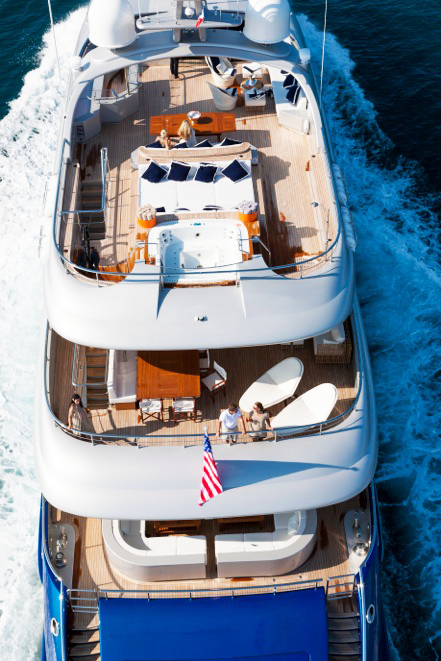 "The Vicem 46 Vulcan is a fantastic design and is as fast as she is beautiful. The yacht design is a build with absolutely no compromises and only the best materials are used. The first completed vessels are simply a work of art. The Vulcan line is quickly becoming recognized as an industry leader and we are proud to be part of the team", refers Gary Smith, Vicem of Americas.
Specifications M/Y Vulcan
Length Overall: 46, 08 m 152'2''
Length Waterline: 39, 45 m 129'5''
Beam: 9, 24 m 30'4''
Draft: 2, 30 m 7'6''
Gross Tons 460
Construction: Fiberglass/Epoxy composite deck, hull and superstructure
Hull Type: V-Type Hard Chine - Semi Displacement Hull
Fuel Capacity: 48,600 litres (12,840 US Gallons)
Fresh Water Capacity: 7,500 litres (1,980 US Gallons)
Exterior Styling: Frank Mulder
Interior Design: Art Line
Certification: Rina Maltese Cross Hull Mach Y Unrestricted navigation, large commercial Yacht Code LY2
Engines: 2 x MTU 16V 4000 M90
Power Output: 3,650 Hp @ 2100 rpm
Maximum Speed: 26 knots
Cruising Speed: 22 knots
Range 4,000 nautical miles at 12 knots
Displacement (Dry): 551,155 lbs 250,000 kgs
Guest berths 12 guest
Crew berths 7 crew