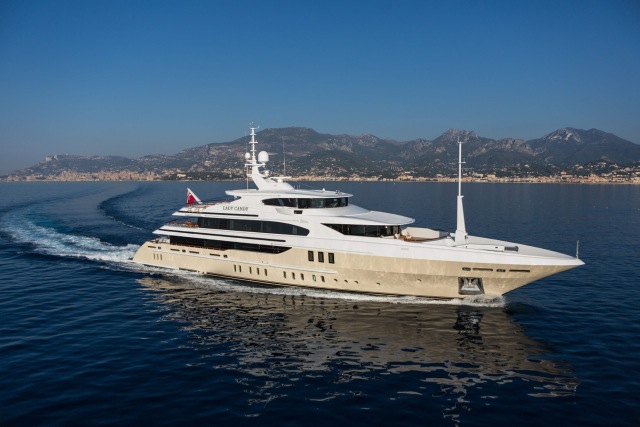 Benetti Yachts has released information about its newest creation: Lady Candy, a 56-meter yacht that's an excellent example of how well style and technology can complement each other.
Benetti started the project with one of its most robust platforms. The company widened the beam and repositioned the wheelhouse on the sun deck. These changes made it possible to meet the owner's experienced demands.
Thanks to carefully chosen equipment, Lady Candy has a maximum speed of 17 knots and a cruising speed of 16 knots. When moving at the fuel-saving pace of 12 knots, she has a 5,000-nautical mile range.
Central Yacht Design Studio worked with Benetti to create the perfect interior for this stunning yacht. (The owner also played a crucial role.) The design studio built a contemporary interior that brings fluidity to the 962-tonne Lady Candy.
With five decks of space, the studio had plenty of opportunity to stretch its creative limits. Much of the interior uses soft colors and briar root wood to create comfortable, welcoming areas. Lady Candy has an undeniably international aesthetic that pairs East and West sensibilities.
Since the owner has a lot of experience with yachting and diving, the team had a chance to build something truly unique: a beach club that comes with practically any amenity the owner could want. Those amenities include a steam shower, full bar, gym, and swimming platform.
The owner of Lady Candy knew what he was doing when he chose Benetti to build his yacht. Now he gets to explore the world in style with his family and closest friends.