The presentation of new design concepts is overwhelming this year. Alloy Yachts joined the ranks of shipyards such as Feadship, Royal Huisman and Sunreef and also made a presentation of its own: two new turnkey concepts. The first is called MY47 and is a 47m Dubois designed motor superyacht, with trideck or flybridge options inspired by the incredible Loretta Anne. The second is called PS46, a 46m performance sloop, sleek and beautiful, by Philippe Briand with an optional regatta upgrade. Needless to say, everyone is looking forward to seeing these two vessels sail the oceans in the near future.
Spanish naval architecture studio, Barracuda Yacht Design, presented a 50m superyacht christened B165. Their vision was to create a motoryacht with all the commodities an owner might desire, but without excesses and following classic design lines. The result was a vessel with a practical and logical design which will surely make its future owner proud.
Sirena Marine presented two new designs by German Frers: Euphoria 54 and Euphoria 84. These sleek sail yachts will offer the perfect balance between handling and top-notch performance and will make their debut in next year's Istambul Boat Show. More exciting superyacht announcements will be in store for the audience tomorrow at the Monaco Yacht Show, that is for sure.
Today's news were not limited to new designs, though. Dutch shipyard Heesen Yachts announced the sale of 40 m Galatea, a sport superyacht designed for speed and comfort featuring aluminum hull technology and capable of reaching 28 knots. The interior design was in charge of Frank Laupman of Omega Architechts, who based his design in Dutch expressionism. This outstanding vessel is currently under construction and is set to be delivered to her anxious owner after completing sea trials in March 2014.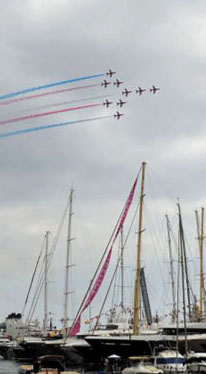 Additionally, there were special guests and VIP receptions throughout the day. Superyacht UK (SYUK), for instance, played hosts to the iconic Red Arrows, the British aerobatics display team of the Royal Air Force, to celebrate their 10th Anniversary. At around 14.00, the 200 VIP guests who were present at the lavish reception on the Breakwater, were spectators for an amazing air display where aircrafts filled the sky with blue, red and white smoke in rapidly changing air formations, at speeds of up to (and over) 400mph. Moreover, the entire display was broadcasted live by the Riviera Radio, also present for the display.
We will be back tomorrow for the final day of the Monaco Yacht Show 2013. Stay tuned at NAVIS for more news, photographs and exclusive announcements.