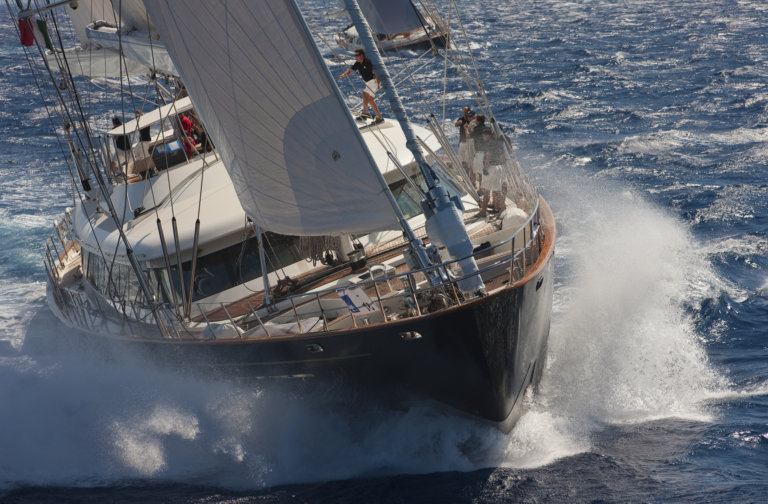 Fabio was born in 1940 in Capannori, Tuscany. Perini is an Italian entrepreneur who founded in 1966 his own machinery company, Fabio Perini S.P.A. This mechanical engineering business focused in design and manufacturing of industrial machinery for the paper making industry and the tissue converting industry. Back in 1994, Perini sold the company to Körber PaperLink multinational group in order to spend all his time and dedication to his other business: Perini Navi. Thanks to the amazing Perini Navi yachts, a flawless combination of cutting edge technology and innovative design, Fabio won many well-deserved awards which set him aside from his competitors. In 1998, 2007 and 2010 he was named Entrepreneur of the Year; in 2004 he won a Leadership Award from the International Superyacht Society and in 2011, the Yatch Capital Piacenza Cashmere Award, amongst others.
Perini Navi was founded in 1983 and its main activity was designing and constructing sailing yachts. The Chief Executive Officer of Perini Navi is Giancarlo Ragnetti. The Italian shipyard, one of the most famous in the world, is located in Viareggio, Italy, province of Tuscany, and builds large, luxury mega-sailing yachts. At the end of the eighties, the success of its original concept left Perini Navi short of building space and capacity. Hence, in less than 2 years, the Yildiz facility in Turkey and the Picchiotti yard in Viareggio were acquired and integrated into the production process. Perini Navi is now admired for its quality of construction, interior finish, and unique comfort both in harbour and at sea.
Today, the Group is made up of four companies purchased with the aim of maximizing its production capacity and entering new market segments. Nowadays the Perini Navi Group is working in five specific market sectors: Large sailing yachts that range from 40 to 60 metres, large sailing yachts over 60 meters and custom projects, a Racing Line of sailing yachts, a Fast Cruising line of sailing yachts and Picchiotti motor yachts from the Vitruvius series.
These Picchiotti motor yachts are the last incorporation of the Perini Navi Group, who merged with the historic Picchiotti shipyard in order to open a new niche in the market. These yachts are designed by Vitruvius Ltd together with naval architect Philippe Briand and are completely different from other motor yachts that may be available on the motor yacht market at the moment. In 2009, the first yacht of the series, the Vitruvius Explorer 50m, was sold.
The Perini Navi impressive fleet includes 51 sailing yachts in navigation, and other 11 yachts currently under construction, amongst them the Picchiotti Vitruvius C.2189 and the Ketch C.2193. All sail controls, masts and riggings are developed and manufactured in house, allowing Perini Navi to put into practice all their projects based in their own vision, systems and inventions.
When they first began, in 1983, Perini Navi built 43 metre-long boats but then continued with a series of boats reaching 46m, 48m, 50m, 52m and 58m. Today's models are 54m, 56m, 64m, and the most recent 88m superyacht Maltese Falcon is a true example of how one man's vision can become the dream of a whole group of individuals.
The 88m Maltese Falcon is the three times consecutive winner of the last Perini Navi Cups. The Perini cup is a sailboat racing regatta dedicated entirely to Perini yachts, which gather to face each other in the Mediterranean Sea during four intense days. The first edition was in 2004, and the next editions were held in 2006, 2009 and 2011. This year, the fifth edition will take place in the crystalline waters of Porto Cervo in Sardinia from August 28th to August 31st.
The magnificent Maltese Falcon was built by Perini Navi in Turkey and, at 88m, is one of the largest privately owned sailing yachts in the world. This superyacht has achieved numerous prestigious awards: in 2006, Sailing and Motor Superyacht of the Year and the Yacht Capital BMW Award. In 2007, the International Superyacht Society named it the Best Interior and Best S/Y over 36m, and that same year it obtained the Boat International World Superyacht Award for Best Sailing Yacht Interior, Sailing Yacht of the Year and Best Sailing Yacht 45m and above. In 2007, the Maltese Falcon also won Showboats International Award for most innovative sailing yacht, best sailing yacht over 40m, best sailing yacht interior and highest technical achievement in a sailing yacht.
This year, the Perini Navi Cup is hosted by the Yacht Club Costa Smeralda. With 18 of the finest and greatest sailing yachts build by Perini Navi, the competition is expected to be bigger than ever. The competitive spirit will be stirred by an exclusive and selected guest list of yachts owners and visitors who are invited to watch the impressive and prominent regatta.