Strikingly white beaches in contrast with fiercely blue waters are just the tip of the iceberg for this forgotten Italian island. This rocky paradise peppered with Mediterranean shrub boasts beautiful bays and inlets. Costa Smeralda is a place for relaxation and enjoyment where celebrities, powerful politicians and elite tourists vacation in their luxury villas and in 6-star resorts. Porto Cervo is a small exclusive village located north-east from the Sardinian coast, founded in the 60's, and recognized for its incredible glamour as a paradise for yacht owners and their guests. The spectacular beaches, the impressive views, the incredible food and the amazing sights make it a special place made for having the very best yachting holidays possible.

Yacht owners and sailing fans alike will not only witness the most exciting of events, a sailboat racing regatta featuring one-of-a-kind yachts, but also enjoy lavish accommodations which are especially dedicated to tending to every single one of their guests' desires and needs.

Porto Cervo's Exclusive Accommodations

There are numerous luxurious hotels, resorts and villas which offer a wide variety of first class services for every visitor to enjoy in this friendly and magnificent seaside village. The attention is always excellent, the staff is simultaneously attentive, caring and efficient for every guest and the views from these deluxe and exclusive buildings are quite marvelous, especially during the late afternoon, when the sun goes down the sun and the sea provides a wonderfully unique view. The location of these hotels is the ideal one for all yacht owners and fans of yachting because of the easy access to the beach.

Apart from offering accommodations that are out of this world, Costa Smeralda is a place where one can treat his palate to exquisite Italian delicacies and delicious local wines while embarking in an unparalleled gastronomic tour that can include local treats such as lamb, figs, blueberries, cheeses and sausages. Sardinia's nightlife is also worth of mention, with many memorable places to pepper the tourists' visit to the island.

Things to Do in Porto Cervo, Sardinia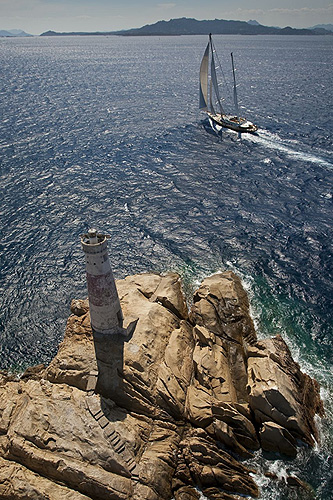 Those visiting a place as incredible as Costa Smeralda will find it difficult to do something other than spend all their free time in the beaches that grace the coasts of Porto Cervo, soaking up the sun and bathing in the translucent waters of the Mediterranean Sea. If being in the sea is what you desire, there are plenty of activities to engage in that combine tourists' love for the coastline and desire for adventure: sailing, swimming, wind-surfing, diving, snorkeling or wake-boarding, among many other exciting water sports.

Those interested in local culture can visit the lovely and emblematic Stella Maris church, which boasts one of the most amazing views in the area. Another enjoyable option is visiting the recently opened Harrods store, the first one ever founded in Italy. Or, if desiring a lovely view and a little competition, the Pevero Golf Club is another splendid option. There are many islands near Costa Smeralda which are worth a visit: La Maddalena Island, if you enjoy swimming, sunbathing and calm, unspoiled beaches, or Corsica Island to visit a very interesting fortress town called Bonifacio.

The Perini Cup in Porto Cervo

Perini Navi is a renowned shipyard which has designed and constructed some of the most impressive sail superyachts in the world. Perini is all about spectacular style, innovative design and true comfort. The sailboat racing regatta Perini Cup 2013 will take place in Costa Smeralda's aquamarine waters in a 3 day event featuring the shipyard's most famous sailing yachts. The Yacht Club Costa Smeralda will be collaborating with the organization of the event. This club features an incredible Clubhouse located in the 'Old Port' of Porto Cervo which houses a panoramic pool terrace, a Members' lounge, a first-class restaurant, a bar, wellness center and 24 suites exclusive for members. Adjacent to the YCCS building is Piazza Azzurra, which gets extremely busy during regattas as sponsors' stands are located there and parties and the prizing ceremony are held there too. Within the YCCS, a SPA and fitness center is ready to welcome regatta-goers and participants alike.
In this year's 5th edition of the Perini Cup, guests and visitors will be able to witness a first class, luxury sailboat racing event like no other while enjoying exclusive events and glamorous parties.