The CRN 125, more commonly known as J'ade, is a 60-meter luxury superyacht built to match specifications of the owner and his wife. To meet the owner's high demands, CRN recruited the assistance of Zuccon International Project and individual designers who built customized furniture, interior rooms, and exterior spaces. This combination of CRN's technical abilities as a shipyard and Zuccon International Project's design experience results in a one-of-a-kind luxury yacht that challenges any pre-conceived notions of what a 60-meter vessel can offer.
Inside CRN's J'ade Yacht
The upper saloon features a long table that seats 14 guest comfortably. It also has two couches placed at either side of a large, square table. This makes the perfect place for formal meals, hosting parties, or simply relaxing while guests enjoy the luxury of custom-designed furniture, recessed ceiling lights, and large windows that offer extraordinary views.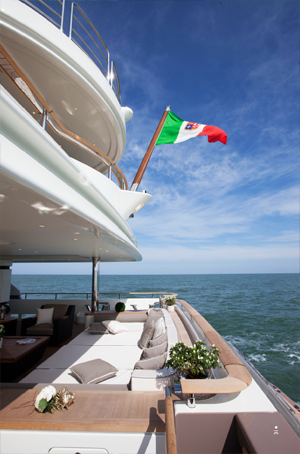 The main saloon has a more relaxed feel. The off-white couch and beige chairs compliment two Andrew Martin coffee tables made from distressed wood. The main saloon also features a white piano and several ocean artifacts. This is a place where the owner and his guests can relax in true comfort as if they were sitting in a close friend's living room.
J'ade has four guests cabins located on the lower deck. Each room offers two beds, creating accommodations for up to eight guests. The guests cabins have a slightly different aesthetic from the rest of the boat's interior spaces. The rooms use a pale oak and Loro Piana fabrics in a variety of bright colors.
The owner's suite, always a special part of any luxury yacht, is located on the main deck. The suite features an office, sleeping area, full-beam bathroom, and balcony that make it both useful and comfortable. Unlike many balconies, J'ade's offers year-round use. By closing a shell door and windows, the balcony becomes a desirable location even during cold or rainy days. Opening the shell door blurs the lines between inside and outside, letting the owner and his wife enjoy the ocean's sounds, breezes, and smells.
Fendi Club House Italia furniture make the owner's suite one of the most relaxing places aboard the ship. Cashmere curtains designed by Loro Piana also help it stand out as one of J'ade's most luxurious rooms.
Entertainment Aboard J'ade
TCRN worked closely with Videoworks to create an audio-video system that meets the standards of today's latest entertainment technology. The owner can even control the curtains, lights, and air conditioning from an iPad or iPad Mini to set the perfect environment for watching a movie or enjoying music.
J'ade provides outdoor as well as indoor entertainment options. The upper deck cockpit has a TV specifically designed to resist water, salt, and weather. The beach club area has a similarly designed TV that lets guests watch their favorite movies and television shows while enjoying the outdoors.
J'ade's Exterior Areas
Guests staying aboard J'ade will love the yacht's sun deck. It offers expansive sunpads where they can lounge. If they prefer, they can always slip into the hot tub for a rejuvenating experience.
The sun deck also provides access to J'ade's wellness center. She has a fully equipped gym, a dayhead, shower, and even a steam room decorated with green tiles.
All furniture located in J'ade's exterior areas was created by Glyn Peter Machine. That includes the natural teak sofas on the lower and upper decks. White and green covers, also by Glyn Peter Machine, create unity between the interior and exterior aesthetics.
J'ade's Floodable Garage
TJ'ade is the first CRN yacht to feature a floodable garage in the lower deck of the stern. The floodable garage allows visitors to enter the yacht directly from the tender. The tender (a 27-foot Riva Iseo) simply pulls into the garage, which fills with water and lifts the tender so the guests can easily step aboard J'ade. The water is then drained from the garage, leaving the tender safe and secure for when the owner or his guests wish to venture away from the yacht.
Specifications for CRN's J'ade
CRN built J'ade for luxurious cruises. Reaching that goal meant installing some of the world's best equipment that would help J'ade reach her destinations without any difficult.
She has two MTU 12V4000M61 engines that produce 1500kW at 1800 RPM. This allows J'ade to cruise at 14 knots and gives her a top sailing speed of 15 knots.
When weather allows, the captain can use a carbon steel mast. When not needed, the mast retracts, giving a better view of the surrounding environment and protecting it from inclement weather. The owner or captain can even retract the mast while inside the boat. This makes it simple to make the most of CRN's naval technology.
CRN's willingness to explore new ideas makes J'ade an impressive figure in the yachting world. Its unique aesthetics and innovative technology will certainly create a unique experience for the owner and his guests.