Maltese Falcon's DynaRig System and Engines
Even from a distance, the Maltese Falcon stands out as something very special. She has a DynaRig that combines the power of three masts with a total of 15 sails. Masts and sails can be rotated and adjusted to maximize the surface present to the wind and to minimize the load on the structure. The arrangement unfolds a 2,400-square meter (25,791-square foot) wall of sail area, at the touch of a button in under eight minutes flat . Even a moderate breeze can move this super yacht with impressive sail statistics (over 60% of miles travelled under sail).
When the sails are not needed, they furl into a mast, keeping them safe and out of sight. The sheer power behind this revolutionary Falcon rig produces exhilarating performance.
Maltese Falcon green credentials
The Maltese Falcon prides itself on its green credentials using wind power whenever possible, striving for minimum fuel consumption thus being the most ecologically friendly super yacht in the world with a low carbon footprint . When enough wind isn't available, the Maltese Falcon relies on two Deutz engines that offer a top speed of more than 20 knots.
Inside the Maltese Falcon
The Maltese Falcon's interior rivals some of the world's most spectacular properties. The yacht is luxurious in an understated way with supreme attention to detail, and a rich contemporary décor offering uncompromising comfort for up to twelve guests in six double cabins. It has a slightly futuristic aesthetic. If one were to awaken onboard the Maltese Falcon, one might think that it was a spaceship made of finely crafted wood and steel.
The unique look connects all areas of the vessel's interior and exterior. The art collection on board is a joy to behold and blends beautifully with the décor, bringing the interiors alive with colour and gusto. Moving from room to room (or from the exterior to the interior) happens seamlessly thanks to an integrated aesthetic that captures the imagination.
The main saloon is the place for lively conversation or relaxation after a long day on the water. An interior dining room offers a very sophisticated space with a table accommodating 14, where masterfully prepared mouth watering cuisine is served. The room's Japanese influenced design with classical references and simple uncluttered presentation, uses strong but tasteful decorative elements to make it one of the yacht's most impressive areas for socializing. Whether it's for a formal meal with multiple courses, or a business lunch, guests will enjoy spending time in this high tech space, with its surprise lighting, and outstanding wine cellar. A spiral staircase leads to the guest cabins and the master cabin situated in the lower deck. The guest cabins feature beautifully crafted furniture unique to the Maltese Falcon. The beds, and floating tables produce a fluid appearance. Four of the guest staterooms are easily converted into two large VIP suites (there is also a VIP cabin on the upper deck). Each VIP suite has his and hers bathrooms. Trained crew offer personal training, massage and beauty treatments, and should one wish to spend time ashore, the best restaurants and clubs will be reserved for you. Even the world's finest hotels would be hard pressed to match this level of variety, opulence and service.
Outdoor Spaces on the Maltese Falcon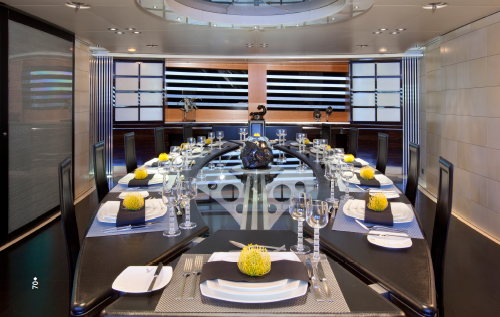 The Maltese Falcon's large size means that it enjoys several outdoor spaces. An aft outdoor triple stepped deck and dining area for 14, is one of the vessel's most relaxed and informal gathering areas which in association with the circular bar and lounge space is often used for parties and dancing.
The cushioned horse shoe shaped entertainment area gives guests a full view of the size and symmetry and masts of the Falcon whilst their eyes can feast on the surrounding scenery and sailing experience, all very enjoyable during many weather conditions. The upper deck offers more intimate dining with far reaching higher level views, as well as a sun lounge area. The upper Bridge deck offers the best vantage point from which to watch and participate in races or during spectacular scenic passages. Two 10-meter Pascoe RIB tenders are stored on the Maltese Falcon's deck. She also has four Laser Sailing boats.
Entertainment on the Maltese Falcon
The Maltese Falcon is equipped with a full gym. No matter how long they stay aboard, guests always have an opportunity to work off extra calories from gourmet meals cooked by the Maltese Falcon's chef.
With so much beautiful water surrounding the super yacht, guests will also have plenty of fun enjoying water based activities. The Maltese Falcon has water skis, snorkeling gear, and six full sets of dive gear. Other toys aboard the vessel include two jet-skis; two SeaBobs; two kayaks for exploring marines and coves; two stand-up paddleboards; an inflatable waterslide and a critter free pool, that are fun for children and adults alike. Guests will even find various fishing rods, wakeboards, kneeboards, and other inflatable toys.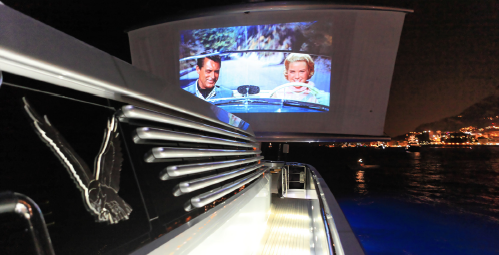 Maltese Falcon guests when not feeling particularly active, are able to enjoy SAT TV and DVD entertainment. The main saloon has a 50-inch plasma television. Another 50- inch plasma TV is located in the master, and all areas and cabins can access a large DVD collection through a central Kaleidoscope movie server. When the weather permits, an outdoor cinema with movie projection on the sails allows guests to gather on the upper passage deck and enjoy a movie under the night sky. In a rather ingenious setup, movies are projected onto the lower mizzen sail. Portable floor standing speakers provide high-quality audio.
Guests can also access WiFi throughout the yacht, including outside areas on the upper and lower decks. Even during races B&O surround sound can fill the vessel, including its lower and upper outside decks. No matter where guests go, they always have plenty of entertainment choices. With all of these features, it's no wonder that the Maltese Falcon is considered one of the top super yachts in the world.
An original aesthetic and a remarkably well-engineered design make this a very special kind of yacht in a league of its own, far exceeding most people's experience and expectations. It is a majestic and truly unique super yacht that most people adore, love and admire.
Specifications
Length Overall: 88m / 289ft
Draft : 6m / 19.7ft
Air draft : 58.2m / 191ft
Displacement : 1,240 t
Engines : 2 x Deutz TBD 620
Beam: 12.6m / 42.ft
Draft w/daggerboard: 11m / 36ft
Sail area: 2,400 m² / 25,791 ft²
Fuel Storage: 81,300 liters
Speed at max power: 19.5kt
Builder: Pernini Navi
Exterior & Interior Styling: Ken Freivokh Design
Naval Architect: Gerard Dijkstra &
Partners and Perini Navi
Guest Cabins : 6
Crew Cabins: 8