The Design Team for Nilaya
Baltic Yachts recruited assistance from Reichel/Pugh Yacht Design in San Diego and Nauta Yachts Design Studio in Milano to match the owner's demanding requests. Nigel Ingram, who works for Marine Construction Management, was also instrumental in the project.
The combination of talents devoted to creating Nilaya is easy to see. Reichel/Pugh made sleek hull lines that help the yacht cut through water easily while maintaining a luxury appearance.
Nauta Yachts chose exceptional designs for the interior and exterior that include light-colored woods and subdued colors.
Building a Race-worthy Luxury Yacht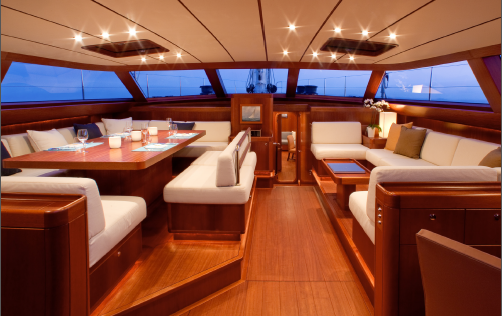 Boat builders who make yachts specifically for racing rarely have to worry about interior and exterior aesthetics. They want their boats to look nice, but they don't usually need to create space that lets the owner and several guests socialize during the day and retire to their own luxury cabins at night.
Similarly, few luxury yacht designers have to think about how they will alter a boat's form so that she can compete in the world's most demanding races. Building a race-worthy luxury yacht like Nilaya forced Baltic Yachts to think outside the box and develop innovative designs that met both of these needs.
The owner wanted a yacht that could offer exceptional performance, moving at six knots of true wind speed. Nilaya can exceed that expectation by a couple knots. This is partly thanks to the boat's lifting keel. The lifting keel gives Nilaya a maximum draft of 5.5 meters that offers exceptional stability when performing in races. It can also reduce the draft to a mere 3.5 meters, letting the vessel enter shallow waters without getting damaged.
Weight, of course, is always a concern when building a raceworthy yacht. Baltic Yachts did more than just choose lightweight materials to reduce weight. It created an innovative design that reduced the amount of weight needed to construct the boat. For instance, the Nilaya design reduces compression from the mast by hoisting the mainsail and sail to the halyard lock. By reducing the pressure put on the mast, Baltic Yachts found that it could use a lighter weight carbon-fiber section that would have been otherwise impossible to include.
Traveling the World in Luxury
Nilaya was designed to meet the needs of an experienced racer, but she also has features that make her an excellent vessel for traveling the world in luxury. She has a 6000-liter fuel tank feeding a Cummins QSB59 engine. This helps give Nilaya a range of 1000 nautical miles. She also has a 2800-liter water tank that lets guests enjoy themselves without worrying that they will run out of water during a voyage.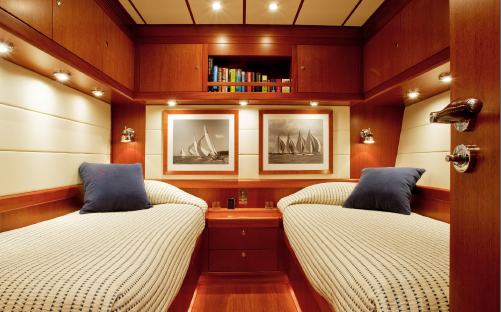 Baltic Yachts spent considerable time making sure that guests could travel aboard Nilaya without noise disturbances. Cruise ships use prodigious amounts of sound-dampening materials so their guests aren't disturbed by engine noises. A racing yacht like Nilaya, however, does not have enough space for a lot of additional materials. Adding those sound dampeners would have also added unwanted weight and size to the boat.
To address this issue, Baltic Yachts experimented with various insulation and placement options until designers found a combination that worked extraordinarily well without impacting Nilaya's attractive look or performance.
Luxury demands more than eliminating disturbances. To build a truly luxurious yacht, designers have to create modern interior and exterior spaces where the owner and his guests can relax as they explore the world's waters.
Nilaya's owner has a large stateroom where he can enjoy privacy and comfort. An en suite complete with shower gives him privacy whether he plans to take Nilaya on a short race or a long voyage.
The guests also have comfortable rooms where they can retire in the evening. With two double-bed and three twin-bed staterooms, each with its own en suite, guests can feel privileged and pampered aboard Nilaya.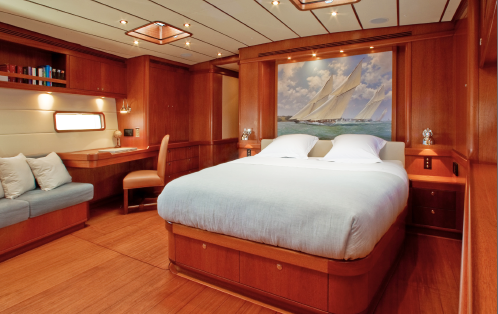 When socializing, guests can gather on the main deck or the spacious saloon. Each has plentiful space for parties while also offering intimate areas for quieter conversations. Large windows make the saloon feel as if it is almost located outside. Natural light pours into the room, illuminating the soft teak wood and creamy fabrics. Recessed lights provide illumination during the night.
Nilaya is the result of uncompromising aesthetic and functional designs that make it one of the most luxurious race-worthy yachts in the world. Whether sleepily exploring the world or barreling forward during a race, guests can always feel comfortable aboard this exceptional boat.
Specifications
L.O.A. 34,135m
D.W.L. 30,758m
BEAM 7,520m
DRAFT 3.50/5.50 m
DISPLACEMENT 87 ton
BALLAST 34 ton
IM 43,40m
J 12,22m
P 41,90m
E 13,90m
KEEL Lifting keel.
HULL: Carbon/ Aramid prepreg composite over Core-cell foam.
DECK:Carbon prepreg composite over Core-cell foam.
INTERIOR: Epoxy/ Core laminate. Visible surfaces covered with light wood. Decorative panels in sandwich construction with light wood on surface.
+ Info: www.balticyachts.fi
FUEL TANKS 6000 L.
WATER TANKS 2800 L.
AIR CONDITIONING Condaria Tropical
MAIN ENGINE Cummins QSB59
PROPELLER Brunton varifold 4-blade
MAST AND RIGGING Hall Spars. PBO rig.
BOW THRUSTER Max Power R450
BATTERIES Service 24V 1200Ah.
Starting 24V 200Ah.
ELECTRONICS: B&G/ VHF/KVH trackphone/Furuno Radar, GPS,
SSB and autopilot. Monitioring system with touch screen LCD monitors installed on chart table, steering pedestal and deck house desk.
NAVAL ARCHITECT Reichel Pugh
Yacht Design
NUMBER OF CABINS 7
General engineering, interior and deck design: Nauta Yachts
Project Management: MCM