Better Place has a small impact on the environment, but she doesn't sacrifice style or performance to reach that goal. When creating Better Place, Wally used the latest technologies to make a large sailing yacht that surpasses all earlier concepts. In fact, she is the world's largest carbon fiber sloop.
Building a Yacht That Loves the Environment
Better Place uses diesel electric propulsion technology to conform with the most demanding environmental specifications. This technology increases her power efficiency so that she can travel long distances without consuming large amounts of fuel.
The innovative technology also creates less noise and vibration. This helps Better Place work more efficiently while also reducing the amount of maintenance required to keep the propulsion system in top order. Since the engine and other parts don't vibrate as much as conventional propulsion systems, they simply do not need as much attention.
Better Place's Specifications
Better Place has three generators that create a combined 705 kW of power. She has a fuel capacity of 18,000 liters (3,959 gallons) and a maximum speed of 16 knots. Her composite hull material and superstructure make her lightweight and fuel-efficient while also allowing her to travel the world.
Her sloop rigging lets her cruise along at up to 10 knots with wind power alone.
Designed to travel long distances, Better Place has a 6,000-liter (1,320-gallon) water capacity.
Life Aboard Wally's Better Place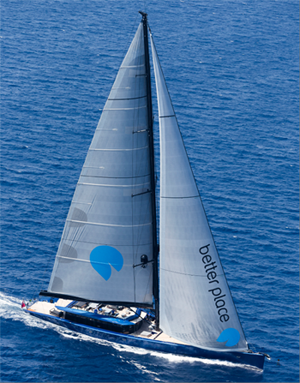 Better Place has a beautifully designed interior created by a collaboration between Wetzel Brown Partners and Wally.
The main deck has a 300 square meter space that joins the saloon, wheelhouse, and dining room into a seamless area. This creates an open feel while also making it easy for the owner's guests to enjoy themselves throughout the day. Whether hosting an informal lunch or an elegant party during the evening, guests will feel quite comfortable on the main deck.
Guests can also visit a Jacuzzi located at the forward deck. This feature has been positioned under the deck so that it is only visible when in use. At other times, it stays hidden and out of the way. Design techniques like this make the large Wally yacht seem even more spacious.
Better Place's sun deck also offers an excellent place for guests to enjoy the day. This area has a sunbathing area that lets the owner and his guests bask the sun's delightful warmth while viewing the sea's open expanse. The sun deck also has a dining area with a lounge and buffet.
The dining table located at the sun deck can be lowered to create a large sunbathing area. An inflatable mattress makes this one of the most comfortable places on the yacht. If the owner wants protection from the sun, then he can rely on a full-size canopy that covers the sun deck.
Better Place has five cabins for the owner and his guests. She also has room for up to 10 crew members.
The owner's cabin is a 62 square meter area with a skylight and LED backlighting that can change color. Two double and two twin guest cabins offer comfort and beauty for guests invited to spend the night aboard Better Place. Each of these cabins also has a skylight and LED backlighting.
Traveling the World With the Wally 50-meter Better Place
Better Place was designed for travel. Despite her beauty, she isn't some showboat created to sit in a harbor throughout her life. She needs to get out and explore the world.
The owner can do this easily thanks to the yacht's intuitive design. She makes use of the Wally easy-sailing system, which is connected to a lifting keel that increases her draft from 4.6 meters to 6.5 meters.
Push-buttons give the owner or captain complete control over the staysail system. This includes the main sheet, jib sheet, in-furling boom, and self-tacking jib. She even has an 8.6-meter furling staysail that can be stored in a locker located on the forward deck.
In other words, Better Place gives the owner the option to use plenty of sailing configurations to fit the unique conditions of each day. The unique design makes it simple for a small crew to handle choppy waters and strong winds, even when they want to rely on the sails to move them across the water.
What Makes Better Place so Much Better?
Better Place stands out as one of the world's most innovative yachts. Her impressive aesthetics will capture the hearts of anyone who spots her sailing along the coast or pulling into a harbor. Those who know more about Better Place, however, can appreciate the level of dedication that went into using the latest technologies to create a yacht that treats the environment well. After all, the world is only worth exploring as long as it maintains its beauty and splendid wonder.