Aglaia: A True Work of Art
Furuholmen, who's also known as the keyboardist and art director of the band A-ha, was asked to design Aglaia's Code 1 sail. This challenge resulted in the world's largest canvas painting. The sail is so large and heavy that Vitters had to build a unique storage system that includes two drums located in the forepeak.
The architects had performance goals to meet the owner's requirement that the 66-meter yacht handle as easily as a dinghy. That meant perfecting every aspect of the aluminum yacht over a 20-month design period. In the end, they met some remarkable specifications. It is possible to hoist the main sail in under two minutes. The crew can also tack the boat in less than 30 seconds.
She even has an ECG rigging that creates a sail area-to-displacement ratio that competes with racing yachts.
All of this makes Aglaia a true work of art. She's more than a sailing vessel. And she's more than a painting. She's a combination that results in something that the world has never seen before.
Aglaia's Specifications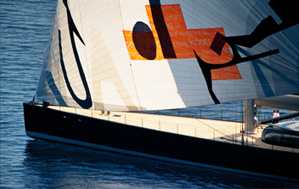 Creating a yacht that looks beautiful and overcomes numerous design challenges requires a level of attention that few architects can commit to any job. Dubois Naval Architects and Vitters Shipyard met these challenges head on by using the latest technology and their own innovative designs.
Aglaia's hull and superstructure are both made of aluminum. She has an 84-meter (273-foot) mast, 1087-square meter mainsail, 968-square meter blade jib, and 460-square meter staysail. Furuholmen's painting covers 1787 square meters of Code 1 on both sides.
When Aglaia doesn't have enough wind to travel, she relies on two Caterpillar C18 main engines. Each engine produces 532 kW at 2100 rpm. She uses two Hundested CPG gearboxes to send power to two four-blade Hundested propellers with controllable pitch. Her engine controls were made by DCS. Marquip created her exhaust system.
Other equipment built into Aglaia include 145 kW OYS hydraulic thrusters for the bow and stern. She has a Vitters hydraulic autopilot steering system with feedback and a Segatron autopilot system. The hand steering system is a custom design from Vitters. It includes hydraulic power assistance and rudder feedback so the captain or owner can maintain complete control at all times.
All of these custom-built systems were necessary to meet the design requirements set by the owner. Not every architect or builder could have complied with these specifications, but the high demands set by Aglaia resulted in a beautiful work of art that combines aesthetics and technology.
Aglaia's Performance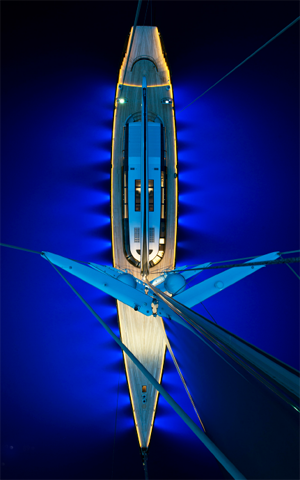 Aglaia was designed to function as a sailing yacht. While she has motors that can push her along when wind is not available, she prefers to capture the wind in her sails.
After tinkering with the sail design for over a year, designers created specifications that allow Aglaia to reach 10 knots of speed even when only eight knots of wind is available. She can also tack within 45 seconds. Those are two spectacular achievements that might have seemed impossible to many designers before Vitters and Dubois developed Aglaia.
Traveling Aboard Aglaia
Aglaia has a large deck where guests can bask in the sun and view the surrounding environment. It's the perfect place for warm days with cool breezes passing over the flattened deck.
The captain and owner can also control Aglaia from the deck, where two wheels give them full control of the rudder.
A slightly submerged area of the deck offers comfortable seating for guests who don't want to lounge on the wooden surface. This area also has a dining table where guests can take casual meals in the company of the owner. This submerged area has several instruments that let the owner control the yacht while keeping a close eye on navigation and communication systems.
Aglaia was developed to travel the world. Even though she carries the world's largest canvas painting, she isn't satisfied staying in one place. The designers have created a sleek design that lets her cut through the water easily as the wind gently pushes her towards the owner's next destination.
Anyone who spots Furuholmen's sail will immediately recognize Aglaia. She sails as a testament to modern art, engineering, and the fruit of hard work in the face of difficult challenges.