When creating Pumula, Dykstra Naval Architects, Royal Huisman, and Rhoades Young Design took a different approach by reaching into the past for inspiration. The owners knew exactly what they wanted, and they wouldn't accept anything that made Pumula feel like a floating hotel instead of a seafaring vessel.
That requirement led to the creation of a classic cutter that combines classic aesthetics with modern technology. The great achievement is that the designers never let the technology overshadow the aesthetics.
Combining the Best of the New and the Old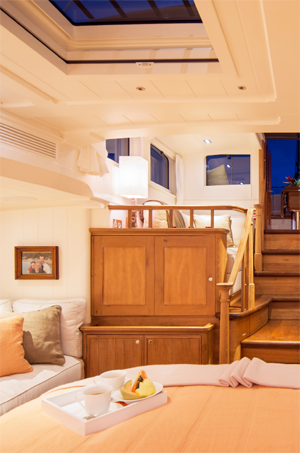 Pumula certainly has technological advantages that people didn't enjoy a few decades ago. A B&G H3000 navigation system works in conjunction with Furuno GPS, JRC radar, and a Sailor H2095C Satcom system to make sure the yacht always stays on course.
Standing at the helm, though, no one would know that these machines were working hard to keep the passengers safe. That's because the designers hid the bright screens so that the captain or owner only needs to view them when appropriate.
This causes a remarkable shift in experience. Any captain used to standing amongst a wall of flashing screens and beeping monitors will suddenly feel pulled back to simpler times when sailors followed the stars by night.
This aesthetic preference flows throughout Pumula. Whereas many of today's yachts feature large flat-screen TVs, tablet computers, and bedside stereo systems, Pumula keeps those items tucked away so passengers can enjoy the experience of a premier yacht. Why would the owner and his family want to spend time looking at a television when they could experience the joy of traveling the world. He didn't want to exchange the extraordinary for the mundane, so the designers had to work extra hard to create a unique, true experience.

Pumula's Specifications
Underneath the Old World charm, the latest technology powers Pumula's travels.
The 37-meter yacht has a FT2.5R 44 kW bow thruster and a FT2R 37 kW stern thruster; both built by Hundested. She also has a Hundested FR-HP VP6 propeller with four blades. The main engine is a Scania DI 12 62M that churns out 450 hp at 1800 rpm. Working together, the equipment lets Pumula reach 12.74 knots.
Pumula has a three-phase electrical system, an additional emergency power system, and two starting batteries. Two 40 kW Kohler generators power the equipment.
This vessel was built to travel the world. That requires plenty of life-sustaining equipment, including tanks capable of carrying 2,550 liters of waste water and 4,725 liters of fresh water. A single watermaker produces up to 6,000 liters per day.
Life Aboard Pumula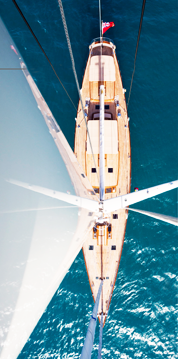 Pumula has some impressive specifications, but they only exist to make travel easier. Her best, most obvious features always focus on creating a genuine, human experience.
Below deck, Rhoades Young created a unique aesthetic that evokes the past without sacrificing comfort. Dark oak floors and white paneling complement each other to bring out the best features of the rooms.
A close look reveals bedside tables covered in saddle stitched leather and skillfully treated light oak that looks as if it has been aged for years.
Large windows and skylights flood rooms with natural light during the day, making artificial lighting unnecessary until the sun has set. This lets the owner and his family enjoy the natural beauty of the dining room, main deck house, and cockpit.
The guest cabins are located in the main deck house, so they benefit from overhead skylights and windows. Two twin beds with storage drawers provide a comfortable place for guests to spend the night without feeling cramped.
The lower salon provides a relaxed area meant for socializing. Passengers can take their morning meals at a breakfast counter. At night, the counter quickly turns into a cocktail bar that adds life to any event.
As with most yachts, Pumula saves her best features for her owners. To enter the owners' suite, one walks down a short flight of stairs that opens into a large room dominated by a master bed and couches that line the walls. Plenty of cabinet space gives the owners enough room to store their personal items during long trips. The owners' suite also has a small office that is perfect for reading or taking care of business while traveling the world.
Pumula: A Unique Yacht for Experienced Owners
Pumula's owners set a challenge when they requested a yacht that emphasized the true experience of sailing. Dykstra Naval Architects, Royal Huisman, and Rhoades Young Design met that challenge with gusto. The result is a unique, luxurious yacht that the owners can enjoy without intrusion from modern gadgets that often mar pure sailing experiences.
Specifications
Length Over All (l.o.a.) 37.33 m / 122.5 ft
Length Waterline (l.w.l.) 27.47 m / 90.1 ft
Beam max. 7.48 m / 24.5 ft
Draft (keel up) 3.00 m / 9.8 ft
Draft (keel down) 5.00 m / 16.4 ft
Displacement tons / 264,550 lbs
Hull speed 12.7 knots
Generators 2x Kohler 40 EFOZD
Fuel storage 6,900 l
Fresh water 4,725 l
Waste water 2,550 l
Range at cruising speed