Van Peteghem Lauriot Prévost, as per the owner's initial request, settled on a catamaran with some of the most unique qualities of any vessel created in the company's history.
Hemisphere's Performance and Specs
At 44.2 meters long (145 feet), Hemisphere is the world's largest sailing catamaran, and the opportunity to complete the build of such a unique vessel invigorated the Pendennis Shipyard.
The yacht includes two 490-horsepower Caterpillar engines that give Hemisphere an 11 knot cruising speed. 856 square meter (936 square yard) upwind and mainsail and solent with a 1123m2 downwind mainsail and gennaker let her reach a maximum sailing speed of about 20 knots. That's an impressive feat for such a large vessel.
Van Peteghem Lauriot Prévost worked closely with Pendennis during the build which involved using welded aluminum hulls, decks, and superstructures that made Hemisphere as lightweight as possible without jeopardizing safety. The carbon mast and spar materials designed by Lorima also contribute to the yachts sailing efficiency. The twin keel catamaran style incorporating VPLP's trademark 'ailes de mouette' or seagull wings into the cross-deck helps to achieve a smoother ride off shore by increasing buoyancy and slicing through the waves which transit between her hulls, as well as including storage space for Hemisphere's 29ft tender. Putting all of these features together makes Hemisphere one of the most impressive yachts afloat.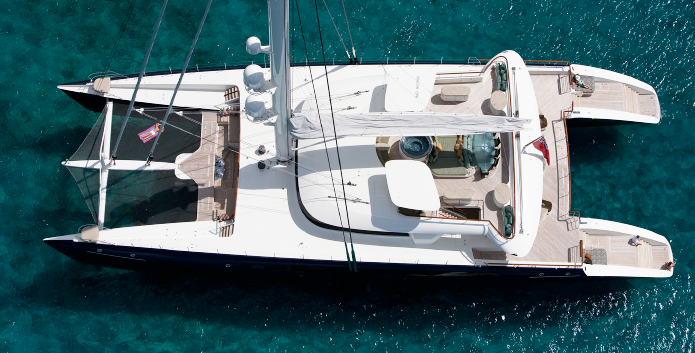 Technical systems play a crucial role in the success of any yacht. Nigel Gee Associates in the UK were responsible for engineering Hemisphere's structural design, which included two 10m long bomb bay doors under the bridge deck for housing the 9m Scorpion rib which open at a push of a button and lower a cradle to launch and retrieve the 2.6t RIB, as well as structure to support the downward pressure under her mast of 237t under full sail, and the voluminous salon area which provides minimal visual distractions to the 360 degree panorama view as you relax and look out.
Also, Hemisphere has black and waste water treatment systems that include an oily water separator. The fresh water tanks are positioned above the waterline and cooling units were added to compensate for losing the temperature regulating benefits of seawater.
An aqua air chiller by Heninen Hopman provides cool air whenever Hemisphere enters warm climates. Guests staying aboard this yacht are truly pampered no matter where in the world they travel.
Hemisphere's Living Spaces
Hemisphere is a marvel of engineering, but the owner wanted more than a boat with impressive specifications. He wanted his family and guests to have a great time exploring the world. That's why she has such exemplary living and recreational areas which encourage close interaction.
Hemisphere can comfortably accommodate up to 12 guests in her five cabins. Four twin cabins and an impressive Captain's cabin offer room for up to eight crew members.
The owner, of course, has the most fabulous master cabin.The large cabin features specially designed furniture, rugs, and lighting that stand out from those found in even the world's most luxurious yachts. Stepping into the en suite is like visiting one of the world's finest hotels. The abundant use of stone and marble creates a space that feels comfortable and safe. Anyone lucky enough to experience its towel heater, enclosed shower, and custom-made sink can attest that it is a pure manifestation of luxury.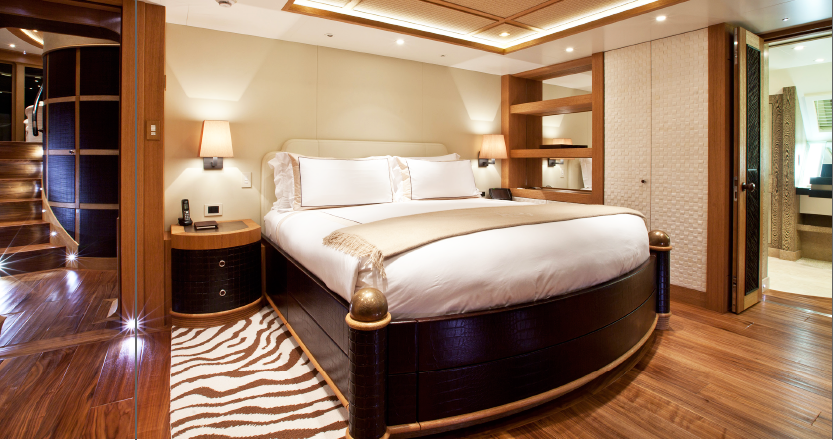 Guests experience the same level of pampered treatment from their cabins. Custom built beds, desks, and chairs from Metrica create extremely comfortable living spaces with a style all of their own. Each guest cabin also has its own en suite, giving the owner's guests privacy and comfort during their stay aboard Hemisphere.
Anyone trying to recover from a full day's adventure in the water can relax in front of a flat screen TV with access to satellite TV, and a central movie system, Kaleidescape, with numerous entertainment options.
Socializing Aboard Hemisphere
Michael Leach Design, which led Hemisphere's interior design and was also involved in the styling of the outside guest areas, really shows an innovative spark in rooms designed for socializing. Remember, the owner wanted spaces where he and his guests could relax and have fun without worrying that the kids would accidentally damage specially made linens and furniture during their play.
That commitment to comfort and relaxation didn't stop Michael Leach Design from creating beautiful spaces. The main deck's living areas offer a panoramic view of the ocean. The décor is so beautiful though, that it's easy to imagine some guests mightgo hours without ever looking out of the windows.
The living areas make remarkable use of space without creating clutter. The custom couches, chairs, and tables look unlike anything you've ever seen before. Imagine an 'island living meets deluxe Pacific Rim ambience'. Throw in a dash of cosmopolitan design chic and you might come close to imagining how beautiful Hemisphere's social areas truly are.
Hemisphere is All About Fun
Hemisphere has two large aft watersports lockers for good reasons. How else would the owner stow his gear for windsurfing, snorkeling, scuba diving, and water skiing? Hemisphere also comes equipped with water scooters, inflatable toys, kayaks, wake boards, diving board and much, much more. It even has four foldable mountain bikes for guests who want to explore on land.
Hemisphere holds a PADI 5-Star training center status and has two dive instructors onboard at all times for guests who are interested in learning or practicing scuba diving. What is more, a 16.5m (54ft) F&S express sport fishing shadow boat follows along to provide additional excitement and a great way to explore new locations.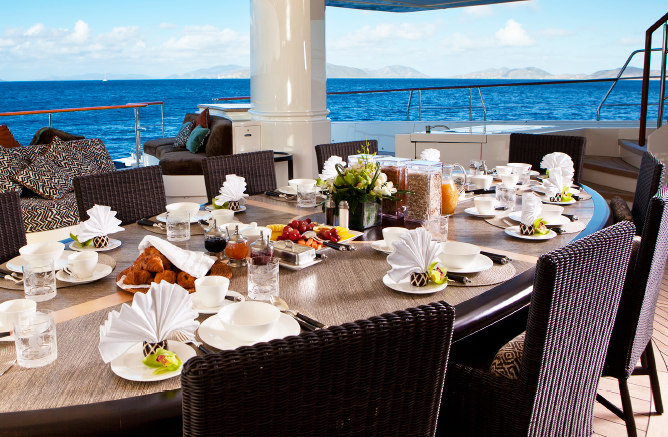 All of that activity could put anyone in the mood for a relaxing dip in the Jacuzzi. Luckily one is located on the top deck aft of the flybridge, where guests can also enjoy meals and drinks in a comfortable, outdoor environment.
There are many good reasons why yacht owners around the world admire Hemisphere. Few superyachts can compete with her luxury, power, and innovation. When she pulls into a harbor, everyone stops to take notice. Those who know what luxury lies within can only feel envy as she casts off to pursue new adventures.
Specifications
LOA 44.2m
LWL 41.3m
Beam (max) 16.6m
Draught (loaded) 3.25m
Speed under sail (maximum) 20 knots
Speed under power (maximum/cruise) 13.5 / cruise 11 knots
Fuel capacity 28,000 litres
Windlass 2 x Muir VCR13000
Bow/stern thruster(s):2 x hydraulic 75hp vertical retractable Lewmar 500 SVT bow thrusters, 2 x hydraulic 60hp vertical retractable Lewmar 400 SVT stern thruster