ZENJI's Specifications and Performance
ZENJI has two V12 Deutz turbocharged engines connected to Kamewa propellers. Weighing in at 104.69 tons (209,437 pounds), she needs all of that power to help her reach her maximum 16 knots @2100 rpm speed (11 knots @1650 rpm).
ZENJI has a 4,000-kilometer (2485.5-mile) range that lets the owner travel the world in luxury. Covering such a great distance, of course, means that she needs the ability to carry plenty of fuel and water. Perini Navi installed a 15,000-gallon (56,775-liter) fuel tank that lets the owner follow intensive vacation plans without frequent stops. Her 3,800-gallon (14,383-liter) water tank provides plenty of hydration for guests and crew members even during the longest journey.
She also needs plenty of electricity to power navigation, entertainment, air conditioning, and other systems. ZENJI gets power from four Northern Lights generators, one of which is reserved for emergencies only.
Perini Navi gave ZENJI a 190-foot (58-meter) main mast and a 141-foot (43-meter) mizzen. Both are made of aluminum with carbon fiber booms created by Martin Marine of New Zealand. The captain and crewmembers will love Perini Navi's sail handling system, which consists of 13 electronically controlled winches that were custom-made by the company.
Living in Luxury Aboard ZENJI
Like most superyachts, ZENJI offers more than just impressive specifications and performance. She has luxurious accommodations that rival the world's most renowned hotels and resorts.
The master stateroom has custom-designed furniture that offers the highest level of comfort and style. The bed, chairs, and other pieces maintain an aesthetic harmony with the entire room, melding with the stateroom's carpet and adding a light color to its wood walls.
Above all, the stateroom was designed for relaxation. An oversized bed offers plenty of room and makes it easy to enjoy the flatscreen TV in comfort. The owner can also enjoy views from two windows that look out onto the surrounding waters. A small desk area and bookcase makes it easy to complete work-related tasks during long trips.
The stateroom's en suite offers the same level of sophistication. Primarily constructed of glossy wood, the recessed lighting creates a shine that makes the floor and walls seem as if they have their own interior luminescence.
The guest staterooms are designed with similar aesthetic principles that create a coherent appearance. Each one has its own en suite facilities for the guests' convenience and comfort.
Socializing Aboard ZENJI
ZENJI offers plenty of spaces that encourage guests to socialize with each other. The Main salon has plenty of seating and a large central table where guests can gather. Blinds shield the interior space during the day, or can open to fill the room with natural light.
The aft cockpit has a similar design with even more seating options. A central table makes the perfect place for drinks and hors d'oeuvres. Two large couches and four individual seats surround the table, making it the perfect spot for guests to enjoy lively conversations before or after dinner. The aft cockpit also has an open-air design that offers a wonderful view of the surrounding waters.
Aft cockpit dining takes place at a large table. A long couch built into the wall provides plenty of seating on one side of the dining table. Comfortable folding chairs provide seating on the other side. No matter where guests sit, they have a view of the outdoors. Most frequently used for dinner, guests can enjoy the myriad colors created by the setting sun.
Casual meals and snacks can occur on the flybridge, where guests are surrounded by the ocean air, water, and sunlight. Two small tables create the perfect spots for taking morning coffee. A Jacuzzi located on the flybridge, however, makes it a popular destination during the evenings, too.
Entertainment Aboard ZENJI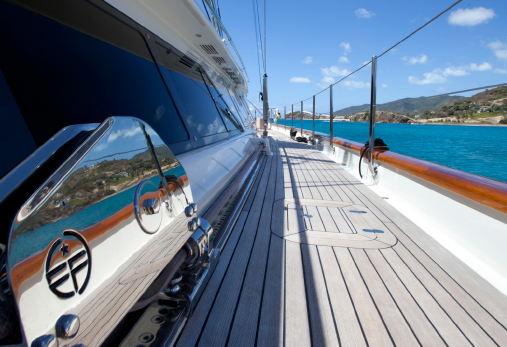 No one could feel bored while spending time on ZENJI. Perini Navi included a media room that acts as a small theater. The 43-inch (1.07-meter) HD plasma screen creates stunning visuals that can make any movie look spectacular. The media room has a long couch that wraps around the corners, and a small table that makes a handy place for drinks and snacks. The room has several shelves perfectly sized for the Kaleidescape systems Blu-Ray discs.
Those who prefer outdoor entertainment will find plenty of toys aboard ZENJI. She has two Yamaha XLT 1200 jet skis, two double kayaks, and a side shell door that makes it easy to get in and out of tenders. Whether guests want to frolic in the water, soak up rays on the deck, or explore coastlines, ZENJI has options that satisfy.
ZENJI makes a statement about more than the level of luxury and performance that today's naval engineers can reach. It makes a statement about what the human species can accomplish. Its richness, beauty, and technological prowess make it one of the most impressive vessels in the world. That's something everyone can appreciate. It's definitely something that the owner and his guests will enjoy for years to come.