Exterior Aesthetics and Decks
From a distance the Sanlorenzo 40 Alloy almost looks like a giant bullet sliding over the water. That's largely because the exterior deck areas have been slightly recessed to offer privacy for the owners and their guests. What looks a bit like a warship at first glance, though, is really a luxurious superyacht that offers plenty of comfort and fun.
The aft deck is the perfect location for lively dinners. It's dominated by two tables with built-in seats. This makes it possible for diners to enjoy company and conversation as much as their meals. The aft deck also features a table and chairs situated next to a bar area. It's the perfect place for having a refreshing drink while playing cards or board games.
Underneath this is another area with a large table and wraparound couch. This deck offers protection from the sun and light rain. It's more than enough room for a large dinner that includes every guest.
Inside the Sanlorenzo 40 Alloy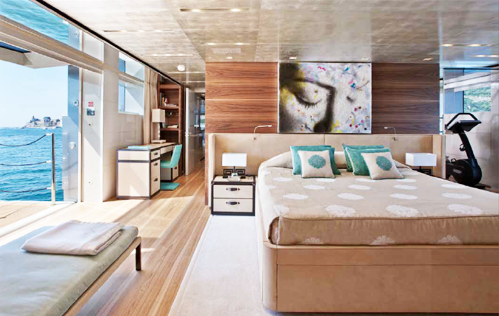 Bystanders who mistake the Sanlorenzo 40 Alloy for some kind of military cruiser would feel shocked to see the interior spaces. Designer Francesco Paszkowski created lavish interior designs (as well as the exterior deck areas) that take a unique twist on traditional yachting aesthetics.
The common areas inside this particular 40 Alloy were designed to stimulate conversation and sociability. A large lounge area features an abundance of seating that lets guests participate in group discussions or pair off for private talk. It also has tables that were especially created as chess and baccarat boards.
Owners and guests who want to get some work done during their voyage have access to a small office that features a long desk, comfortable chairs, and plenty of natural light. Connected to the office is a gym for those who want to make sure they stay in shape as they enjoy the relaxing craft.Perhaps the most innovative thing about the lounge and other interior areas of the Sanlorenzo 4H, though, is the lighting. Few areas aboard this yacht rely on lamps, although a few add decor to the interior style. Instead, every room has recessed overhead lighting that gently illuminates the spaces. Some lights are also tucked along the lower contours of the doors and furniture. This gives the impression that the lights are somehow floating. It's just another one of those unique touches that makes the yacht so special.
Owner and Guest Cabins

The Sanlorenzo 40 Alloy has enough room for 10 guests in addition to its six-person crew. The owner's cabin is located on the main deck. As one might anticipate, it's a rather unique space with fully customized furniture and details.
Francesco Paszkowski decided to take a minimalist approach to the owner and guest cabins. The owner's cabin, for instance, has a large bed and a small bench. Other than that, few objects crowd the room. It does, however, have a small deck where the owners can enjoy the cool night breeze or let the sun's light pour in.
Guests suites take a similarly minimalistic approach. The Alloy 40, after all, was designed to encourage more social interaction. The guests rooms are extremely comfortable (single-bed cabins have large, soft bed cushions surrounded by woods of carefully chosen hues while double cabins have two smaller beds). Guests who expect high-def televisions in their rooms will just have to venture out and enjoy the world instead of locking themselves away.
Specifications and Performance
Sanlorenzo 40 Alloy definitely stands out as one of the most beautifully modern boats in recent memory. It also has some of the most sophisticated modern machinery and tools.
Two MTU engines pump out an impressive 2775 horsepower apiece, giving the Sanlorenzo 40 Alloy a cruising speed of 25 knots. That's impressive considering her 170-ton displacement. When pushed to her limits, she can reach 28 knots for a short distance. She has a 30,000-liter fuel capacity that gives her an range of 800 nautical miles. That might not get the owners around the world, but it's certainly large enough for extensive touring.
Every yacht owner likes to feel that he or she has a unique vessel that stands out from all others. For the owners of the Alloy 40, this is more than a feeling. It is the absolute truth.
Specifications
Length Overall 40,80 m / 131ft 3"
Length at waterline @ half load 32,90 m
Beam over all 7,90 m / 25ft 11"
Draft @ full load 3,10 m / 10ft
Construction Height 3,90 m
Displacement @ full load 203 ton
Displacement @ half load 188 ton
Gross tonnage 338 gt
Engines 2xMTU 12V 4000 M93
C.C.Unit 4,31 l
Stroke 190 mm
Bore 170 mm
Consumption 1005 lt/h @ 24 kn
Power 100% MCR 2x2340 @ 2100 rpm
Reduction Gear 2xZF 7600
+ Info: www.SanlorenzoAmericas.com
Transmission V – drive
Propellers 5 blade in NIBrAL
Shafts In Aquamet 17
Rudders AISI 316 Stainless Steel
Maximum Speed 27 knots
Cruising Speed 24 knots
Gensets 2x70 kW
Deadrise 12°
A/C Power 480,000 Btu/h
Capacity Fuel Oil Tank 30.000 l
Capacity Daily Fuel Tank 5,000 l
Capacity Fresh Water Tank 6000 l
Capacity Black Water Tank 2,000 l
Capacity Grey Water Tank 2,000 l
Tender Dimensions Max 4,8 m