When BMW purchased Rolls-Royce, the car manufacturer took a hard turn towards luxury, aesthetics, and power. The newly acquired company released the Phantom in 2003. In 2012, it released an updated Phantom II with minor alterations that make a huge difference. What was already a spectacular car is now one of the world's top machines.
From the outside, connoisseurs will notice a retuned front end. Rectangular lights and updated bumpers make the new Phantom look downright intimidating. Of course it looks expensive. More importantly, it looks powerful.
Drivers lucky enough to sit behind the Phantom II's wheel will also notice some impressive changes. A multi-media controller makes it easier to choose music from the radio, satellite, CD player, or MP3 player. It's truly designed to meet the needs of modern drivers. It also has an integrated satellite navigation system with an 8.8-inch display that does much more than show maps and give directions. It also plays movies and lets the driver bookmark up to eight locations. When put in reverse, the screen automatically connects a rear-mounted camera that shows exactly what is behind the car.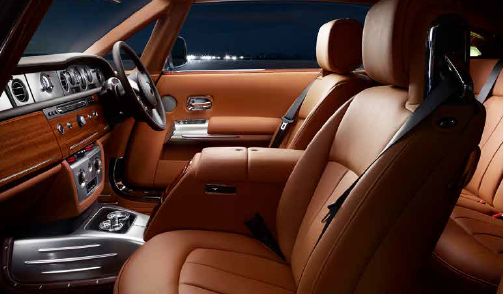 The new Rolls-Royce never compromises on performance. That commitment shines through with the Phantom II. It has a smooth suspension that helped make the company famous in the 20th century. This updated model, however, has much more than those older cars could ever offer. The Phantom II is powered by a V12 direct injection engine that delivers 453 horsepower. An 8-speed automatic transmission coordinates perfectly with the engine so that passengers never feel the slightest lurch.
Those who can afford to spend nearly half a million dollars on a car will also want beauty in addition to high performance. The Phantom II comes through in every way. This handcrafted car has soft leather seats, polished wood veneer, and chrome bezels. With 44,000 paint colors and a nearly unlimited number of wood veneers to choose, each Phantom II has its own unique aesthetic that matches the owners preferences.
The rich and famous once spent their time in Rolls-Royce vehicles while chatting, conducting business, or just enjoying the view. With the reinvention of the Phantom, the upper class can once again feel good about buying a car stamped with the Rolls-Royce seal of approval.