Accommodations for the Guests
Helix can accommodate up to 12 passengers in addition to 10 crew members. Four guest bedrooms offer plenty of space for 8 passengers while a convertible private study creates room for two additional guests. Each suite is adorned with dark wood that contrasts with nicely with soft cream colors used for the walls, furniture, and bedspread.
Each guest cabin has its own head. These facilities could stand up against bathrooms found in the world's finest hotels. Three mirrors situated above the sink make it easy for couples to prepare for the day without bumping into each other. A shower stall allows them to bath quickly before social events or just relaxing on the deck.
Like the bedrooms, dark and light contrasts make a wonderful design that might cause some guests to linger in the bathroom longer than usual just so they can enjoy the white walls, brown marble, and chrome fixtures.
Perhaps best of all, the guest suites are located on the main deck. Few yachts give guests such excellent place to stay. This shows how much the owner values his family, friends, and colleagues. It also gives guests an excellent view of their surroundings instead of positioning their rooms under water, as is common in many yachts.
Accommodations for the Owners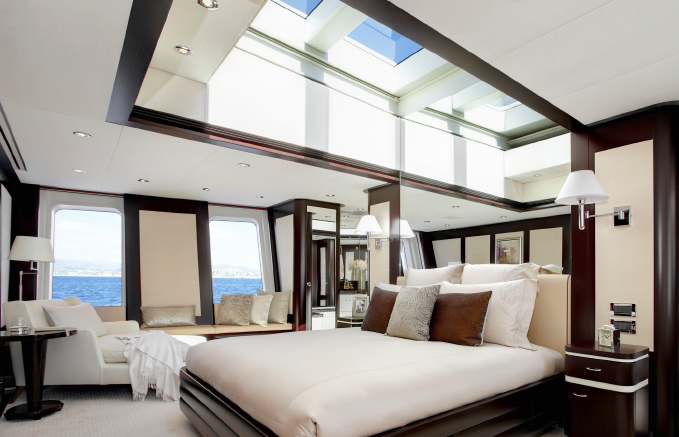 The owner's stateroom provides a luxurious amount of space that fills the breadth of the main deck. It contains a King sized Murphy bed for maximum comfort and excellent sleep. A skylight fills the stateroom with natural light, emphasizing the beautiful wood and cloth contrasts.
The Helix stateroom also has a couch built into the wall. This offers the perfect place for the owner to look out of two well-positioned windows to view the surrounding seaside.
The owner's stateroom flows seamlessly into the owner's bathroom. This bathroom is not only considerably larger than those attached to the guest cabins, it also has a luxurious tub that lets the owner soak and relax. White marble walls, marble floors, and drawers contrast with dark wood accents and a brown marble counter that surrounds the tub and sink areas.
Socializing on Helix
Helix offers plenty of private spaces for the guests and owners, but it's design emphasizes social activities.
The Main deck lounge offers the perfect place for eating breakfast or meeting up with guests before heading out for a day ashore. It provides a complete view of the surrounding environment that covers nearly 360 degrees. This makes a great location for guests that want to enjoy the view without stepping outside. The bridge deck lounge and bridge deck aft also provide great places for casual socializing.
Those who do want to enjoy the outside can simply step through the Main deck lounge's doors to the deck aft. This large area lets guests soak up some rays or simply enjoy each other's company while they take in the spectacular view.
If guests want to really soak up some rays, they should head to the sun deck aft. The sun deck offers enough space for a full party, but it's also private enough for one or two people to enjoy their time aboard the boat. A Jacuzzi located on the deck offers an excellent place for guests to relax after a day of activity.
Relaxation and Recreation Aboard Helix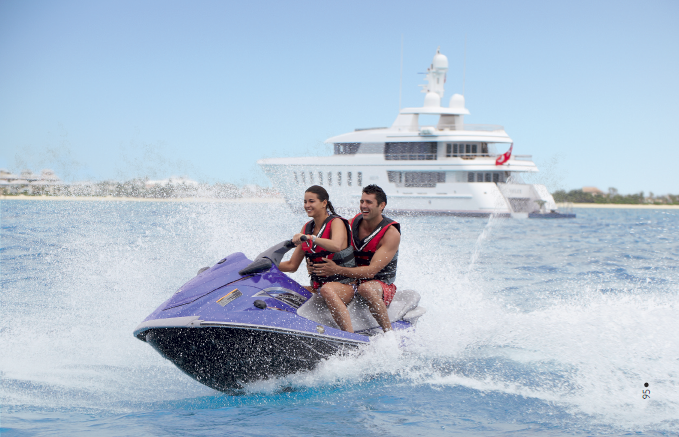 Guests looking for relaxation will find it on Helix. In addition to the sun deck and other open areas where they can spend hours enjoying the yacht's luxury, they can even step into the onboard steam bath. That's a healthy way to recover from a long days on the ocean as well as long nights socializing. Those who take a more active approach to relaxation can step into the gym for a workout.
Helix is loaded with entertainment options. No matter what kind of activities guests enjoy, they will find it on this yacht. Ship-wide WiFi gives guests access to the Internet. Each cabin even has its own flat screen television, giving guests an opportunity to enjoy a wide assortment of movies and music recordings stored on the yacht's entertainment hard drive.
Water sports are easily accessible thanks to the stern beach club and its swim platform. The boat is even stocked with wakeboards, waverunners, kayaks, and other toys that make the water more fun.
Going the Distance Aboard Helix
True luxury provides more than beautiful interior and exterior designs. Helix offers excellent performance that makes transatlantic travel easy. The yacht has a fuel capacity of 10,500 gallons (40,000 liters), so it does not have to stop often for fuel. A maximum speed of 14.5 knots means that Helix can reach its destination quickly or avoid troublesome weather that could negatively impact a trip.
The humans on board need their own fuel. That's why Helix has plenty of cold storage area for fuel. A fresh water capacity of 2,600 gallons (10,000 liters) provides plenty of water, even for guests that like to spend most of their time in the gym or lounging in the hot sun.
Feadship has outdone itself with Helix. This remarkable yacht shows that the company has reached an expert level of craftsmanship and engineering that even the most pampered traveler will love.