Vitters Shipyard built Sarissa with help from naval architect Tripp Design and interior architect Rhoades Young Design with significant input from the owner. This approach has resulted in a yacht that melds beauty and high performance into a single vessel.
Sarissa's Technology
Building a high-performance, 42.6-meter yacht requires careful attention to details. Vitters Shipyard has been working with carbon composite materials for years, so it seemed natural to apply this technology to Sarissa, too. Sarissa has the largest carbon fiber sloop ever built in the Netherlands. The lifting keels, masts, and rigging are all made of lightweight material that makes Sarrisa easy to maneuver even while traveling at fast speeds.
Sarissa is, first and foremost, a sailing yacht. She takes a different approach to sailing, though, than the average yacht. Sarissa has two sailing configurations. In addition to a conventional triangle sail that makes cruising easy under typical conditions, Sarissa can also carry a square top main sail that gives her extra speed during races.
When it comes to steering, no vessel currently on the water offers a better experience than Sarissa. Sarissa has a hydraulic steering system with amazing feedback technology that keeps the captain in close communication with the rudder.
Vitters Shipyard worked tirelessly to develop these innovative solutions so Sarissa could offer the highest level of performance without compromising safety or aesthetics.
Inside Sarissa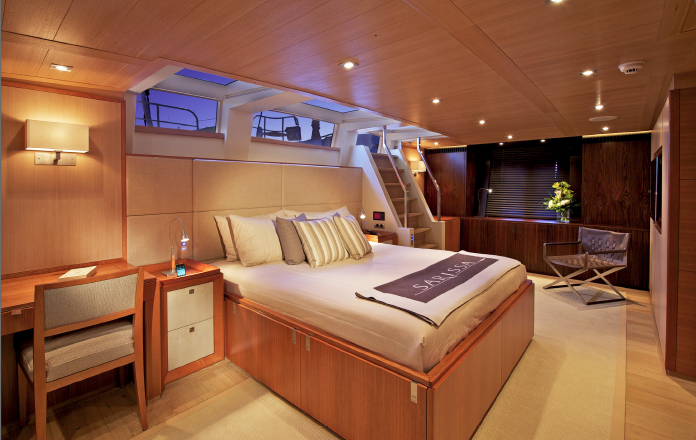 Sarissa needed the ability to compete in races, but it also needed to fit the needs of a young, adventurous family that like enjoys traveling the world. The interior spaces, therefore, were designed to replicate the comforts of home. Unlike many luxury yachts, Sarissa does not have an overly modern aesthetic. Many of her spaces feel like sitting in a living room or private study.
Traveling families also need plenty of living spaces. A larger yacht, however, could not offer the speed and maneuverability of Sarissa. This presented an interior design challenge that the builder confronted with vigor.
Sarissa has an open design that lets spaces flow into each other. This creates the illusion of large, open spaces for the owner's enjoyment. The lounge, dining area, and cabins flow into each other with ease. This allows the owners and their guests to enjoy a variety of social activities aboard the yacht while also giving them the opportunity to find privacy when they want it. The lounge, for instance, offers plenty of room for guests to converse or enjoy a movie. One could easily forget that he's sitting on a luxurious yacht and instead believe that he's in a hotel lobby or expansive family den. The study, however, could easily be mistaken for a private office tucked away in a New York City apartment.
Thanks to this comprehensive interior design, the owners can feel comfortable travelling the world for relaxation or intense racing competitions. No matter where they go, they can always feel at home.
Sarissa's Exterior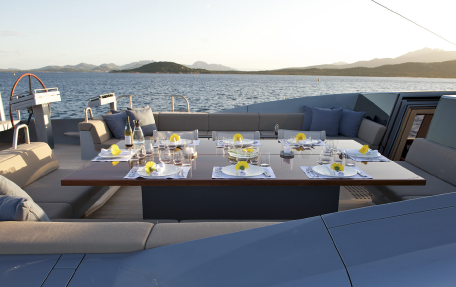 The concept of Sarissa's interior has a noted influence on the yacht's exterior. Even while standing on the deck, it is obvious that she was designed to function as a competitive yacht as well as a family touring vessel.
Sarissa's exterior has a simple, clutter-free aesthetic that makes it easy for a team to operate her at high speeds. The sleek body lets Sarissa pass through calm and choppy water without difficulty. These elements make her one of the most competitive sailing yachts on the water today.
Never forget, though, that Sarissa needs to meet the needs of a family that loves to travel. Comfortable seating is built into the boat, as are tables of various sizes. This lets the owner enjoy a relaxing beverage while viewing the surrounding water or host a dinner party for seven or more guests.
The children, of course, need to have a good time, too. Sarissa offers plenty of space on the deck from children to play their games. While some parents would have to worry about the mainsail creating dangers for children, Sarissa's main sail has been placed on an arch that keeps it away from deck activities. The aft cockpit has even been designed so that it can quickly become a swimming pool. This allows the owner's children to enjoy the water even while Sarissa passes through shark-infested waters.
Sarissa was designed to take advantage of today's state-of-the-art technologies and design aesthetics. Focusing on a family-friendly design that still offers excellent performance has made Sarissa one of the most impressive yachts traveling the world's waters.
SPECIFICATIONS
Length hull overall 42.6 m / 140 ft
Length waterline 38.5 m / 126 ft
Beam (max) 8.6 m / 28 ft
Draft 4.0 m (13 ft) keel raised 6.2 m keel lowered Ballast 38 tonnes
Displacement (half load) 163 tonnes
Gross tonnage 198 tonnes
Hull construction Green Marine
Superstructure Green Marine
Exterior paint system Alexseal
Classification GL / MCA
Cayman Islands
Type Lifting keel carbon sloop
Design & Styling Tripp Design Naval Architecture LLC
Main engines Caterpillar C12
Power 490 bhp (366 bKW)
Gearbox Mekanord 270 HS/LS
Shaft & propeller Korsør controllable pitch Scandinavian CP10-RS
Steering gear Cable steering
Exhaust systems Halyard
Bowthruster 100hp swing type Sternthruster 75hp swing type
Windlasses Lewmar
Interior builder Ruiter Quality Interiors
Number of Owner / Guest cabins 4 (1 Master and 3 Guest)
Number of Crew cabins 3 (1 Captain and 2 Crew)
Interior styling: limed oak, dark Italian Walnut, Indian Rosewood, carbon, dark leather and brushed stainless steel.
73