The Exterior Design of Diamonds Are Forever
The exterior design of Diamonds are Forever exudes the most prominent elements of an aesthetic that has made Benetti famous around the world. Stefano Natucci/Azimut-Benetti combined traditional yacht features with modern style while paying close attention to the vessel's engineering needs.
Anyone familiar with Benetti could spot this as a premium example of the company's expert craftsmanship and painstaking attention to detail. The yacht's large size commands attention on the water. Whether anchored or traveling at top speed, no one could mistake this superyacht for anything less than extraordinary.
The body of Diamonds are Forever makes it possible for the owner and his guests to enjoy luxurious activities on board. A sharp, narrow bow lets Diamonds are Forever slip through the water effortlessly. The boat widens substantially towards the stern, creating large spaces that offer plenty of room for socializing or relaxing.
Enjoying Life from the Sky Deck and Sun Deck
The sky deck gives guests a perfect space for lounging in the sun while they take in the mesmerizing ocean view. The sky deck is an intimate space set apart from the rest of the boat. This lets sunbathers enjoy themselves privately without interruption. Forward seating on the sky deck gives a panoramic view of the vessel's surroundings.
The sun deck offers a more social, vibrant area where guests can come together to enjoy the ocean air. A large Jacuzzi offers a relaxing way to spend cool evenings outside. The sun deck also has a shaded dining area for casual meals. A full wet bar can turn any occasion into a party. Two large screen TVs make the sun deck a great place for watching sports or movies in a relaxing, social atmosphere.
Socializing and Dining on the Upper Deck
The upper deck of Diamonds are Forever provides a variety of spaces that will make guests feel at home. The upper deck has a large L-shaped sofa that beckons to guests who have spent the day enjoying the water or exploring travel destinations. Chairs located throughout the deck provide small areas of comfort where guests can relax while enjoying more private conversations away from the crowd.
The upper deck, however, was predominantly designed as a socializing area. A wet bar keeps guests happy as they take part in a party or wait for dinner. A grand piano and card table offer entertainment at any time of the day or evening.
The 12-seat dining room lets guests decide whether they want to enjoy their meal inside or outside. Flipping a switch converts the interior space into an outdoor dining area by opening the dining room to the sky lounge. Whether they prefer indoor or al fresco dining, large windows provide an excellent view of the outside.
The master suite is located at the forward part of the upper deck. This luxurious suite gives the owner a truly relaxing place to get much-needed rest, spend time with loved ones, or even get some work done while on the water.
A raised King size bed and expansive sofa create the perfect place for the owner to relax away from guests. Large vertical windows provide an 80 degree view of the outside, so the owner doesn't have to feel totally cut off from the world when he enters his private suite.
A small office complete with a desk and television give the owner a place to finish work, make calls (the yacht's state-of-the-art satellite communications system means the owner can stay in contact with the outside world at all times), and develop ideas aboard his ship. The office also makes an excellent area for interpersonal meetings. If the owner wishes to discuss a private matter or upcoming business opportunity, this is the right place for the conversation.
The master suite also has a spectacular bathroom that would impress even the most pampered aristocrat. It has a central tub, twin showers, and large wash basins. Onyx and marble are apparent throughout the room, adding to its beauty and sophistication.
Formal Events on the Main Deck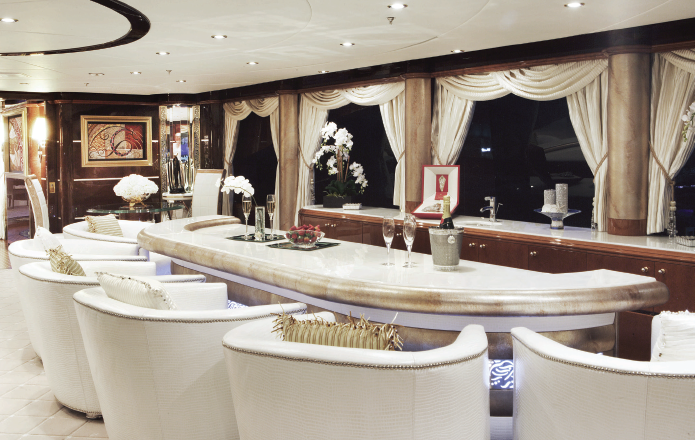 While most of Diamonds are Forever remains committed to relaxation and casual events, the main deck creates a much more formal mood that makes it perfect for corporate events and formal parties.
The main deck includes a formal dining area that seats up to 12 guests comfortably. The marble floors, mother of pearl inlay, and etched glass make this a wonderful place to enjoy a meal with friends and colleagues.
After dinner, guests can enjoy drinks while seated at the main deck's sofas. This is the perfect way to conclude a dinner event or meeting.
The main deck also has a split-level VIP suite reserved for the owner's most important guests. the suite has a coffee table, panoramic view, and an adjoined bathroom that makes it an impressively relaxing place to spend time.
If guests wish, they can also spend time at the main deck's workout facility or beauty spa, where a massage table makes it possible for them to recover from a long day of activity.
Guests Cabins on the Lower Deck
The lower deck has four guest cabins. Guests can choose between King size, double, and twin beds. Each cabin has its own en suite bathroom.
Just because these are guests cabins doesn't mean that Benetti cut corners. Each one offers a luxurious, restful environment crafted from some of the world's most previous building materials, including marble, onyx, and Madrona burl wood. Gold lead, silver leaf, and embossed leather add decorative embellishments to each cabin and bathroom.
Diamonds Are Forever: One of the World's Most Luxurious Boats
Thanks to carefully crafted interior designs from Evan K. Marshall/Usonia V., Diamonds are Forever stands out as one of the world's most luxurious superyachts. Combined with Benetti's expert engineering, no one could mistake this vessel for anything less than extraordinary.
SPECIFICATIONS
Length over all: 49,80m / 163ft 4in
Beam over all: 9,00m / 29ft 6in
Length Overall (LOA): 60 m – 200 ft
Maximum beam: 10,4 m - 34 ft
Maximum draft: 3,0 m – 10 ft
Gross Tonnage: 1100 T about
Fuel capacity : 120.000 litres.
Fresh water capacity: 20.000 litres
Main Engines: Caterpillar – 3512B1380 kW @ 1600 rpm
Max Speed at half load: 16 knots
Cruising Speed: 15 knots
Range at 12 knots: 4.800 n.m.
Generators: 2 x 200 kW1 X 125 kW
Bow thruster: VOSPER NAJAD 160 kW