Mogambo has a twin screw propulsion system with two diesel engines designed by MTU that can pump out a total of 4,720 horsepower. A maximum speed of 17,5 knots allows this large yacht to travel quite a clip. Even its cruising speed (16 knots) is impressive for a 74-meter vessel.
The superyacht can carry 48,084 gallons (184,000 liters) of fuel, so it does not have to dock often. A water capacity of 11,519 gallons (38,000 liters) means that long voyages are possible even when every suite is filled with guests and crew members.
A yacht of this size needs strong materials, but it also needs a light weight that will not impede performance. Nokiskrug decided to use a steel hull and aluminum superstructure to strike the perfect balance, allowing Mogambo to travel safely and swiftly in practically all weather conditions.
Mogambo's Spectacular Main Lounge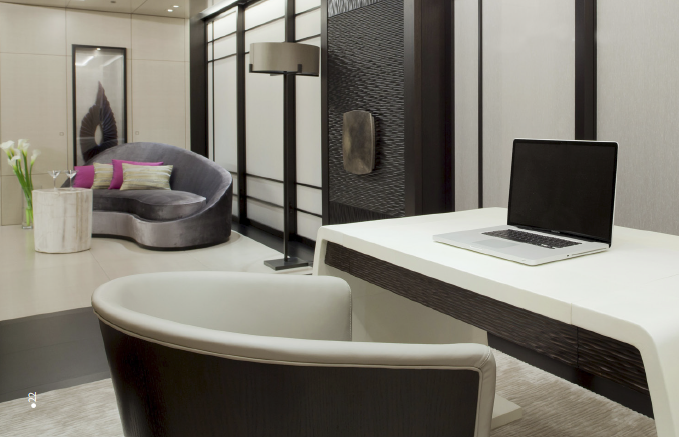 Stepping into Mogambo is like walking into one of the world's finest hotels. The main saloon emphasizes the yacht's grandness. It's broken into three sections that flow continuously into each other. Luxurious couches and chairs provide places for guests to relax during social events. Recessed lighting creates a somewhat otherworldly quality about the space, but the large windows, dark chocolate floors, and cream-colored furniture anchor the lounge's aesthetics in a natural beauty.
A dining area located at the far end of this space has a slightly curved shape that can seat up to 14 guests. Windows located at either side of the table provide ample light during elegant meals.
Between these two areas, a bar offers refreshing drinks for guests. It also creates the perfect place for guests to relax just before a meal is served. By dividing the main lounge into these distinct spaces, Nobiskrug has created one of the most remarkable places for socializing and relaxing. Even the most experienced traveler would have a hard time recalling a more luxurious, yet welcoming, room.
Mogambo's Cinema
Most luxury yachts offer in-room entertainment. Flat screen TVs, computers, digital stereos, and WiFi are common amenities. Mogambo has taken this to the next level with its state-of-the-art cinema.
Large daybeds offer exquisite comfort for guests who want to spend a couple hours watching a movie displayed on the room's impressive screen. A professional sound system enhances the experience even more. With this kind of on-board entertainment, guests will never miss the luxuries of life on the land.
Quarters on Mogambo
Mogambo's master quarters offer a wealth of space that provides plenty of privacy for the owner. The aesthetic theme balances deep wood accents with light blue and pink hues.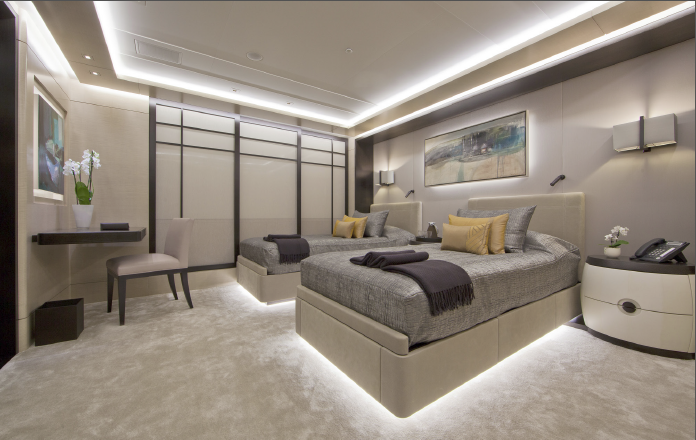 Recessed lighting, a curved couch, and a large, angular bed works cooperatively with the color scheme to create a suite that would look perfect on a spaceship or one of the world's top-rated hotels.

Guest suites are smaller than the master quarters, but they are no less luxurious. A common aesthetic binds all of the sleeping quarters, but each room has its own subtle personality. One guest suite, for instance, has floor to ceiling windows while another has shorter windows raised above the floor's surface.The stateroom's en suite focuses on a balance of dark and light colors. Dark marble floors highlight the clean, white walls. The marble runs up to form a counter that wraps around a long, white bathtub. A shower is also available. Glass allows all of these design elements to interact with each other at all times.
Mogambo's Decks
Mogambo has an interior that emphasizes beauty and comfort that might make some guests want to remain indoors. Luckily, the superyacht has an equally attractive exterior with decks designed to serve a variety of functions.
The upper aft features a circular dining table positioned under a sun deck. This offers the perfect amount of shade for casual al fresco dining. The upper aft also has two large, L-shaped sofas that make the area suitable for parties and small social gatherings.
Guests who wish to take full advantage of the sun can head up to the sundeck, where they will find a Jacuzzi in addition to plenty of seating.
A diving platform situated just above the water creates a point of entry and exit. Guests who wish to slip into the water can do so safely and easily from this area. It also makes a suitable area for accessing canoes, smaller boats, wakeboards, and other recreational vehicles.
Every aspect of Mogambo was chosen to meet the highest level of quality. Few people will ever have the opportunity to even spot this masterpiece gliding across the water. Simply knowing that such a marvel of beauty and technology exists, however, can inspire a new generation of naval architects to reach ever-greater heights. Mogambo has set the bar very high by orchestrating architecture, interior design, and some of the world's finest yachting technology into a vessel that stands out as an example for every person interested in yachting.
SPECIFICATIONS
Length overall 73,51 m
Length between perpendiculars 58,70 m
Breadth 12,00 m
Draught 3,65 m
Guest Capacity 12
Crew Capacity 18
Engines MTU 2 x 1760 kW
Speed cruise 16 kn
Speed max 17,5 kn
Range at 14 kn 5.000 nm
Fuel capacity 184.000 lt
Freshwater capacity 38.000 lt
Tenders 2
Hull Material Steel
Superstructure Material Steel / GRP-parts
Class Germanischer Lloyd
+ Info: www.nobiskrug .com