Technical Aspects of the Classic Supreme 132
Classic Supreme 132 was built so the owner and his guests could explore the world with few limitations. She has a 3,500-nautical mile range when traveling at 12 knots. When needed, though, she can reach 15.5 knots and can even cruise at 14.5 knots on 85 percent of max power.
She has a full tank that can carry 11,306 gallons (42,800 liters). She also has a 1,902-gallon (7,200-liter) fresh water tank and a 1,106-gallon (4,190-liter) grey water tank. Thanks to a reverse osmosis water maker, Classic Supreme 132 can nearly refill the fresh water tank daily.
A monitoring system makes sure that everything functions perfectly during a voyage. A redundant LAN net connects two monitoring system units. One unit is based in the engine control room. The other is kept in the wheelhouse. The system watching over the power station, navigation lights, entrances, main engines, batteries, and other key aspects of the boat.
Classic Supreme 132 has propellers by Benetti Design; two Kohler generators; VT Naiad Marine bow thrusters; and stabilizers by VT Naiad Marine.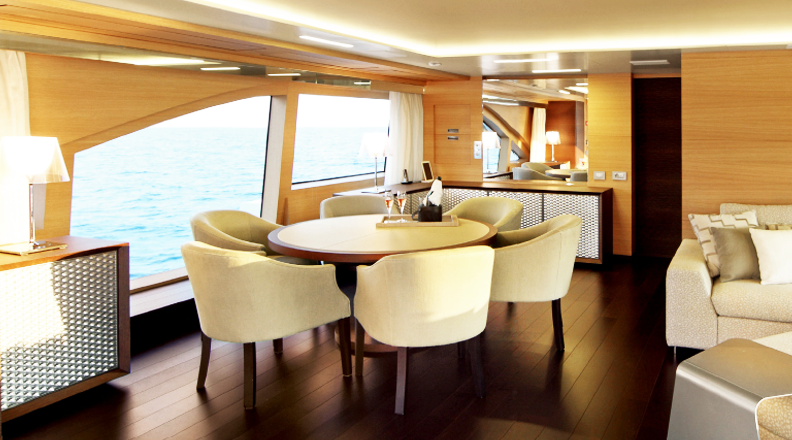 Entertainment on The Classic Supreme132
Classic Supreme 132 has been filled with entertainment options for every guest and crew member. No one will spend a dull moment on this vessel.
The main saloon has a 52-inch HDTV an a stereo system with an iPod docking station, integrated Wi-Fi, and connection to the boat's BEST(Benetti's Exclusive Sea Technology) integrated entertainment system. Whether the owner wants to throw a dance party or relax while watching a movie, the main saloon can quickly accommodate either option.
The sky lounge offers identical audio-visual features. Of course, from the sky lounge, guests will have a hard time paying attention to any movie. What could compete with an endless vision of gently swelling ocean water?
The owner's cabin, guest cabins, and VIP cabins have similar entertainment, although with smaller TVs.
Inside the Classic Supreme 132
Every aspect of the Classic Supreme 132's interior was designed with careful, loving detail. Those hard efforts show in every room.
Most rooms have walls that have been decorated with wood and fabric. This combination gives each room a unique look that you don't often find on luxury yachts. The fabric and glowing wood feels extremely comfortable and welcoming.
If it weren't for the wool carpet found in many of the rooms, the owner's guests might find themselves tempted to lean against the attractive walls at all times. The wool carpet offers a comfortable, beautiful surface. In rooms where wool would seem inappropriate (the kitchen, head, etc.), marble flooring or soft vinyl has been chosen. This makes the floors easy to clean as well as beautiful.
Even the ceilings have a warmth that few yachts can match. All ceilings in guest areas are made of fabric and leather. Bathrooms have lacquered panel ceilings.
Francois Zuretti did an excellent job conceptualizing and creating Classic Supreme 132's interior. She manages to offer welcoming spaces for all 10 guests and seven crew members instead of resorting to the "museum" look that so many interior designers automatically create for their high-end clients.
The result is a refreshing collection of rooms that feel warm and inviting whether guests are having private conversations, enjoy a movie, having a party, or slipping into bed for the night.
Exterior Areas of the Classic Supreme 132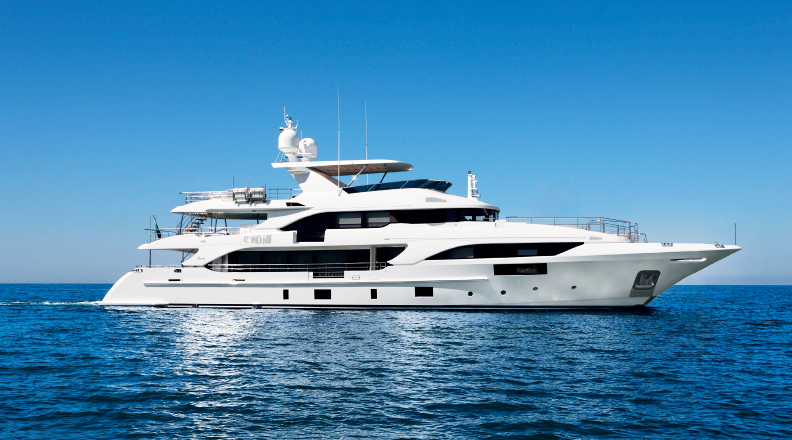 Classic Supreme 132 has several exterior areas that will attract guests.
The sun deck offers 100 square meters of space where guests can enjoy the sun in privacy and comfort. The sun deck has seating areas that let guests enjoy themselves privately or in groups. It also has a hot tub that will either help guests relax or put them in the mood to have a good time during a party. A head located on the sun deck offers convenience so guests don't have to interrupt their days or evenings at the boat's top.
The sun deck even has a barbecue and mini-fridge, making it one of those spots that guests can enjoy for hours on end without even needing to visit the kitchen for refreshments.
The sky lounge offers a protected way for guests to enjoy warm days and cool nights aboard Classic Supreme 132. The sky lounge is often the main attraction during parties. It offers the refreshing wonder of cool ocean breezes. But it also has a card table, HDTV, and a bar. This is the place for guests who wan real entertainment.
At first glance, the Classic Supreme 132 might look much like other luxury yachts. A closer look, though, shows that it has details that make it stand out from every other boat traversing the world. No matter what harbor the Classic Supreme 132 pulls into, she's sure to attract attention for the combination of old world style and innovative technology that makes her one of the top privately owned vessels in the world.
Specifications
Length overall (LOA) 40,2m - 132'
Maximum beam 8,28m - 27' 2"
Maximum draft 2,30m - 7' 6"
Full load displacement 270t
Fuel capacity 42.800 litres
Fresh water capacity 7.200 litres
Main engines 2x MTU 12V 2000 M72 1.080kW @2.250 rpm
Maximum speed 15,5 knots
Cruising speed 14,5 knots
Range at 12 knots 3.500nm
Generators 2 x Kohler 80kW
Bow thruster VT Naiad Marine VT60 60kW
Stabilizers Stabilization at anchor VT Naiad Marine
Builder Azimut-Benetti Spa - Benetti Shipyard, Italy