Choosing Partners to Build 63 Virtus
The group focused on making a sporty design that would let owners feel the wind running through their hair while also giving owners a comfortable place to entertain guests.Riva pulled the talents of several groups and individuals to make sure the new flagship model would surpass expectations. Officina Italiana Design, Advanced Yacht Technology, and Centro Stile Ferrettigroup all played important roles in building this unique yacht.
The working partnership yielded spectacular results that will change the way many people think about open yachts.
What Powers the 63 Virtus?
63 Virtus has a sporty look. She also has a high-performance technology that makes her a sporty boat that maneuvers well under most conditions. She has two MAN 12V engines that churn out 1360mhp. When pushed to her limits, she can reach 40.5 knots with little struggle. A cruising speed of 35 knots lets the captain reach destinations quickly. It also gives him a little fun as he crosses ocean swells and takes in the sights.
This boat's agility and performance come from more than just powerful engines. Her hull uses direct shaft line tunnel propulsion that has been proven to increase speed without increasing engine power.
When the designers brought together the right shape and the right engine, they created a fast open yacht that skims across the water without creating excess noise that will bother passengers.
A Mediterranean Aesthetic for Today's Yacht-owners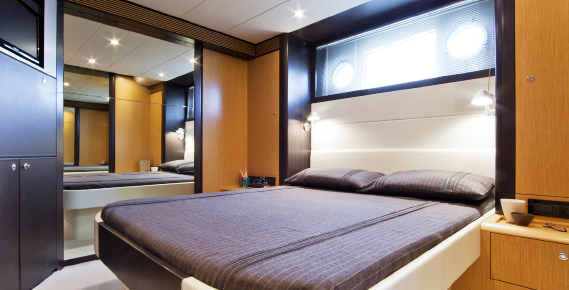 63 Virtus shares some aesthetic components with Rivale, another boat built by the Riva shipyard. 63 Virtus takes some important leaps forward that will impress today's yacht-owner.
Like Rivale, 63 Virtus has simple, sporty exterior lines. It manages to maintain a traditional look while also giving the impression that it can overtake any of its competitors without much effort. In other words, it looks competitive without losing the classiness that has made Riva world-famous.
63 Virtus distances itself from the older Rivale by using space in a different way. 63 Virtus is larger, but she also has a more open design that makes her more comfortable for anyone who wishes to stay aboard for days, weeks, or even months at a time.
Below deck, she has a beautiful dining area that offers beautiful sights of the ocean as well as a comfortable L-shaped couch. The table, with its couch and individual chairs, can easily seat eight people. It's the perfect place for meals and gathering below deck to play games or simply enjoy the company of their guests.
The owner's suite has an open design with a large bed situated in the middle of the room. Light wood panels work with a white ceiling and bed frame to add the illusion of even more space. With the blinds open, the owner can see the water lapping against his boat.
VIP guests have access to a smaller room that still offers plenty of comfort and luxury, including recessed lighting, a television, and plenty of storage space for the trip. A mirror adds depth to the room, making it appear larger than it actually is.
A smaller guest room has an L-shape that offers beautiful views of the ocean. Its bunk beds use the available space well, allowing the owner to invite an extra guest without making others feel crowded.
Both the VIP and owner's cabins have en-suite heads. The guest cabin as a day head located just outside its door.
Spending Time Above Deck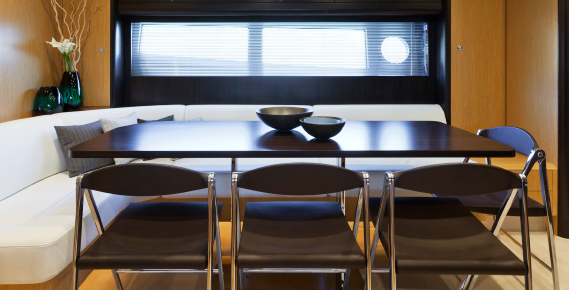 The rooms below deck offer plenty of comfortable spaces, but most people will agree that its more fun above deck. That's what open yachts are all about: experiencing the ocean, wind, and sun without barriers.
There are two large sun decks that give the owner and guests plenty of room to laze about when they're not on-the-go. At the helm, the owner has a couch built for three. This lets guests see how to operate 63 Virtus without standing or hunching over the driver's shoulder. It has been intentionally built for more than one person to sit behind the controls. That way, no one has to feel left out while setting sights on the next destination.
The cockpit is one of the boat's most wonderful areas. It has three couches, one of which is L-shaped, so guests can enjoy each other's company while floating in the water or barreling through the water. The cockpit also has all of the comforts one could ask for, including a sink, fridge, and even a grill.
Using the AT anytime isn't a problem thanks to a bimini that the owner can keep open even while operating the vessel at high speeds.
Riva has always excelled at creating wonderful open yacht designs. With the 63 Virtus, though, the shipyard has entered a whole new level of exquisiteness and technological prowess. Making this new yacht its flagship was a smart move on Riva's part. It's also a move that will have every yacht-owner wondering what the famous shipyard will develop next!