Setting Lady Kathryn V Apart
Lurssen Yachts asked Adam Lay and Jack Fhillips to create Lady Kathryn V's interior. Lay acted as the designer. Fhillips did the decorating.
With significant input from the owners, these two have managed to design a yacht that does not feel like a yacht. If guests only spend their time below deck, they would have no reason to suspect that they're aboard a boat.
The dining room offers the perfect example of this. Most yacht designers rely on recessed lighting, metallic surfaces, and bright colors. The dining room aboard Lady Kathryn V, however, has a luxurious chandelier hanging from the ceiling. The table and chairs have an old world charm that you just don't find in many contemporary yachts. It's as if the designers built a wonderful dining room for a nice home in suburbs. It just happens to be on a superyacht.
Technical Specs
Before uncovering more about Lady Kathryn V's stunning aesthetics, it's important to know that the designers paid careful attention to building a highly capable yacht that could meet any performance standard.
She has a 7000-nautical mile range traveling at 12knots. That will allow the owner's family and their guests to explore the entire world. She has a 160,000-liter fuel capacity and a 28,000-liter fresh water capacity. She relies on two fresh water makers that can create 36,000 liters per day.
When it comes to performance, Lady Kathryn V has a fine selection of Caterpillar equipment, including two Caterpillar 3512 B main engines that generate 1,979 horsepower; three Caterpillar C18 generator sets that offer 409 horsepower; and one Caterpillar C9 that serves as a 256-horsepower emergency generator.
She has a steel hull and aluminum superstructures. She measures 61 meters long (just over 200 feet) , and has enough room for up to 12 guests in six cabins and up to 15 crew members in eight cabins.
Lady Kathryn V comes with two Westport tenders.
Staying Aboard Lady Kathryn V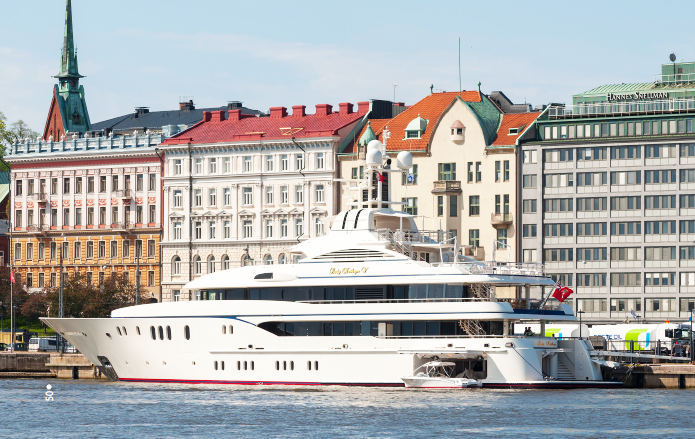 Anyone lucky enough to know the owners should pray that they get invited to enjoy Lady Kathryn V. She has four guest cabins on the lower deck, each with its own unique styling. A VIP suite on the bridge deck offers an even more luxurious experience.
Each guest cabin and suite has large windows that let natural light pour into the rooms. The owner has primarily chosen dark woods for the furniture. This gives the rooms a traditional maritime aesthetic that stands apart from many contemporary yacht interiors.
The owner's suite is truly a magical space that one typically finds in the world's best hotels. The spacious suite has a large bed with thick pillows and covers. Carefully designed furniture made of dark wood add decorative and functional elements to the suite. The owner also has access to plenty of closet and storage space.
The owner's suite has a private study that gives the family a quiet place to work, review documents, or simply read. It has a large desk and plush chair suitable for a man of means and luxury. Thanks to additional chairs located along a large window, the study also makes the perfect place for private conversation.
The suite also has his and hers dressing rooms, and a beautiful ensuite bathroom.
Communal Areas Aboard Lady Kathryn V
The cabins and suites are nice enough that one could stay in them all day. Doing that, however, would mean that they miss some of the most expertly crafted areas of the yacht.
Adam Lay and Jack Fhilipps worked hard to create several communal areas that invite guests to relax and enjoy themselves. One lounge, complete with a bar, has enough seating for all guests, making it the perfect place for a party or evening get-together. It feels more like someone's personal living room than a communal lounge aboard one of the world's finest yachts.
Lady Kathryn V also has a spectacular spiral staircase. Failing to mention this beauty would be a crime. The staircase has decorative iron railing accented by bright gold that gives more warmth to the carpet and deep wood. At its bottom, guests will find a marble floor and half-column that suddenly transforms the boat into something reminiscent of a museum for fine art.
Lady Kathryn V's Exterior Areas
Lady Kathryn V might feel like a hotel, but she has exterior areas that you'll only find on a yacht. The aft sun deck undoubtedly attracts the most attention from guests. Designed by Espen Oeino, it has numerous curved features that give make its complex layout feel much simpler.
The aft sun deck has three tables. Two of those tables have built-in couches. A third features individual chairs. This is by far the most delightful area for taking meals on pleasant days. After the meal, guests can move to lounge chairs, where they can sit in the sun for as long as they want.
Those who prefer soaking in a hot tub can visit the fore sun deck. It offers a private place to relax and enjoy the view.
Lady Kathryn V is without a doubt one of the most original yachts sailing the world's waters. Lurssen and its partners have created something special that the owners can enjoy for years to come.
Specifications
Builder/Year: Lürssen Yachts, 2011
Designer Interior: Adam Lay
Decorator: Jack Fhillips
Designer Exterior: Espen Oeino Naval Arch.Length over all: 61,00 m / 200' 2''
Length in waterline: 52,07 m / 170' 10''
Beam: 11,43 m / 37'6''
Draught: 3,55 m / 11' 8''
Displacement: 1203 t
Speed: 15,5 knots max.
Range at 12 knots: 7.000 nm at 12 kn
Main engines: 2 x Caterpillar 3512 B Generator sets: 3 x Caterpillar C18Emergency generator: 1 x Caterpillar C9
Gear-boxes: Reintjes, WAF 742 (2 x)
Steering gears: Rolls Royce, Tenfjord, SR562 FCP (2 x)
Fuel capacity: 160.000 l
Fresh water capacity: 28.000 l
Fresh water-makers: 2x HEM 35/400 duplex
Stabilizers: Quantum QC 1800
Class: Lloyd's +100A1, SSC Yacht Mono, LMC G6, UMS, full MCA compliance
Berths owners/guest: 6 cabins for 12
Crew: 8 cabins for 13 to 15
Tender: 2 x 23 ft. Westport
T