Technical Information About SPIIP
SPIIP is a aluminum sailing yacht with composite superstructures. Architect Philippe Briand included vertical hull sides that allow the boat to travel quickly upwind. He also gave her a plump bow that extended the waterline length. The 4,000 square-meter sail area that he designed allows SPIIP to travel swiftly, even in low-wind conditions.
On windless days, SPIIP gets power from a 220-horsepower main engine made by Cimmun, a 20-horsepower Max Power bow thruster, and a 17.5 Kw generator by Onan.
SPIIP has two fresh water tanks, each of which can hold 970 liters (255 gallons). She also has two grey water tanks (150 liters/39 gallons a piece) and two black water tanks (100 liters/26 gallons a piece). Even though she's designed to use the wind's power, many of the systems aboard SPIIP require electrical power. Two 1,750-liter (460-gallon) fuel tanks keep the engines operating.
Guests Aboard SPIIP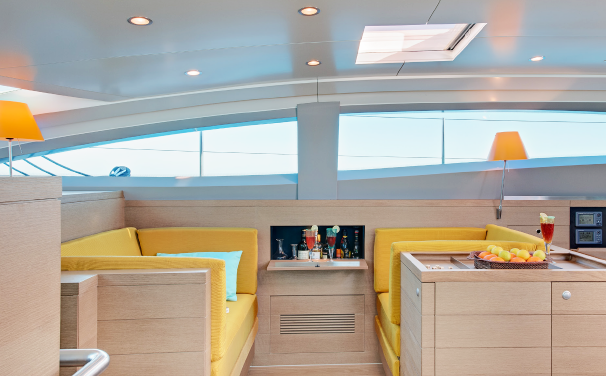 This CNB 86 is designed to accommodate six to eight people, plus crew. Sleeping quarters include an owner's cabin, a double cabin, and one twin bunks cabin. All sleeping areas have their own ensuite bathrooms.
Jean-Marc Piaton, SPIIP's interior designer managed to create beautiful spaces that offer relaxing tones and a convenient use of minimal spaces.
The owner's cabin has a relaxed aesthetic that would make anyone feel comfortable. It has a large built-in couch that runs the length of one wall. Dresser drawers run along the opposite wall. The cabin also has shelves where the owner can keep his favorite books. A large bed provides ample room.
Although smaller than the owner's cabin, the guest cabin has a similar aesthetic that focuses on comfort. The room features a smaller built-in couch, a wide bed, and light-colored wood accents. The cabin has a small flatscreen TV that guests can enjoy during their stay.
The twin cabin makes an efficient use of space by running two beds along the walls, leaving a narrow strip between them. Even though the room is small, it benefits from walls covered in lightly colored fabric and natural light that spills in from a small window. Recessed lights provide illumination at night and during cloudy days.
SPIIP's Interior Design
The gathering areas aboard SPIIP have a unique, clean aesthetic that makes them a pleasure to experience. Chairs and couches have bright yellow cushions that look wonderful with the light wood colors and blues used liberally throughout the boat's interior.
A dining area provides plenty of seating for up to eight guests. A flatscreen TV mounted to a nearby wall provides entertainment during meals. That's just what many guests will want after a long day in the sun. Others will appreciate the dining area's communal nature, which fosters conversation and sharing.
Nearby areas also provide individual seats and couches where guests can escape the sun's rays for a while or curl up to read a book. This area also has a small desk for guests who might want to get some work done during the voyage or simply want to explore the surrounding environment by looking at maps and charts.
On the Deck of SPIIP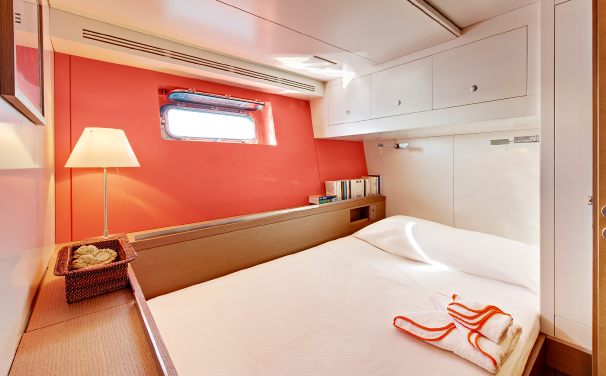 The real action happens above deck on SPIIP. She has seating that can easily accommodate all guests. A retractable shade blocks the sun on oppressive days that can get hot while traversing the water. This area also has tables with slightly recessed surfaces. This prevents items from sliding off the tables during rocky conditions or high wind.
A large sun deck, however, offers the perfect place for guests who enjoy lounging in the sun. This area is located right next to the steering wheels. That lets guests soak up the sun without distancing themselves from everyone else on the boat. Despite its fairly large size, the deck makes it easy for guests to communicate and enjoy each other's company.
The CNB 86 SPIIP will grab attention every time she draws near a harbor. She has a bright blue body an sail that force people to take a closer look. Those who only see her from the outside, however, will miss her best aspects.
Philippe Briand, Jean-Marc Piaton, and their teams deserve much respect for creating this masterpiece. Few sailing yachts have as much personality as SPIIP. Those that have as much personality, certainly do not have the same look and distinctive style as this CNB 86. She stands out as one of the most original yachts sailing the world.
Anyone lucky enough to even catch a glimpse of this yachts large sails and beautifully designed exterior can only hope that they'll get invited on board so that they can really experience the wonderful SPIIP.