Tankoa Yachts MY Suerte: The Calculus of Yachting
It starts with a notion that grows more compelling with each passing yacht, gathering additional thoughts through casual observation, focused critique, and logical assessment. Then, it evolves into full-blown passion that simply demands to take form. Tankoa understands. They share the passion.
At Tankoa, building a superyacht is a thrilling experience requiring an engaged triumvirate: owner, designer, builder. Legions behind each of the three are heavily invested in the transcription of dreamy notion to beautiful yacht. The process, by its very nature, is a dynamic one, adapting to changes in plans, conditions, laws, and preferences. The epitome of change over the past couple of years is well represented by Tankoa Yachts. They listen, think, plan, and create; then adjust, evaluate, and change to build the very thing that is the owner's dream. Only better.
Philosophy at Work
Tankoa Yachts' Suerte, launched in the summer of 2015, tested the limits. A steel hull and aluminum superstructure drafted by Studio Ruggiero naval architects, paired with exterior design by Francesco Paszkowski, Suerte's lines are both fluid and serene, making her graceful seakeeping stance appears effortless.
A commitment to excellence embraced by the "think big" team at Tankoa proved fearless in adopting numerous amendments to the original plans, consistently improving on quality and equipment with each new change. Encouraged to express his passion for the sea through this dynamic strategy, the owner praised the end result which ultimately transformed dream into reality.
Beyond the Basics
At 69.3 meters/227.36 feet, Suerte is a dramatic superyacht that commands with a single glance. A sweep of gleaming white, striped with horizontal walls of glass, she layers deck after deck on a balanced profile. Cruising between 12 and 18 knots, she performed well above her 16.5 knot contracted speed during summer sea trials.
Suerte's 5,500 nm range at 12 knots gives her circumnavigation status, with a list of amenities such journeys appreciate. Her six cabins provide posh accommodations for twelve guests presenting master and VIP suites, with two double cabins and one convertible cabin. Her wide passageways translate to easy movement, deck to deck, and her warm, noble, natural materials comfort guests, inviting them to relax and enjoy time on board.
The Beach Club
Dressed in washed teak with a back wall crafted of slate, the beach club enjoys its own saloon and large screen TV, bar, shower, and day head, transforming a simple swim deck into a comfortable, sophisticated hangout. The massage room, sauna, and hammam add a spa atmosphere, with a window overlooking the sea.
An abundance of toys appears neatly stowed, hinting at further leisure pursuits. A pair of Dariel 7.5 meter tenders, each with a 260 hp push, are tucked into the tender bay just forward of the beach club, with doors to both port and starboard. Access to the beach club is through an aft door, and a central stair leads to the main deck saloon, dining, and cabins.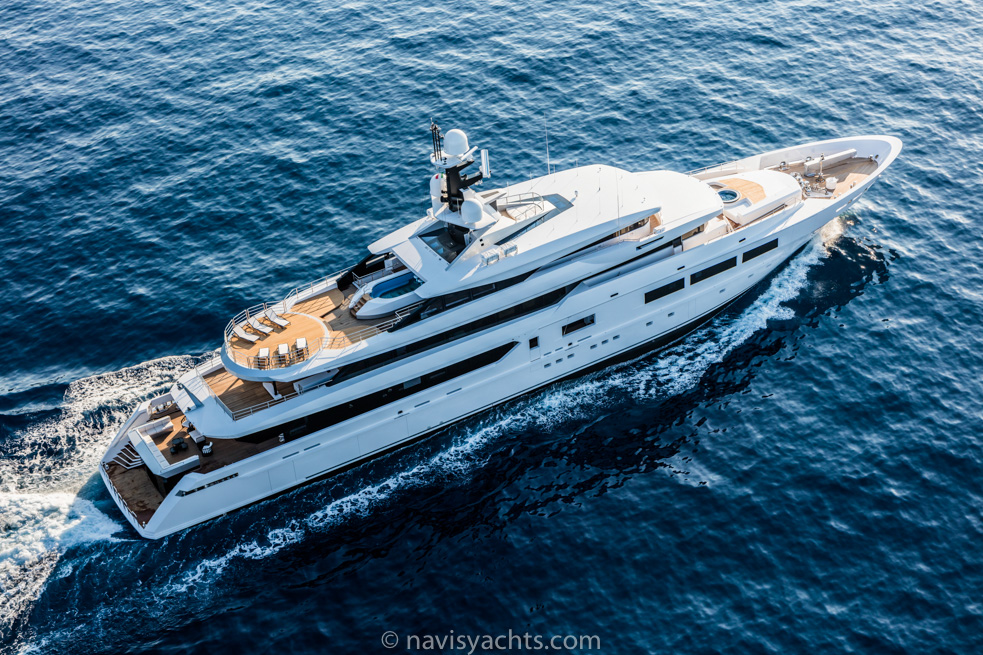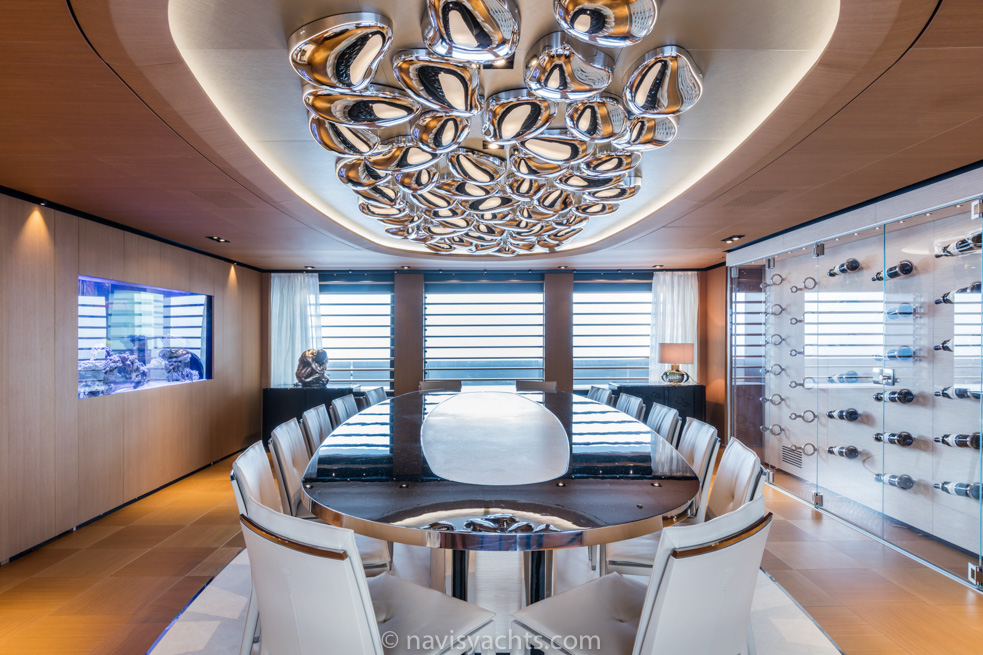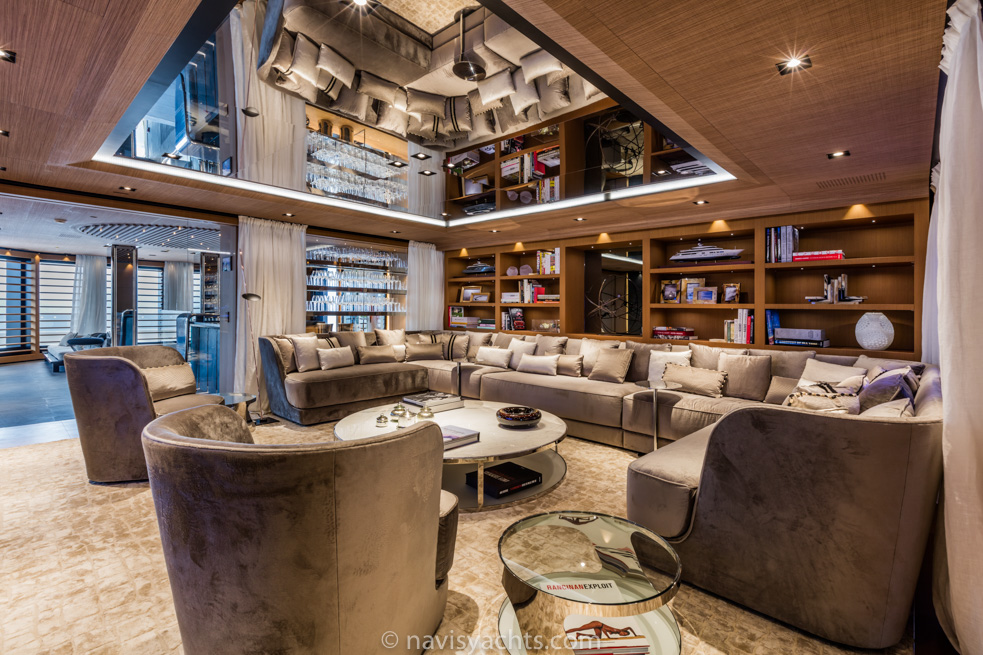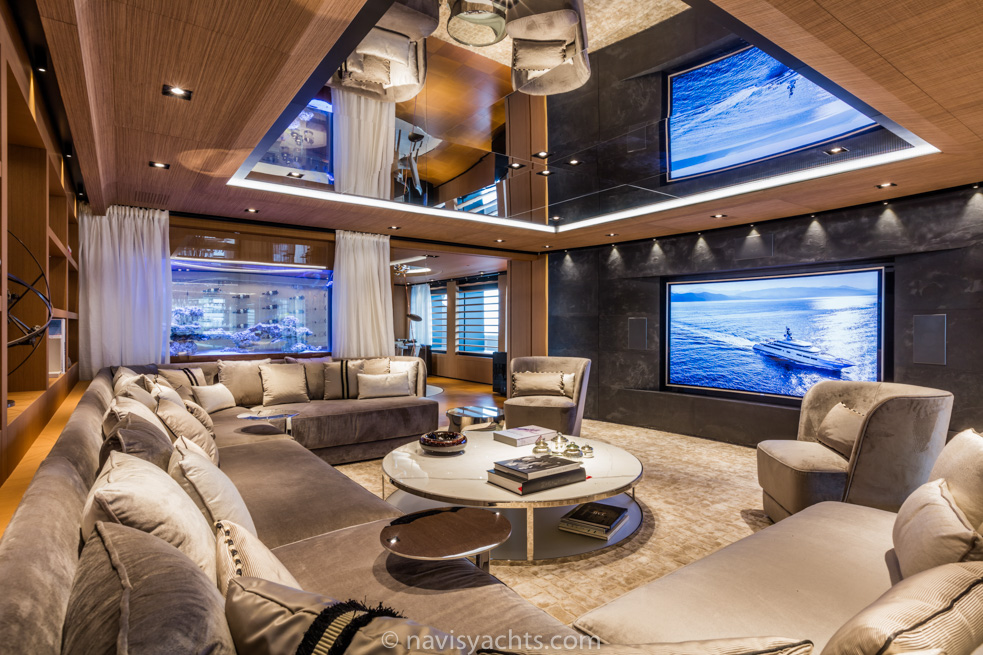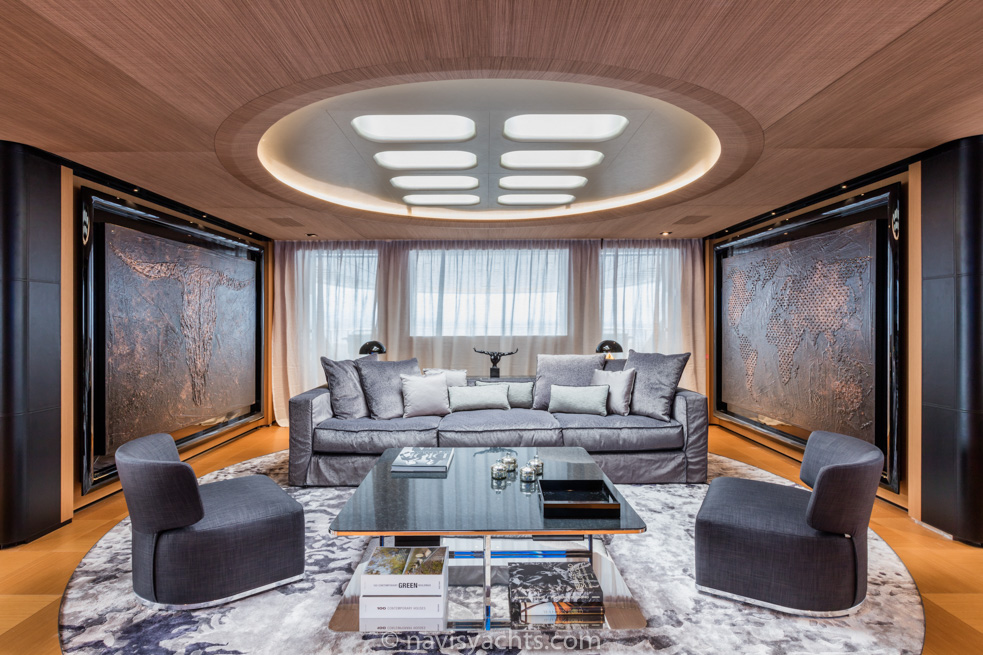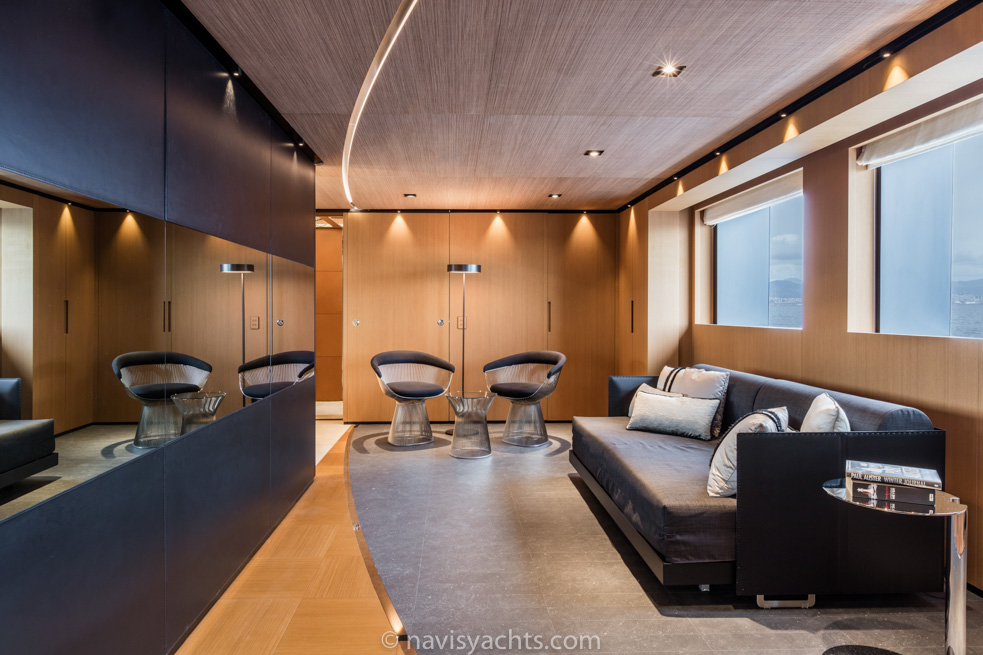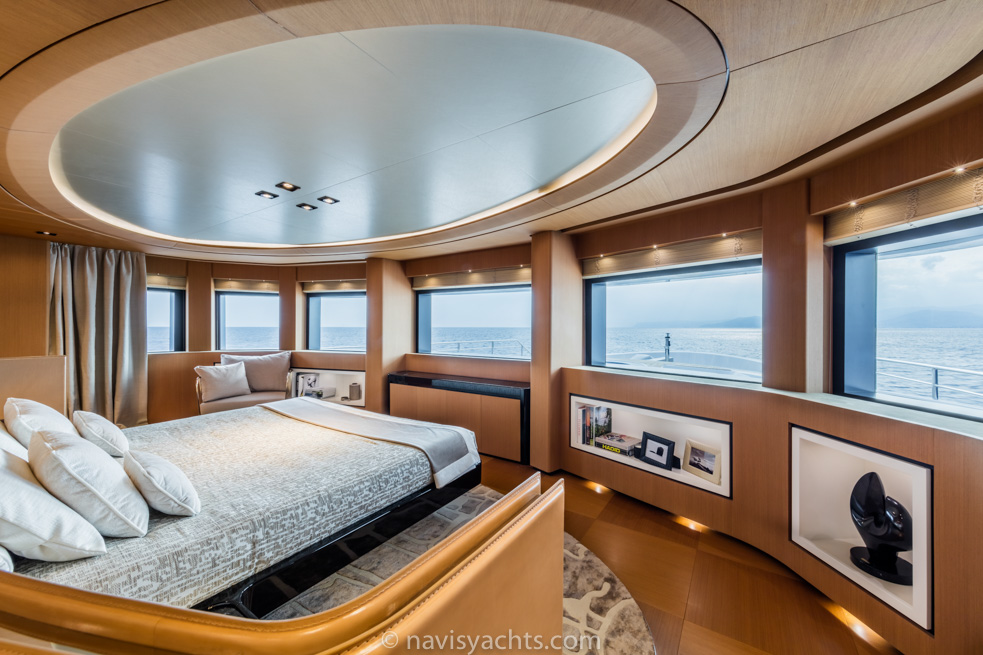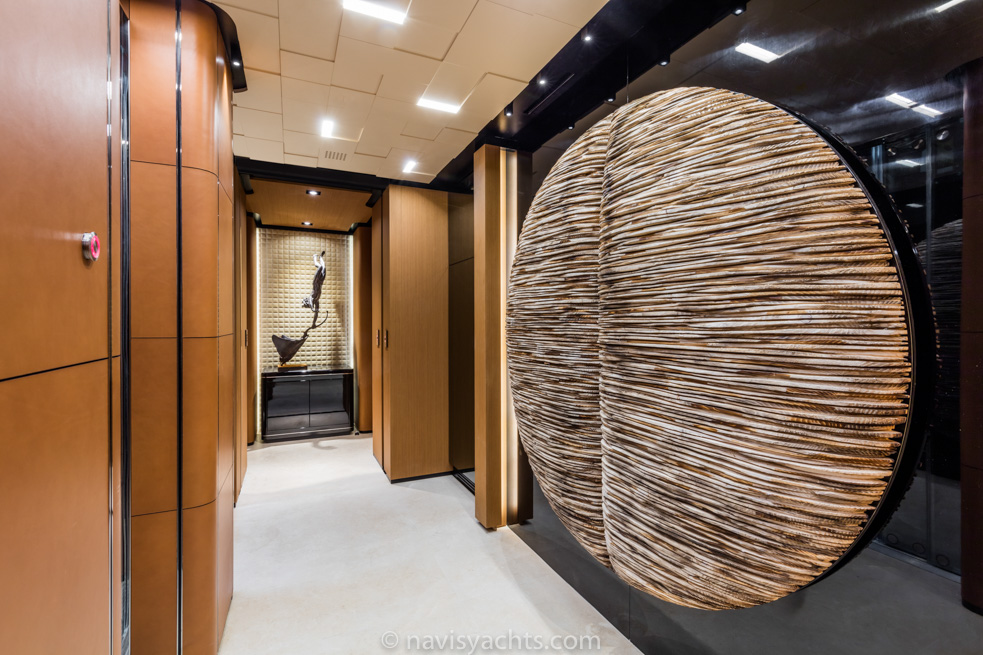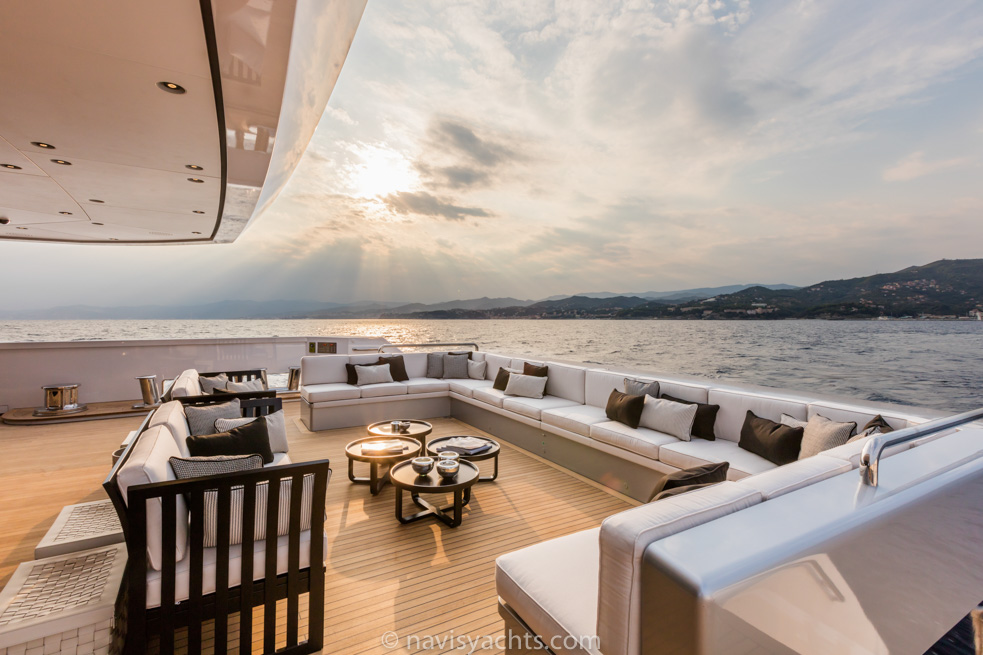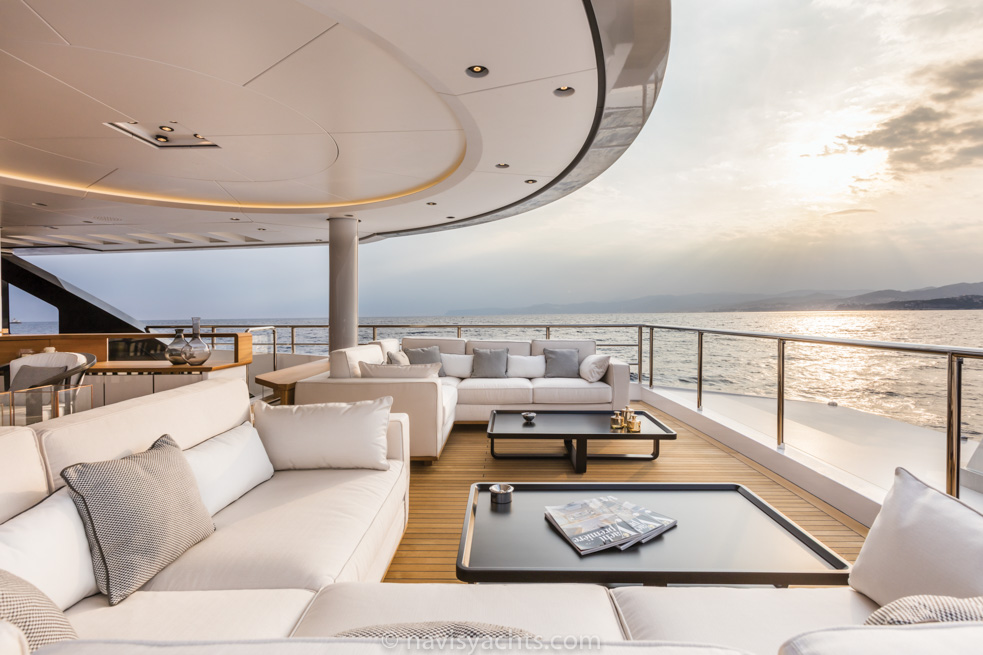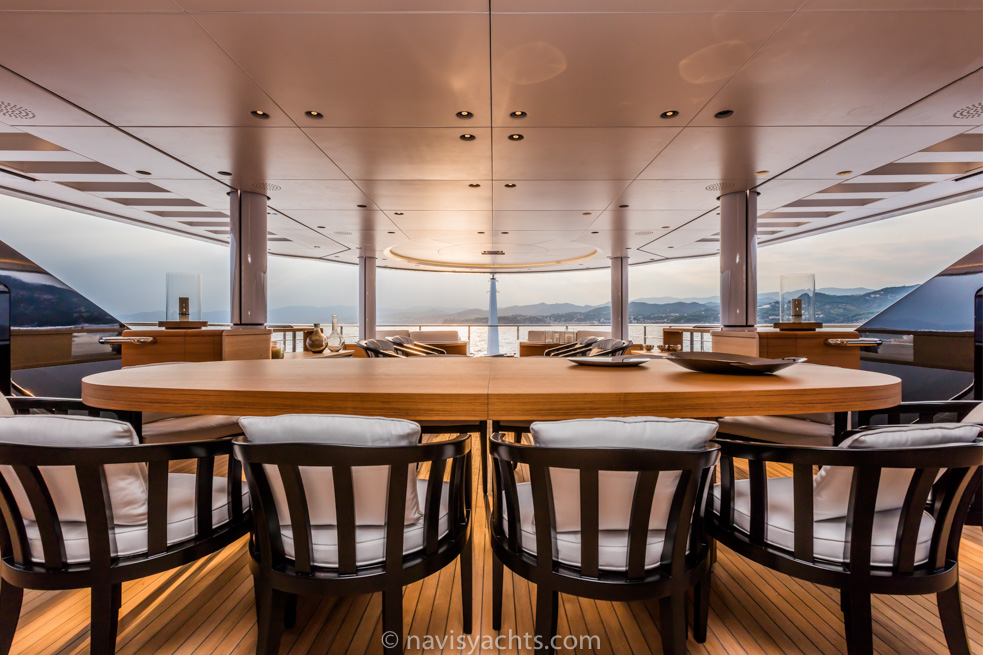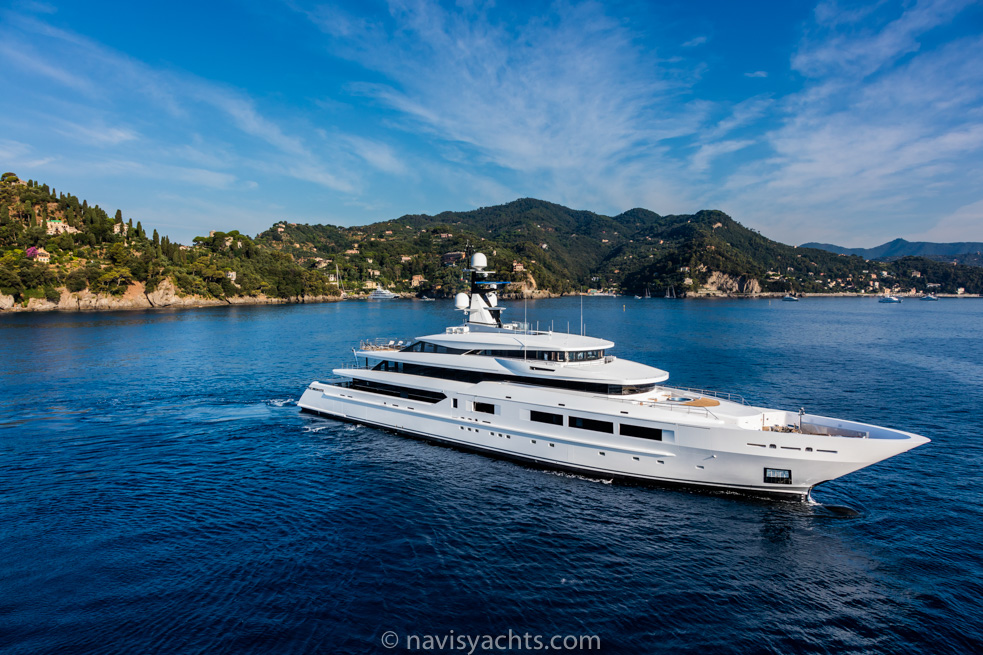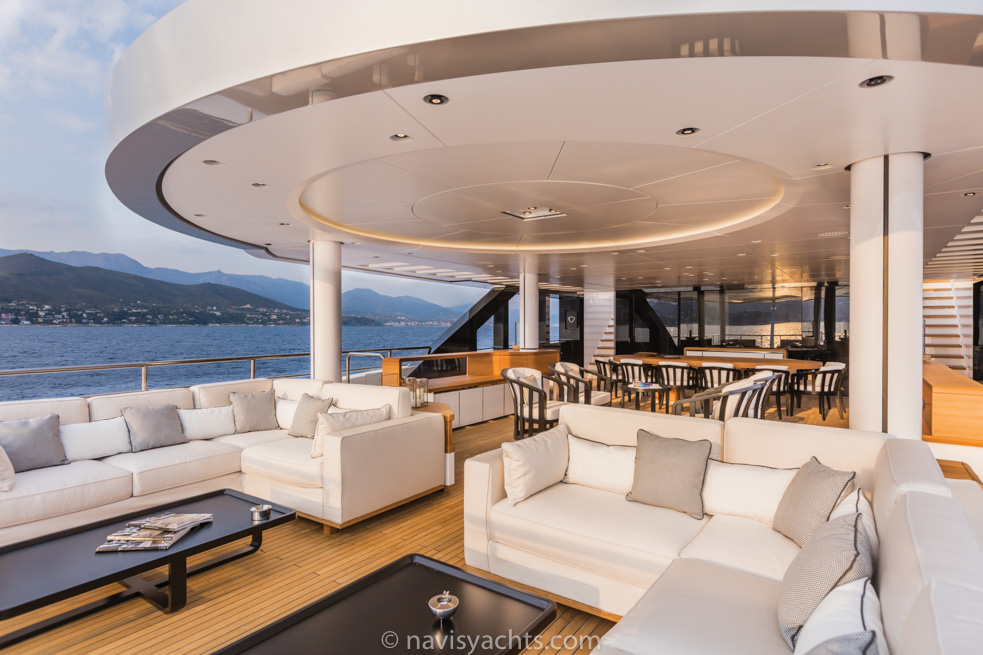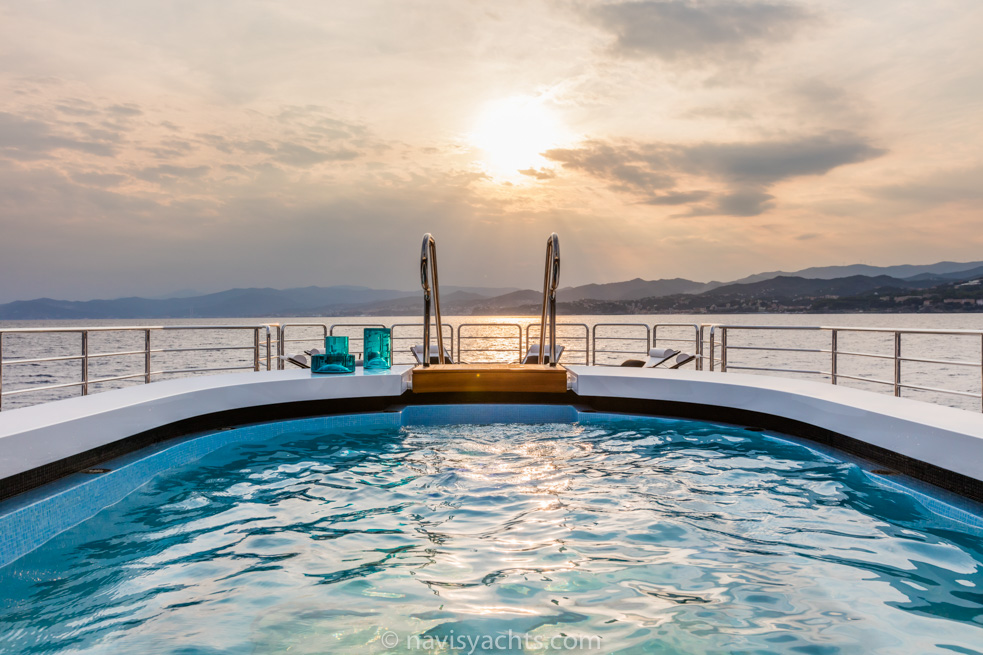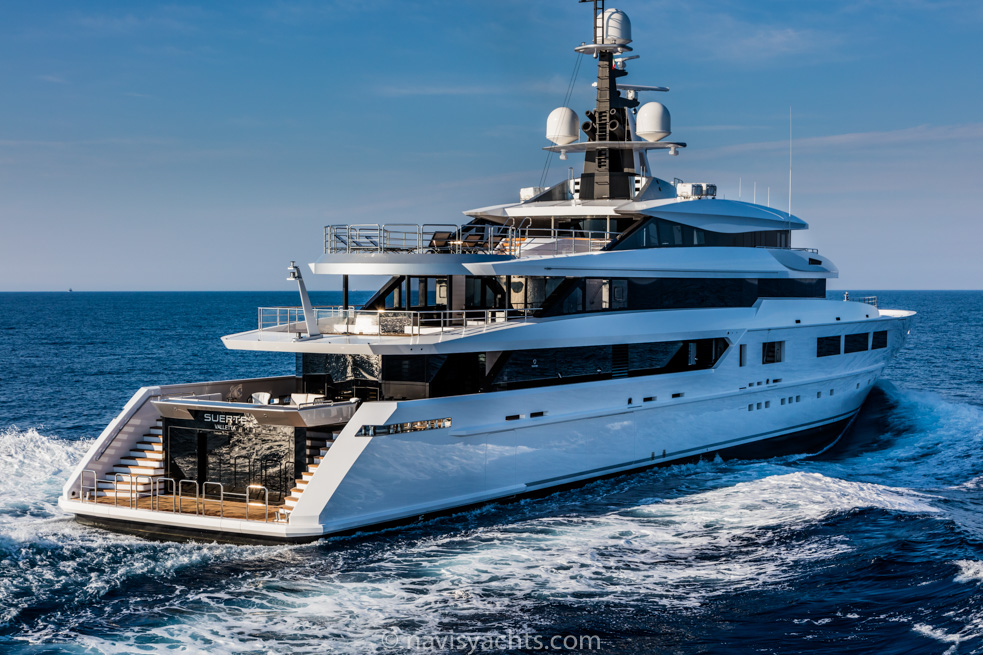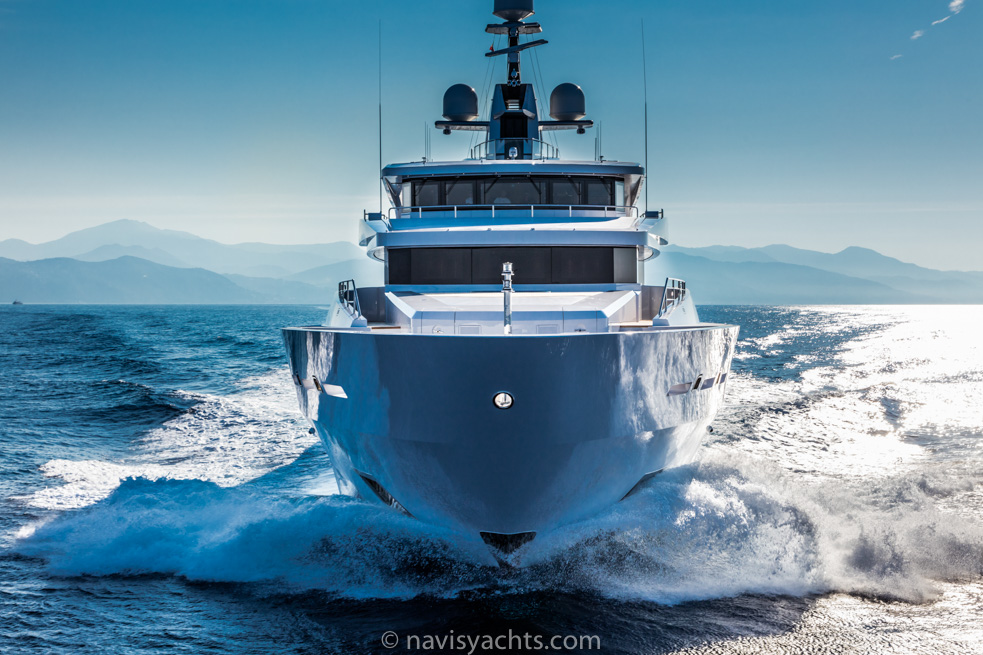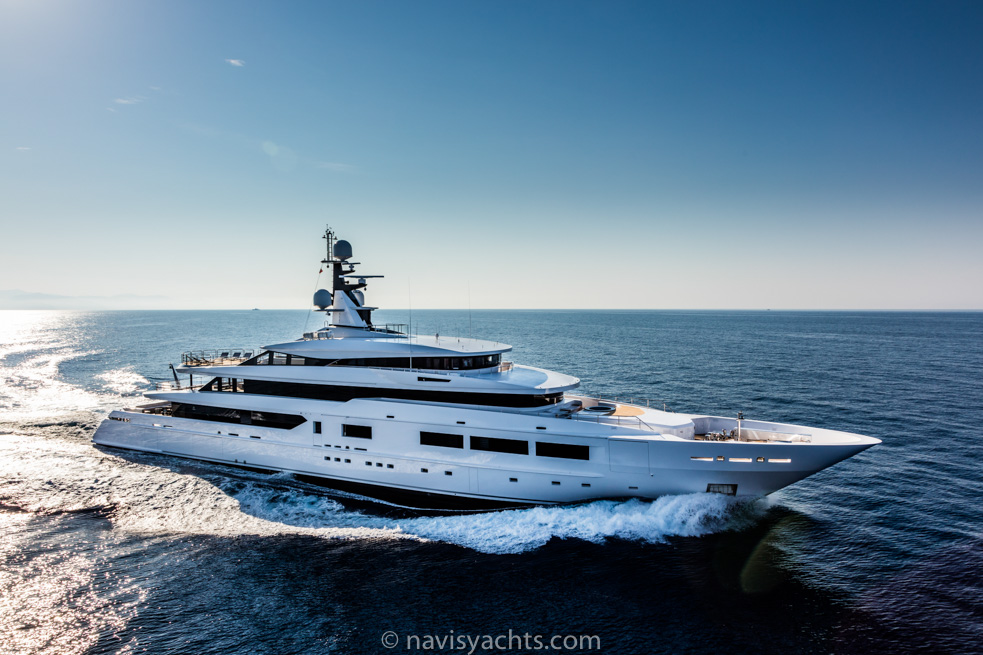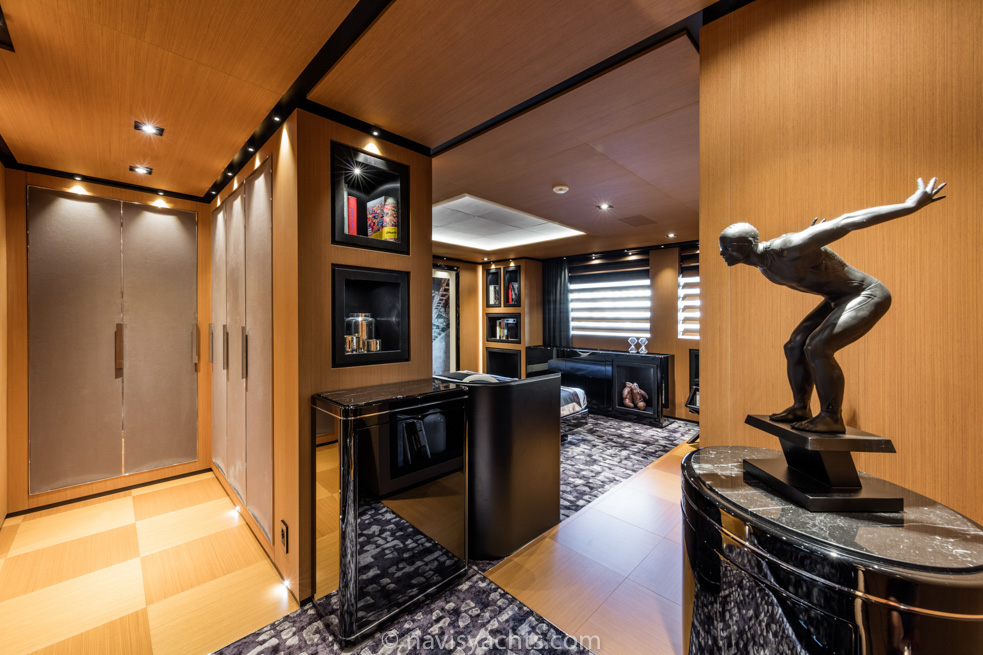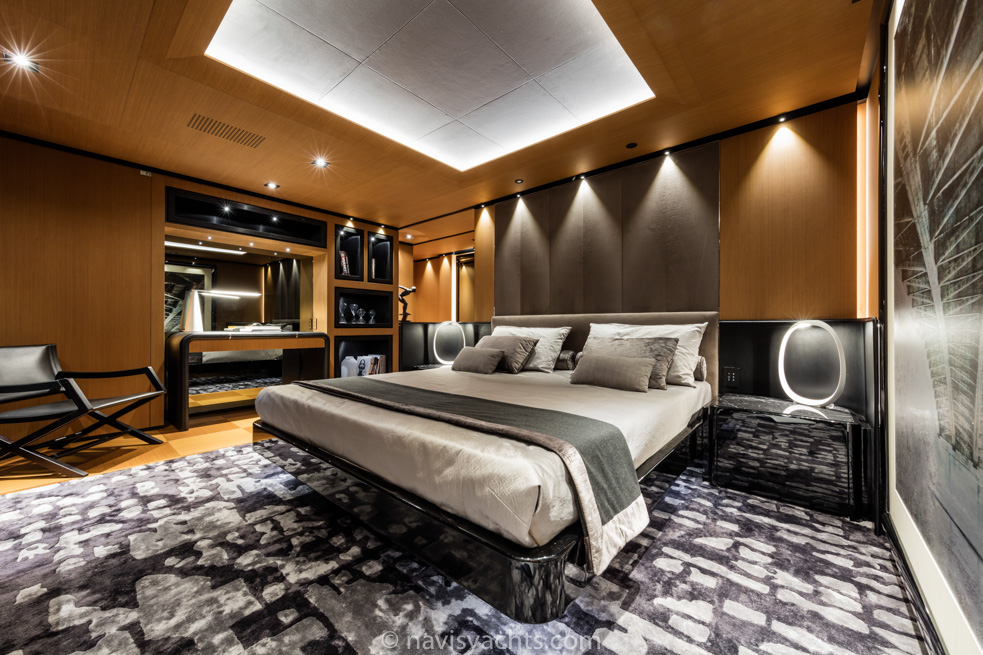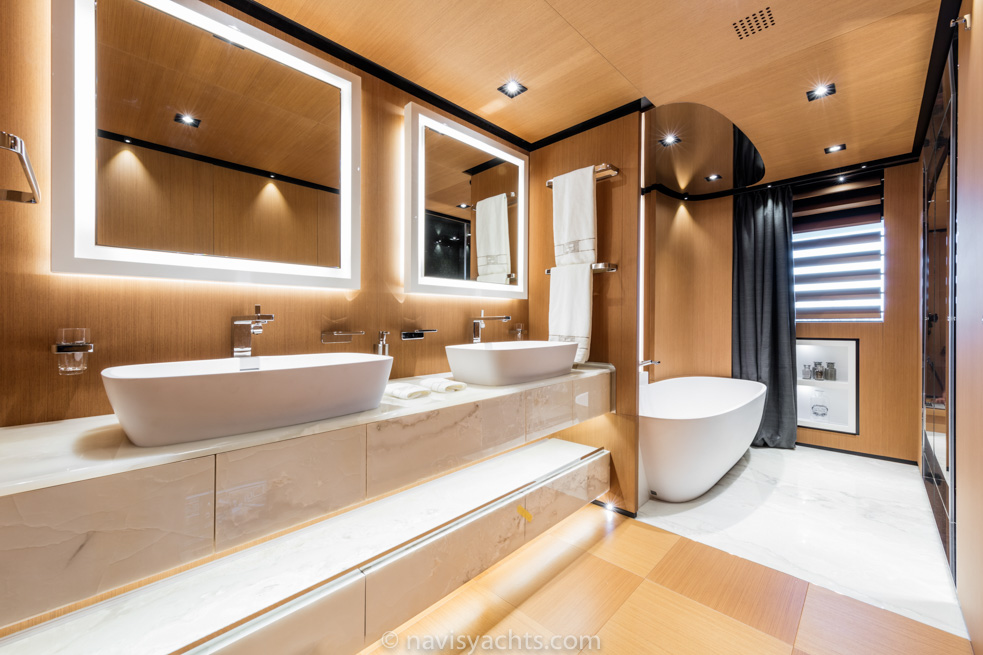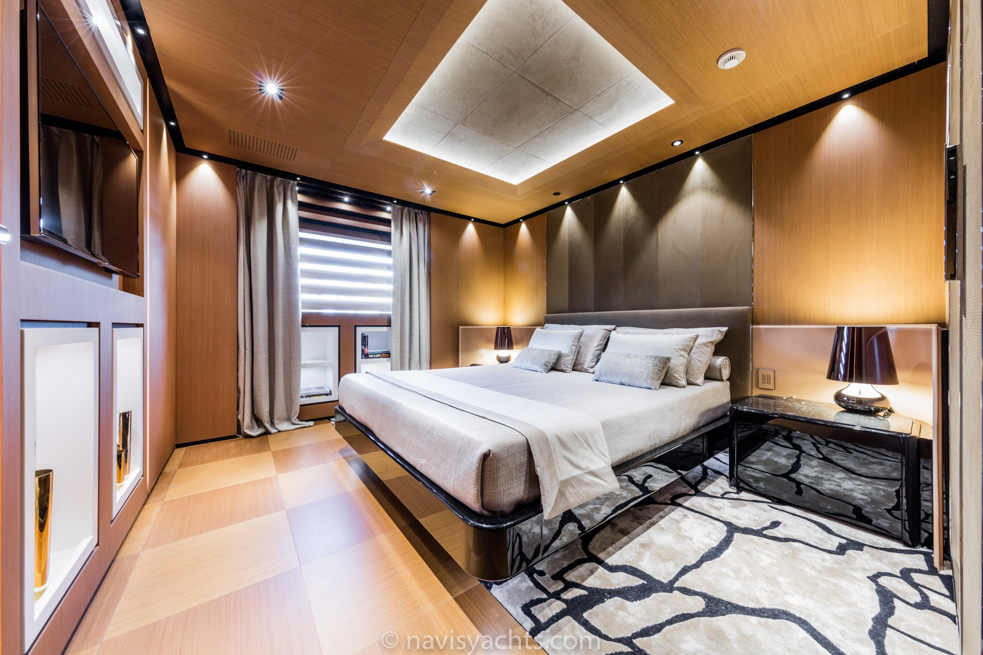 Photos: Tankoa Yachts Media | Words: K.L. Turner