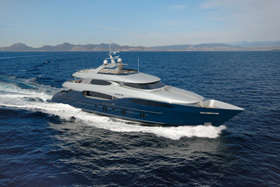 Vicem Yachts started in 1991 and after more than 20 years and 150 yachts produced become one of Turkey's largest and most respected producers of classic style luxury motor yachts. Every piece aboard a Vicem is made and installed by hand – from building the layered mahogany-epoxy composite hull, to carving the furniture. Vicem is highly regarded in yachting circles because of his magnetic down east style and for the outstanding quality of the company's handcrafted construction process.

Vicem Vintage line (classic/fly bridge 52' to 75' – cruiser 78, 92 & 100) is built using the cold molded process. This millenary, unique construction technique is different from any traditional craft building as it is based on engineered wood construction which uses laminated mahogany coming from managed forests and a specific formulated epoxy resin to form the hull, decks and principal structures of each yacht. This results in a stronger, quieter and smoother vessel with a natural insulation from humidity and noise. Starting from the 2009, Vicem Yachts extended his production to megayacht range, introducing the new Vulcan Line with 46m & 35m tri-deck and 32m RPH, currently under construction. Vanguard 45 and 33 compose its all new third line of open yachts, a perfect blend of timeless elegance, performing naval architecture and state of the art production technology.

Since the beginning, Vicem Yachts mission is based on three core values: Total customization, timeless design, cold molded heritage Vicem Yachts headquartered in Analya in 2 manufacturing facilities covering a total surface of 323,000 sq ft (30.000 sq mt). In 2005 Vicem moved to Antalya (South of Turkey) attracted by the creation by the Turkish Government of a duty free trade zone. In the 2008, Vicem acquired the second facility for the production of the company flagship Vulcan 46 metres and earlier this year 2011, added a further 2,750 square metres.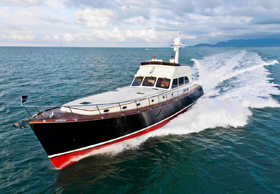 Worldwide operations are run through an international brokers network coordinated by Vicem of America (Fort Lauderdale), Vicem of Europe (La Spezia) and Vicem of Asia Pacific (Australia). Unless Vicem Yachts carry on 3 millenniums of Turkish nautical tradition and heritage, innovation is infused in every single piece of the yacht. In fact, Vicem Engineering Department can count on in-house professionals – Naval Architects, Marine Engineers and Designers – last generation CFD software and collaborations with the most prestigious design firms like Frank Mulder, Art Line, Wetzels&Brown and Ken Freivokh.

Sebahattin Hafizoglu, founder and Chairman of the Board of Directors – declares: "Vicem Yachts is a shipyard with a precise mission: to blend a millenary tradition with the most advanced technology to satisfy a worldwide clientele of "happy few". My role will be to consolidate organization and quality processes, to launch new lines of products and to expand operations approaching new markets and new segments of clients". Vicem, The Yacht for Yachtsmen.