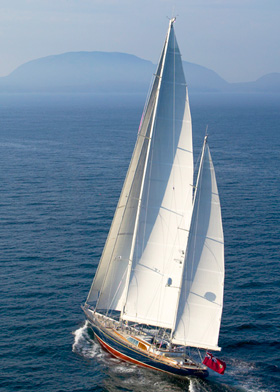 Our goal at Hodgdon Yachts is to build the world's best sailing or motor yacht. It's that simple. And to us, building a world-class yacht is measured in how well design and aesthetics are balanced with practical issues of engineering and performance. Hodgdon vessels have earned the reputation of "heirloom boat" for more than their extraordinary looks. They also stand the test of time. At the foundation of every sailing and motor vessel we build, you'll find a consummate team of craftsmen, the industry's most advanced construction technology and a passion for excellence. It's the way we've built boats for nearly two centuries.
Our East Boothbay facility has three building halls with over 55,000 sq. ft. of construction, finish, and office space. Our main building hall includes 20,000 sq. ft. of production space with a 300 ton marine railway allowing a yacht to be hauled or launched directly into the deep waters of the Damariscotta River.
While we may have our roots in 200 years of boatbuilding tradition, we earned our way into the 21st Century with innovation. Today Hodgdon is a leader in high tech composite construction while maintaining exceptional skills for world class traditional and modern interiors. This East Boothbay, Maine Company's diversification includes high end superyacht interiors, custom sail and power superyacht construction, military and government contracting, superyacht refits and custom yacht tenders. Founded in 1816, Hodgdon is a fifth generation family run company still located in the heart of Maine's famed Boothbay Region. Among some of Hodgdon's more notable contributions to yachting in the last few decades are: ANTONISA (124') SCHEHERAZADE (154') AND LIBERTY (80').

Composite construction
Timothy Hodgdon and his talented workforce have built some of the finest composite yachts in the world using wood, carbon fiber, and epoxy. Since 2006 Hodgdon Yachts has advanced its composite construction by emphasizing the use of high tech fabrics and high-­‐density foam in their vessels. Combining advanced composite construction with our high standards of systems installation and joinery work, Hodgdon Yachts remains the premier American builder of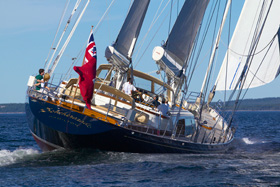 innovative and high quality vessels. We invite you to visit our yard and see for yourself the high standards, commitment to excellence and innovation that is the mission of Hodgdon Yachts.

Cold molding
For a fast cruising yacht cold molded construction is one of the best ways to build a hull.Cold molded hulls are strong, remarkably stiff, quiet, long lived and green. We believe the method yields the finest yacht. Laminated fir frames and floors bonded to a laminated hull create a monocoque structure that easily handles the dynamic loads of a yacht. In addition to our yachts LIBERTY, ANTONISA, SCHEHEREZADE, WINDCREST the legendary yachts RAGTIME (1964), WINDWARD PASSAGE (1968) and WHITEHAWK (1978) are testaments to the longevity and pedigree of cold molded construction. The link westsystem.com answers many technical questions about the construction method.