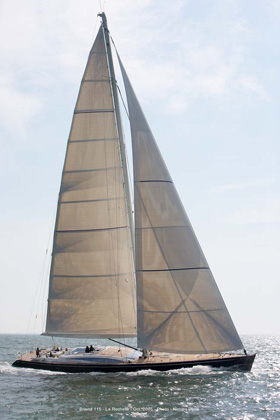 As long time sailors we know that beyond the promises, our boats must be fast, seaworthy comfortable and safe. We build them with love of the sea and the constant concern for work well done. We design them as we would our if we ourselves were the future owners. Because that is part of our nature as builders and as sailors. Created in 1987, CNB is part of the Bénéteau group, world leader in the construction of sailing yachts and quoted on the Paris Stock Exchange's second market.
Located on the banks of the Garonne River, a few hundred yards from the greatest vineyards, CNB is situated on a 105 000 m2 lot with 44 000 m2 of covered buildings and has a 300 meter waterfront quay with water deep enough for launching and sea trials. With more than 60 prestigious yachts constructed from 20 to 32 meters, CNB has acquired an unfailing reputation for the quality of its construction and the finish of its boats.
Versatility Quality Guaranteed
More than 80 % of our production is exported… CNB sailboats cruise the Mediterranean, the Pacific Ocean, the Indian Ocean, the Atlantic Ocean and in the Caribbean Sea. The CNB staff: sheet metal workers, Veritas certified welders, laminators, mechanics, plumbers, electricians, painters, varnishers, woodworkers, cabinetmakers, marine carpenters, riggers, shipyard sailing crew, stock controller, maintenance crew, design office, project managers, boat manager, marketing and administrative staffs; numbering almost 250 people in the year 2000, who are particularly proud of the prestigious notoriety achieved by our yachts in every ocean on the globe.
The specialists in our design office work in close collaboration with the most famous names in naval architecture, to assure the creation of the technical construction plans, these specialists are in charge of implementing the plans in our workshops. This collaboration also extends to the decorators chosen by our clients and allows our cabinetmakers to demonstrate their know-how and their talent, which is renown, the world over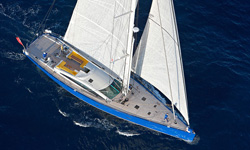 A computer database was developed at CNB, creating a management system for purchasing and stock. The production management is also computerized with a software package specifically developed at CNB. This versatility gives the shipyard complete mastery of naval construction; it guarantees rigorous quality control and total independence in our technical and technological choices. During the past years, CNB has engineered and built units for sea professionnals: fishermen, feries, administrations... All of these units, some of them with powerplants in excess of 2 x 1 400 hp, have met with success the expectations of their end users: www.cnbpro.com.